2021 Menuhin Competition Winner María Dueñas on Dreams, Music, and Boston Debut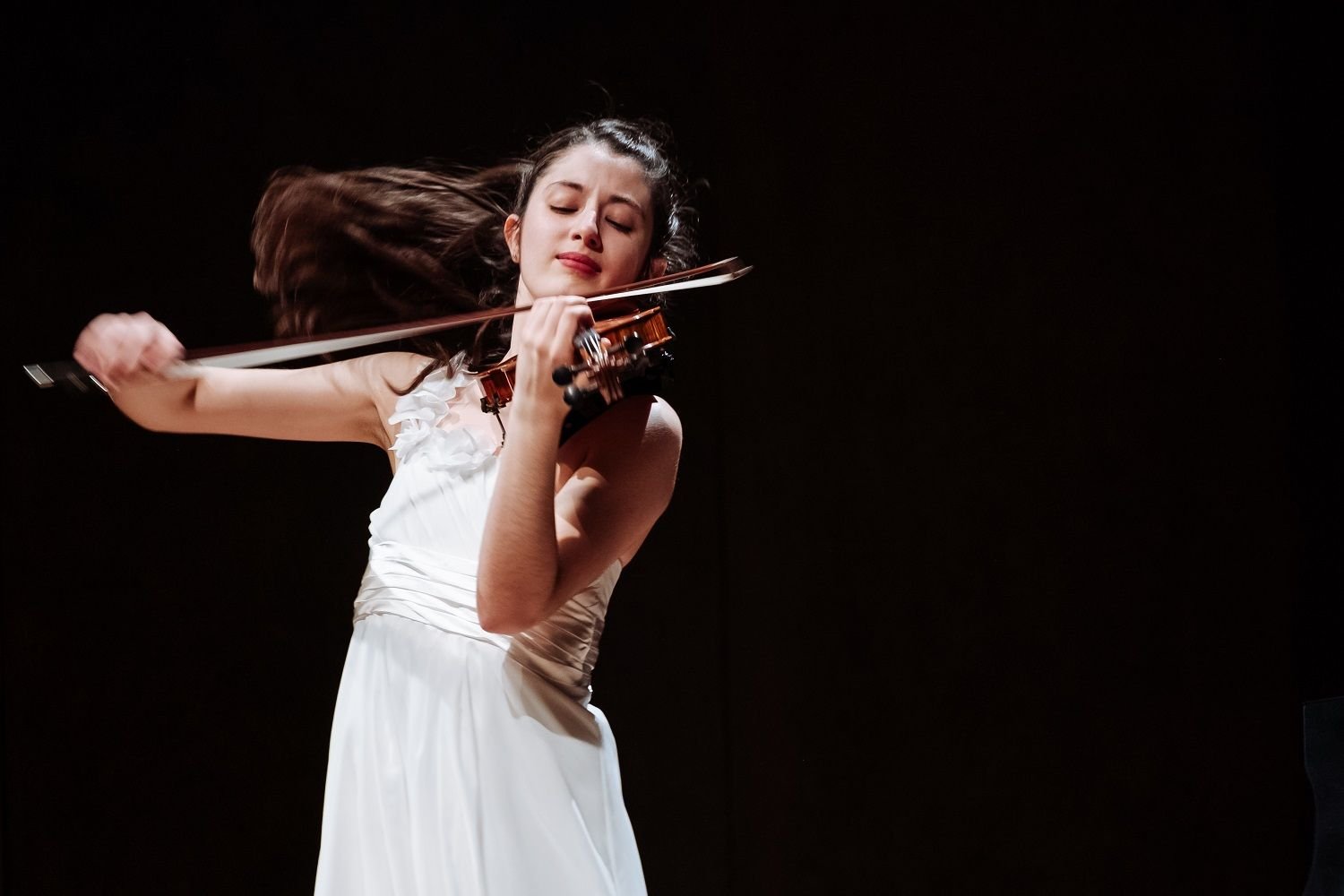 This week, WHRB spoke with María Dueñas, who at only age 19 is already a formidable, glowing, and accomplished violinist and composer, in anticipation of her upcoming Boston debut on Sunday, October 23 at 5 pm in Symphony Hall with the Los Angeles Philharmonic, conducted by Gustavo Dudamel, for the Celebrity Series of Boston. Dueñas is the 2021 Menuhin Competition Senior Division First Prize and Audience Prize winner, and for this season, she will be performing with Gävle Symphony Orchestra, the Göteborg Symphoniker, the Wiener Symphoniker, and at Carnegie Hall to name a few. She has also been named a BBC New Generation Artist 2021-2023 and has already won numerous accolades in her young artist career. She recently performed the world premiere of Altar de cuerda, a new violin concerto by Mexican composer Gabriela Ortiz and dedicated to Dueñas herself, with the Los Angeles Philharmonic conducted by Gustavo Dudamel.
Presented by the Celebrity Series of Boston, Dueñas and the Los Angeles Philharmonic, under the baton of Gustavo Dudamel, will showcase the Boston premiere of Altar de cuerda and close with the triumphant Mahler Symphony No. 1, the "Titan," at Symphony Hall in Boston.
The performance will be Sunday, October 23rd, at 5:00 pm. Tickets are on sale now here!
The transcript below has been edited for conciseness and clarity.
Maria Dueñas. Photo above and thumbnail photo courtesy of Tam Lan Truong.
WHRB: In earlier interviews, you've shared falling in love with classical music after hearing many different records played by your parents. What were your favorite pieces growing up, and why were you drawn to the violin?
María: I remember listening to violin recordings from Heifetz, and the earliest pieces I heard were probably the Tchaikovsky Concerto and the Mendelssohn Concerto. I became interested in the violin after going to concerts in Granada, my hometown, and seeing the concertmaster. I just really admired the way he would come on stage, tune, and interact with the orchestra. Watching him, I thought that that's what I really want to do someday.
My parents were always so supportive, too, because it was all just so natural for me. Without my parents, it would have been a lot more complicated because I was still very young when I started playing the violin.
WHRB: In addition to your parents, I'm sure you've had many amazing mentors along the way. Who stands out to you in particular in guiding you on this journey?
María: So many, really starting from listening to Heifetz at the beginning of this journey until now. At the moment, I would say my teacher here, Professor Boris Kuschnir, is a fundamental inspiration for me. I feel really honored that he admitted me to study in his class, and so this has been very important to me. Many conductors I have worked with have also been great inspirations like Manfred Honeck, and more recently with Gustavo Dudamel. Each musician I've met has taught me something new!
WHRB: What are some of those musical lessons that have really resonated with you?
María: Again, there are so many! Recently, I played a concert with a very well-known singer, and he told me that I shouldn't be nervous before going on stage. If I am, that means I am focusing too much on myself rather than the music itself. I need to focus on the music, and that's the most important part. Another lesson I've learned is to "believe in yourself." You should always be motivated to realize that if you love music or your instrument, you can always keep going.
WHRB: That lesson of "believing in yourself" applies to music and beyond, too! What an important takeaway. I know you've also composed a few pieces before as well, most notably 'Farewell' for solo piano. How did you get into composing?
María: It started with composing cadenzas, and I really liked being creative and writing them for Mozart concertos. It was for fun at first, as I had never had any composing lessons — it was all so natural. Then, I started writing cadenzas for the Beethoven and Brahms concertos, and then I picked up the piano a little bit and began experimenting. That was when I realized it is a wonderful instrument to use to play around with different harmonies, and that's when I composed 'Farewell.'
WHRB: Moving into your incredible work leading world-renowned orchestras as the soloist, how do you approach playing with such large orchestras and communicating with the directors and players?
María: It's definitely a learning process because there are just so many different opinions and ideas on the same piece. We really have to find a compromise, but I'm always very open to new ideas and interpretations.
WHRB: So you were born in Granada, but you now live in Vienna to attend the Music and Art Private University of the City of Vienna. What was it like to move from Spain to Austria at such a young age?
María: It was very interesting growing up, but I absolutely loved getting the chance to learn about another culture. As an artist, it is so important to have different points of view, and Austria is the hub of all this cultural activity and possibility for classical music. And that's also why I love traveling so much — I can learn something everywhere I go! Take Mozart, for example. He lived here and worked here, and because of that, I think the whole city of Vienna is just so heavily influenced by his work and life.
WHRB: Are there any places you've really enjoyed traveling to?
María: I will always remember when I went to the United States for the first time in San Francisco. It was a whole new world for me, and then when I went to Los Angeles, that was also so different too.
WHRB: What are the big differences you see between the U.S. and Europe?
María: The audience in the U.S. is so warm. They are so welcoming and willing to get to know modern music. For example, when we were playing Ortiz's modern violin concerto with the LA Philharmonic, the audience was just so excited! It's important for an audience to be open to new music, especially if it might not be as easy to listen to, and that's not necessarily the case as much here in Europe.
WHRB: Traveling is exciting, but it is also quite a lot to take on! Having started playing violin at age 6 to now (being 19), what was it like to grow up and constantly travel to competitions and performances?
María: For me, that's just been my whole life, so I don't find it so difficult or different. It's a nice combination of music and life, and of course I still have the time to enjoy other parts of life like dancing in Vienna.
WHRB: The past two years, of course, have been difficult for traveling. What was it like to perform and compete during the pandemic… and win the Menuhin Competition in 2021?
María: It was so difficult for the whole arts world, and what I missed the most was the audience. I played virtual concerts and all, but it's just not the same when you're playing for a camera. I missed this connection to the public when you're on stage. There were also positive things, though, like still having competitions run as they could happen online. I'm very grateful that those were able to continue, and I could never have imagined winning the Menuhin Competition!
The Menuhin Competition was something I grew up watching every year as a kid, so it was just a dream to be able to win and so special.
WHRB: Looking back on your career so far, how have you been able to overcome challenges?
María: I'm a very positive person, so I try not to consider something as a difficult obstacle, but rather as something to motivate me to try even harder and perform even better — which is a big reason why I do competitions! It's more about learning the repertoire and being positive, rather than focusing on the negative.
Gabriela Ortiz. Photo courtesy of Mara Arteaga.
WHRB: Moving to your upcoming premiere of Gabriela Ortiz's Violin Concerto in Boston, what is it like to play a piece dedicated to you and to be on tour performing it?
María: Having a concerto dedicated to you is just so very special, so it was a dream to have this connection with Gabriela Ortiz and work on this concerto with her together. It was a long process of exchanging ideas, dynamics, and all, but it was so interesting, too, to have this final product that has a mixture of Mexican and Spanish roots. It is technically complex—there are many rhythms that are challenging for the orchestra, conductor, and soloist—but it was amazing to perform this with the LA Philharmonic. They are so excited to play new music and are very open to it. I'm very excited to be performing it in Mexico, and it will be my first time there. As this is where Gabriela is originally from, I'm excited to see what inspired her!
WHRB: What do you love most about the piece, and what do you hope the audience takes away from the performance?
María: The combination between virtuosity and musicality. It's so important to me to have this balance of the fast and slower passages in the music, and that's what impressed me the most about the Concerto. I hope the audience really feels the Mexican melodies and roots, and I am even more excited as it will be my debut in New York at Carnegie Hall, in Boston at Symphony Hall, and in Mexico.
When I played it for the first time at the Hollywood Bowl last year, I also realized that Dudamel and I make a great team. He's not only a great musician, but he's so down-to-earth as well — which is something I really admire and appreciate. He was very open to my suggestions and ideas, and this is just so special to be working with him—he was such a big inspiration for me growing up! Again, it is like a dream.
WHRB: What are you excited for this coming year, with so many performances and exciting news about signing with Deutsche Grammophon recently?
María: The Beethoven Concerto I record for my first album will be very special as it will be here in Vienna with Manfred Honeck and the Wiener Symphoniker; Manfred is just one of my favorite conductors and someone I love working with. I will also be on tour in the U.S., so I'm excited to be playing with the Toronto Symphony in February, with the Richmond Orchestra, and with the Pittsburgh Orchestra as well.
WHRB: To close out our lovely conversation, do you have any words of advice for young musicians out there following in your footsteps?
María: Believe in yourself! If you really love something and are passionate about it, you can make it happen. Know what you want, pursue it, and dreams come true.
// Felicia Ho '23 is a producer for the Classical Music Department and the Director of Online Content for Classical Music.