2022 Queen Elisabeth Competition Winner Hayoung Choi and Luminary Conductor Ben Zander Meet at WHRB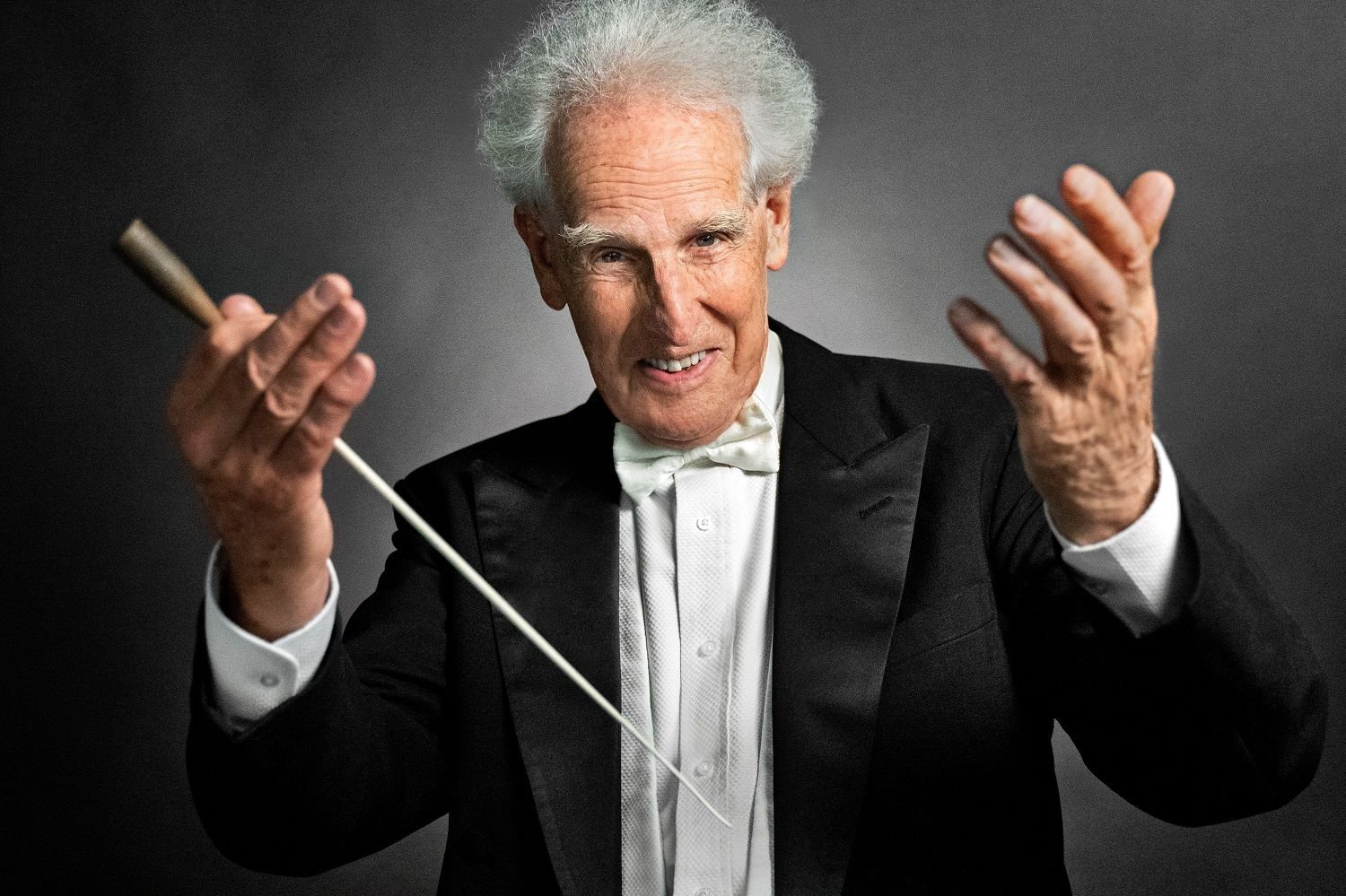 Ben Zander. Photo courtesy of Liz Linder.
This week, WHRB had the pleasure of speaking with 2022 Queen Elisabeth Competition Winner Hayoung Choi and Boston Philharmonic founder and conductor Benjamin Zander to chat about their upcoming concert together on Saturday, November 12 at 8 pm ET in Symphony Hall. Choi is making her US premiere with the Dvořák Cello Concerto for the concert, and the program also includes Brahms Symphony No. 2, the first symphony Zander conducted in 1972.
German-born Choi is the first Korean cellist to win the Queen Elisabeth Competition and earlier, at age 13, was the youngest winner ever of the International Johannes Brahms Competition. After watching her winning performance of the Lutoslawski Concerto in the Competition's final round, Zander noted, "I have rarely heard anything so mesmerizing. You will understand why we invited her to perform with the BPO the very next day." She has performed with many chamber music groups and notable musicians as Kim Kashkashian and Mitsuko Uchida.
Zander, who spent much of his early musical career as a cellist, first conducted the Dvořák Cello Concerto in 1977 featuring Yo-Yo Ma, and he looks forward to marking 50 years as a conductor for this concert. For over 50 years, he has been an insightful teacher, speaker, musician, and writer mentoring the next generation of talented musicians in the Boston Philharmonic Orchestra (BPO), the Boston Philharmonic Youth Orchestra (BPYO), and the Crescendo Education and Community Engagement programs.
Tickets are $115, $90, $60, and $30, with $10 tickets available for students; the live stream is $20 for general admission, $10 for students, and $40 for supporters. Subscription packages for in-person concerts and live streams are also available. Tickets and subscriptions are available at www.bostonphil.org or by calling 617-236-0999. Ticket policies are available at https://www.bostonphil.org/concerts/ticket-policies.
The transcript below has been edited for conciseness and clarity.
Ben: We are meeting for the first time on the radio, which is a very funny thing to do. We have not spoken or written, and this is the first time we're together, which is wonderful to meet such a great cellist of the next generation. I'm in my eighties, but I used to be a cellist many, many years ago. I'm now the conductor of the Boston Philharmonic, and we are welcoming Hayoung to come and play Dvořák.
The concert is on November 12 in Symphony Hall. That's very exciting, and it'll be her debut in America. There's a tremendous amount of excitement here, especially amongst the cellists. Everyone knows you from winning the Queen Elisabeth competition, and of course everything is online and all the cello lovers have been following you and your career.
That's what happened to me too — I was following some of the young cellists in Boston at the Queen Elizabeth competitions, and five of them were former students. When they announced you were the winner, I listened to your Lutoslawski Concerto, which was the most riveting, thrilling, electrifying, moving performance. I immediately called up and said, are you available to come and play with the orchestra. You got the piece from the most placid beginning to the most terrifying climaxes.
I was a cello student of Cassadó, and he was my cello teacher from the age of fifteen to twenty-one, and I lived in Germany.
And we'll be playing in Symphony Hall, and I'm always absolutely overwhelmed by the beauty of the sound. It is perhaps the greatest concert hall in the world, so it's going to be very exciting.
Now, I first conducted Dvořák with a young man who was studying at Harvard University, and he ended up being Yo-Yo Ma.
Hayoung Choi. Photo courtesy of Ettore Causa.
Hayoung: Ah yes, I just listened to his recording today for inspiration!
Ben: We worked very intensely together on the concerto many times, and he came to six rehearsals with the orchestra. We've remained very close friends. It's so fun for me to look at now, a whole generation later, at what I think will be a similar extraordinary talent. It comes very rarely.
Who are your heroes, Hayoung?
Hayoung: My mom is an amateur cellist, so she has a lot of LPs and CDs at home. I listened to cello constantly, when I was sleeping or in the car. A lot of Peter Fournier, of course, and Jacquéline Du Pré…
Ben: The other piece on the program is Brahms' Second Symphony, and that is the first piece I ever conducted fifty years ago in Boston for my first concert. I'm excited to be playing it on this program because Dvořák and Brahms were friends, and they wrote in a similar idiom, one in Germany and one in Czechoslovakia. They belong together, the two of them. It is a heavenly program, and the orchestra is thrilled to be playing this music. This is not an easy time — we are in the middle of a very tumultuous time in America, with the election and the war and what's happening with the environment.
There's so many upsetting things about the way we're relating with each other, and a beautiful concert will bring people together in a very uplifting way. The Dvořák, of course, is much more tragic because of the sorrow he felt as a refugee in America, separated from his home and family.
WHRB: How are you approaching the Brahms differently from before?
Ben: Well, I come from cello and from chamber music. I've always looked at the orchestra as a chamber music instrument writ large, so I believe that an orchestra should be able to play freely in terms of rubato. I've trained the orchestra to do that, so you will hear some very special things in the Brahms. The orchestra can play with immense flexibility and elasticity of timing, and that gives us so much more palette to play with in terms of the emotion.
WHRB: What are the both of you hoping to discuss on Wednesday, when you formally meet for the first time?
Ben: I'm very interested in tempo. When a composer puts metronome marks in, I always take them very seriously. I also love to come to such agreement with the soloist that when I'm conducting the performance, I'm not following. I'm actually conducting it as if it was my performance. I can conduct as if it's a symphony, and I love that way of approaching it. I love freedom, and players love freedom.
WHRB: Any takeaways for our listeners?
Hayoung: I can't wait to meet Maestro Ben and discuss many things!
Ben: I want to encourage people who are listening to come to the concert. It is live streamed, but I have to tell you there's something very different about being there. It's the difference between eating fruits or vegetables out of the can or fresh like a corn on the cob. It has one of the finest acoustics of any hall in the world, and it is such an experience — the warmth and the presence of the sound and clarity. It's just absolutely unbelievable.
Saturday night, if you're doing something, change it. Come to Symphony Hall and hear this great young cellist and the beautiful Boston Philharmonic Orchestra. At 6:45 pm, I'll speak to the audience about the music and how the pieces are put together, so it gives the audience a deeper understanding of the music. Then, the concert begins at eight o'clock.
Tickets are very cheap for students — we want people to come. We believe that classical music is for everybody, and that everybody will love it. Our motto is passionate music making without boundaries. That's our vision.
// Felicia Ho '23 is a producer for the Classical Music Department and the Director of Online Content for Classical Music.