80s-90s Hip Hop: A Survival Guide, Pt. 2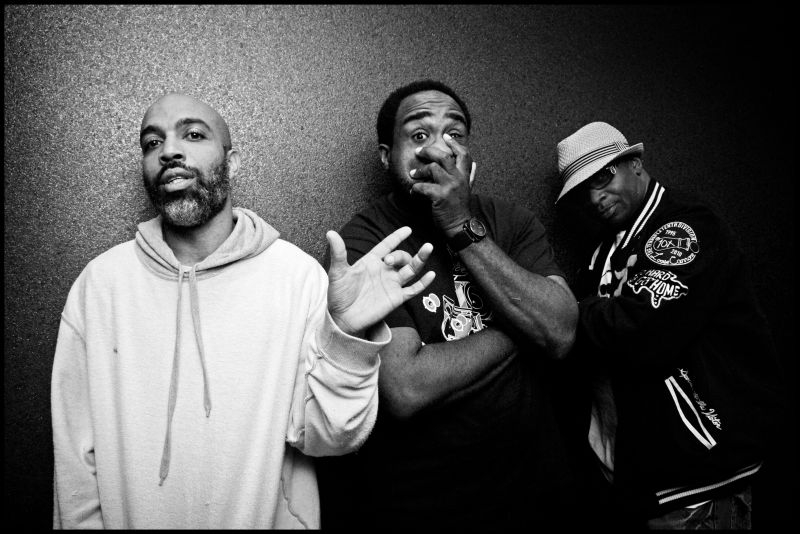 ... and then what happened?
Public Enemy was founded in Long Island, NY in 1982 by rapper Chuck D, hype-man Flava Flav, and DJ Terminator X. They are famous for their politically charged lyrics, Chuck D's deep, speech-like delivery, and Flava Flav's frequent interjections. Their album Fear of a Black Pl****anet is often celebrated as one of the greatest hip-hop albums of all time, and is the basis for the mockumetnary film Fear of a Black Hat, which you might remember if you went to the first TDS movie night; that is, it's very likely you don't know what I'm talking about.
The Jungle Brothers, along with A Tribe Called Quest and De La Soul, was a primary force behind the Native Tongues movement. Their 1988 debut album Straight Out The Jungle was commercially and critically successful, and played a huge role in hip-hop's staying power throughout the late 80s and early 90s. The single "I'll House You" features an absurd amount of sampling, including Malcolm X's "Fire & Fury Grass Roots Speech (Side Two)", the Main Theme from Star Wars, and Royal House's "Can You Party", from which The Jungle Brothers lifted the most for this track, and which itself samples a live recording of The Jacksons' "Opening/Can You Feel It" from their 1981 album Live.
N.W.A. formed in 1986 when Eazy-E, co-founder of Ruthless Records, assembled rappers/producers Dr. Dre, DJ Yella, Arabian Prince, and Ice Cube (Arabian Prince left the group in 1988, but not before new rapper MC Ren joined the group). Respected as pioneers of Gangsta Rap and West Coast hip-hop, the group has sold over 10 million records in the United States alone. Their debut album Straight Outta Compton is regarded among hip-hop fans, artists, and critics as a masterpiece of the Gangsta Rap genre, and particularly influential in the shaping of 90s and 2000s hip-hop. Their aggressive lyricism and violent, illicit themes garnered a lot of hatred from some parent and conservative social groups, and law enforcement agencies expressed a clear disapproval of the group's message, particularly towards the infamous track "Fuck Tha Police" – the FBI itself sent a letter to N.W.A. expressing their concerns, and this letter is currently displayed in the Rock and Roll Hall of Fame in Cleveland, Ohio. After their disbanding in 1991, artists from N.W.A., particularly Ice Cube, Dr. Dre, and Eazy-E, went on to have lucrative and influential solo careers. Eazy-E was diagnosed with AIDS in February of 1995, and died a month later from complications – his death cemented his spot in the hearts of West Coast hip-hop fans as one of the most beloved artists in the genre.
Queens, NY residents MC/Producer Q-Tip, MC Phife Dawg, and DJ Ali Shaheed Muhammad founded A Tribe Called Quest in 1985**.** An integral part of the Native Tongues movement, their style was positive, good-natured, and Afrocentric, earning them close ties and critical juxtapositions to Afrika Bambaataa's Universal Zulu Nation. Their albums are generally celebrated, with their magnus opus The Low-End Theory earning the coveted 5 mic rating from The Source, and 154th in Rolling Stone's 500 Greatest Albums of All Time.
Dr. Dre (Andre Young) was a member of the super-famous Gangsta Rap group N.W.A., before he left the group in 1991 after disputes with Gangsta Rap legend and bandmate Eazy-E. He was advised to leave by his bodyguard, Suge Knight, who later became co-founder and CEO of Death Row Records along with Dr. Dre. This was a good career choice – it is likely that Suge Knight is the worst bodyguard of all time, given that he's been shot 7 times, arrested on multiple assault charges, and was in the car with Tupac Shakur when he was fatally shot. Dre released his debut album The Chronic in 1992; it instantly became a hip-hop classic, and the bible of G-Funk.
Souls of Mischief started in 1991 in Oakland, California. They are a subset of the larger hip-hop collective Hieroglyphics, founded by member Del tha Funkee Homosapien (you may have already heard of Del – he is a prolific artist, and has released music as Souls of Mischief, Hieroglyphics, the underground supergroup Deltron 3030, as a solo artist, and more). Very jazzy, very funky, and very lyrical, their sound is a nice break from the Gangsta Rap and G-Funk of the era.
Cypress Hill was founded in South Gate, California in 1988, and is notable for being the first Latino-American hip-hop group to have platinum and multi-platinum albums. Their sound is distinctly Gangsta Rap, and their sound is more hardcore and metal-influenced than a lot of the rap being released during this era (think Public Enemy, but rougher). Their eponymous debut album was released in 1991, and reached double-platinum status; their follow-up, Black Sunday, went on to go triple-platinum, and is a celebrated hip-hop classic.
Snoop Doggy Dogg (aka Snoop Dogg, Snoop Lion, DJ Snoopadelic, and most recently Snoopzilla – real name Calvin Cordozar Broadus, Jr.) was discovered by Dr. Dre in 1992. He released his debut album Doggystyle in 1993 through Death Row, and it debuted at No. 1 on Billboard – by 1994, it had reached 4x platinum status. Snoop Lion's early music embodied the G-Funk sound and culture, and, along with Dr. Dre, is the main reason for its success; to date, Snoop has sold over 30 million records. In 2012, Snoop's conversion to Rastafarianism was accompanied by a name-change to Snoop Lion and a shift to reggae music, which was not entirely welcomed by the hip-hop community and Snoop fans.
Missed Part 1? Go back!