Adrianne Lenker Concert Review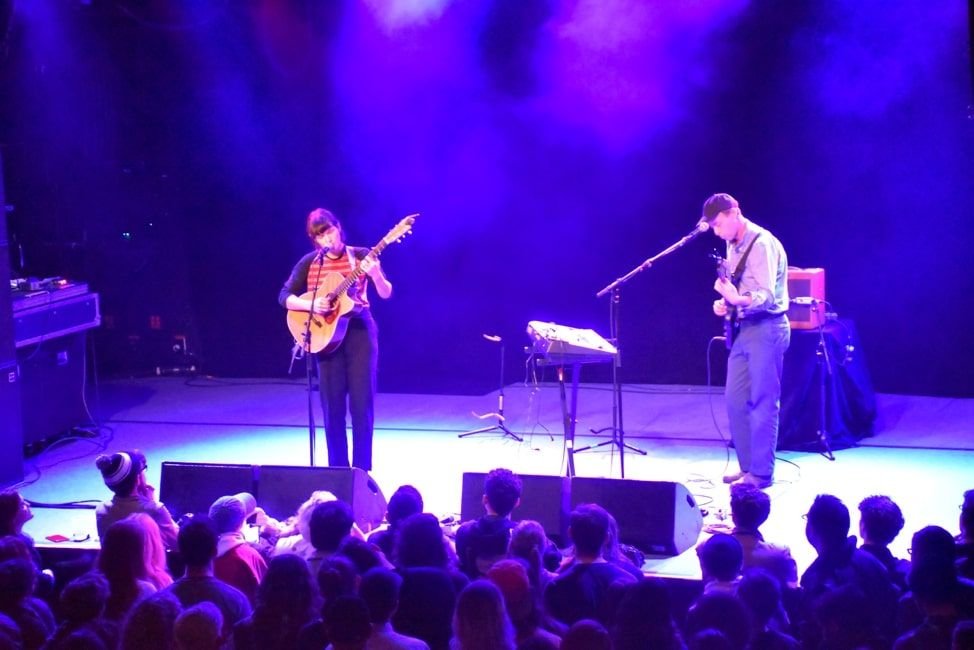 In the hours before Adrianne Lenker's Wednesday night concert at the Sinclair, a blanket of snow covered the streets of Cambridge. A snow-muffled world was the perfect meteorological prelude for the evening, in which Lenker's soft and mysterious sound touched the mind, body, and spirit of a mesmerised and adoring fan-packed room.
Touring as the singer-songwriter of her album abysskiss, her latest solo album showcases Adrianne's ability to convey a deep, muted noise that is pacifying yet thought-provoking. Its simplicity makes it simultaneously elegant and approachable. Guitar and voice bring all of the work– here, vocals and guitar speak louder and touch harder than lights and soundboards.
As an album, abysskiss is a compilation that can feel anywhere from whimsical to meditative. Released in early October of last year, the album is notably personal. Made in collaboration with Luke Temple, the contribution of this long-time friend adds something which, Adrianne notes, feels instinctively correct. As the product of documenting a critical phase in her life, abysskiss is a sort of musical memoir. Interestingly, the feeling of importance which lead to the album's very creation was carried through recording to become a discernible quality of the released album itself.
Yet what made this show especially remarkable was a feeling of presence. Not often do such powerful performers also exude such a relatable humanness. Endearingly enduring technical difficulties, Adrianne's stage presence became overwhelmingly authentic. She giggles through difficulties, looking at life (and a malfunctioning guitar) life through a passionate-but-forgiving lens– something we could all learn from. "I'm in a bit of an existential crisis. Just in this moment, though," Lenker coyishly confesses.
A ways in to her beautiful performance, she pauses to address some technical difficulties. "Sometimes it's smooth sailing," she says. "And sometimes, it's like 'oh my god.'" Talking with her audience, she laughs at the absurd reality of this unpredictable world. Life is a journey, but Lenker is thoughtful and forgiving. And on Wednesday night at Cambridge's Sinclair, a memorable musical performance reminds her transfixed audience to relish it all along with her.
---
Maya Levine is a DJ for the Record Hospital. The Record Hospital airs Monday-Friday nights from 10:00PM to 5:00AM