'That ain't all the killin' that's gonna be happening tonight'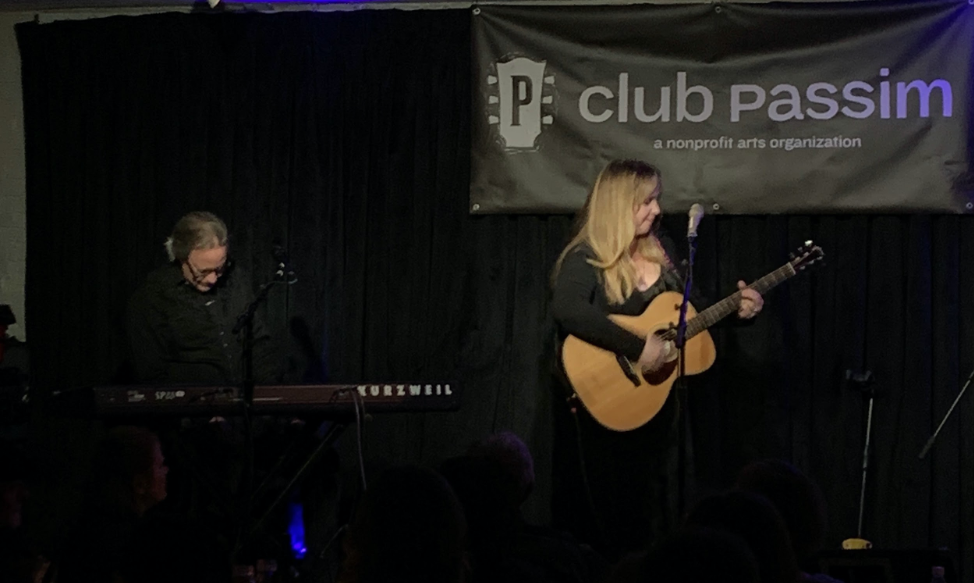 Listen
On the peaceful, pre-lockdown night of March 8th at Club Passim, Gretchen Peters opened her set of pure Americana storytelling with a dose of brutality. "Wichita" from her 2018 album Dancing With the Beast tells the story of twelve year old Cora Lee who murders her mother's abusive boyfriend. Peters promised "that ain't all the killin' that's gonna be happening tonight."
A couple of songs in, her husband and musical companion Barry Walsh switches from the keys to the accordion and Peters launches into her song "The Matador," recorded in 2019 by Trisha Yearwood. A member of the Nashville Songwriters Hall of Fame since 2014, her songs have been performed by a range of artists from Etta James to George Strait. To Peters's dismay, a recording of her song "Independence Day" by Martina McBride was even used by Sarah Palin in the 2008 Vice Presidential debates.
Her writing, exemplified by songs like "Blackbird," and "Disappearing Act," is best served in a quiet room by this understated duo. Even her gently produced tale of blue-collar motherhood, "Five Minutes," loses its grit when taken from the stage to the studio.
Peters's prolific songwriting follows artists like Tom Russell and Mickey Newbury, who she and her mother quietly loved throughout her adolescence in Country-hostile Boulder, Colorado. At Club Passim she sings Russell's "Guadalupe," and she's set to release a record of Newbury's songs on May 15th.
Walsh exits the stage as Peters announces that she's gonna do the last song "TFA." That means "totally f****in' acoustic," Walsh informs the crowd on his walk to the back of the room. Peters ends a night of hauntingly specific, gingerly-sung narrative with an unrooted love song. She strums and hums "Love that Makes a Cup of Tea" and leaves me envious of love that explains your silly but still rock & roll initialisms.
You can find out more about Gretchen Peters at https://www.gretchenpeters.com/. Upcoming shows have been postponed, but the title track of the aforementioned The Night You Wrote That Song: The Songs of Mickey Newbury is out now.
Club Passim has canceled in-person gatherings through April 6th, but check out their live-stream offerings and future events at https://www.passim.org/live-music/health/. They have also created the "Passim Emergency Artist Relief Fund (PEAR Fund) to help offset lost earnings by musicians who rely on the gig economy to make ends meet. See https://www.passim.org/pearfund/ for details on how you can help spread the word, make a tax-deductible donation, or apply for funds."
//Olivia Weeks is a DJ for the currently disrupted Blues Hangover from 5-9 and 7-11 on Saturday and Sunday mornings, respectively. In times of quarantine she stares blankly at walls, enjoying fond memories of crowded concert venues.