Alina Dong '23 Co-Leads Harvard College Opera to New Frontiers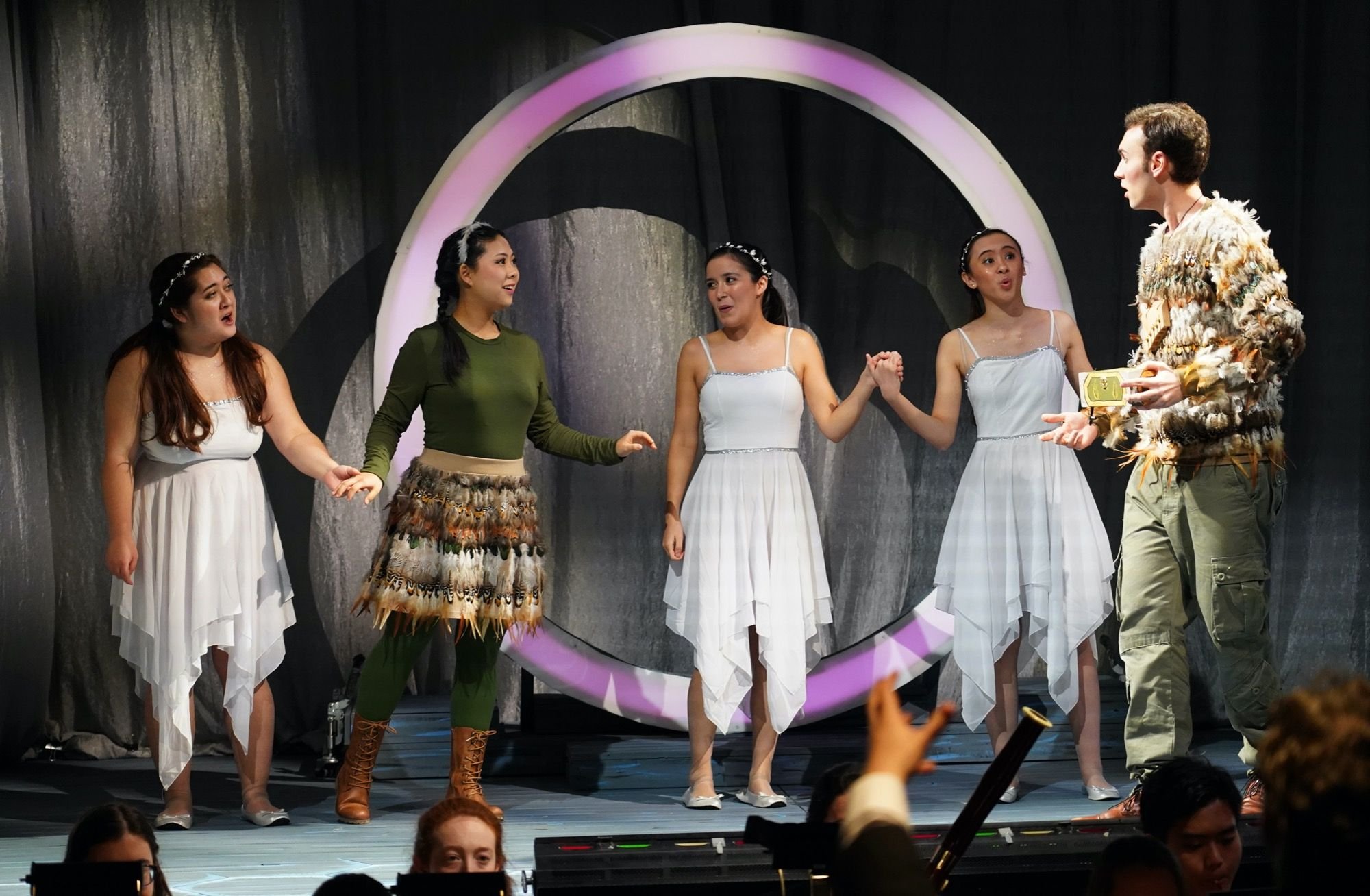 Photo courtesy of Benjamin Wenzelberg.
This year, we will be featuring incredible musical student groups on campus producing amazing music for the Harvard community and beyond. We'll be speaking with directors, musicians, and more in these interviews to learn more about how they got involved with classical music, how they've grown with the student organization, and what they're excited for in the year ahead.
Alina Dong '23 is the Co-President of the Harvard College Opera, and she has been involved with the group on campus since her first year. In previous years, she served as the Vice President of Management and Fundraising Chair.
For thirty years, the Harvard College Opera has introduced audiences at Harvard and beyond to the magic and art of opera with entirely student-run performances. Since 2014, they have produced annual operas in Agassiz Theatre, and they look forward to putting on the mainstage of The Merry Widow for the 2023 season, along with other exciting initiatives in store.
The transcript below has been edited for conciseness and clarity.
WHRB: How did you first get involved with music?
Alina: Ever since I was kid, I was interested in music. I started learning dance at age four, then piano at age five. I did a lot of elementary and church choirs, but I only started singing more seriously when I was in middle school. I started taking private voice lessons with local neighborhood teachers, mostly doing musical theater.
It wasn't until ninth grade, when my voice teacher at the time suggested I consider voice competitions, that I considered classical singing. There was a competition with a musical theater and classical division, so I instinctively thought that if I were to have a chance to place, it would only be in musical theater with my background — but then, my teacher suggested I also try classical. I didn't know the first thing about singing opera! I didn't speak Italian, French, or German! I remember it was Batti, batti o bel Masetto, which now I realize I probably should not have been singing as a 9th grader, and giving it a month, I tried it.
I remember just trying to memorize the sounds of the words, and on the day of the competition, I somehow ended up getting first in the classical women's group! It was a very happy accident for me to realize that my voice was more suited for classical singing, and that's when I started taking opera more seriously.
In 10th grade, I auditioned for Houston Grand Opera's High School Voice Studio Program, and for the rest of high school, I studied voice professors at Rice University and Sam Houston State University as well as performed in my first ever opera with the Houston Grand Opera, which was amazing.
I always had thought opera was so far removed from me — no one in my community had ever done it before, no one in my school or neighborhood. It was all so very new to me, but exciting.
The summer before college, I also did this intensive program in Italy, where I lived for a month and learned Italian. I also took classes in diction and acting, branching out more from the recital aspect to the theatrical side.
I knew, then, that opera was something I wanted to continue in college, so I started reaching out to some alumni from Harvard College Opera. When they shared that everything was student run, and they also got to perform in recitals and take masterclasses, with this annual mainstage opera at the end, I was immediately hooked!
WHRB: As opera was so new to you and your community, how did you navigate such a new field?
Alina: I definitely owe much of my success to my voice teachers and mentors. From those in middle school all the way to college, including mentors who are now at the Houston Grand Opera and sing professionally or serve in management or administration at the Company. Mentorship is just so important — I'm actually connecting with one of the current students of the Bauer Family High School Voice Studio (where I also studied) later today, as he's thinking of coming to Harvard! Voice teachers and mentors are so integral to the whole process of knowing which songs and competitions to do along the way, and I'm especially thankful for every single one of my teachers and mentors that guided me along my musical journey.
What was especially exciting was that after I went through the process, a lot more people in my community in Houston were aware of what opera or singing was. My good friend Carl Ho '24, also started studying with my old voice teacher — we live on the same street, and our families know each other well. And now, he's doing opera here at Harvard, too!
WHRB: What are some particular challenges you have had to overcome in your career thus far?
Alina: I remember there were about ten of us in the HGO high school program. I was almost always the only Asian-American there, whether it was in practice or in opera performances. At first, I was a bit hesitant to see no one else quite like me, but through music and the singing I could always connect with everyone, and I felt incredibly welcome. Music connects us all in an incredibly warm, welcoming, and special way. I have found that same feeling with Harvard College Opera as we continue pushing forward for more accessibility and reaching audiences who might not have heard of opera before but want to learn more.
Looking back on my classical singing journey, I realize it was a lot of trial and error. I did not always have a clear role model to follow. What competitions do I do? What songs should I be singing? How do I get better at Italian? Singing was particularly challenging for me as it was so different from my experiences in dance, piano, guitar, and flute. You can play a key on the piano or pluck a string on the guitar, but for singing I had to think bigger and use analogies for my voice. One time, my teacher said I should imagine I was the Eiffel Tower — I didn't know what that meant at first, but I realized then that she wanted me to raise my soft palate and lower my larynx while supporting it all with strong breath support. Another time, because I play tennis, my teacher would note that I should follow through with my breath just as I would on a swing.
WHRB: What do you love most about opera? Is it the story or the music?
Alina: When I started with dance, it was all about expression in the body. Then, I moved onto piano, and it was all about notes and the melody and the music. Then, I got into singing and choirs, where you stand and sing. When I finally got to opera, it was a beautiful marriage of everything I had been working on. It's not just moving with your body, and it's not just singing. You are acting and telling a story. The combination of all these factors makes it so interesting and cool to perform opera or go see it. As a performer, I'm not only creating music, but I get to become a character. Additionally, opera is such a collaborative and team effort — the fact that you get to perform with a live orchestra and work with stage and music directors is just incredible and so different from singing in a recital with you and the accompanist. I am also especially excited to work closely with board and executive board members James Rose '22/23, Arhan Kumar '23, Hannah Liu '23, and Isabella Meyer '24!
WHRB: Moving to your experience with Harvard College Opera, how did you join and what has the journey been like?
Alina: I joined my freshman year, and I played a principal role in The Magic Flute as Papagena, and then sophomore year, I performed in the virtual version of the opera and was the fundraising chair. Junior year, I was the VP of Management and started serving on the executive board. Now, I'm one of the Co-Presidents along with James Rose '22/23.
WHRB: How did the group adapt to COVID and overcome those challenges?
Alina: I am very proud of what our past board and current board were able to do, despite COVID. We were very flexible and creative in understanding the resources we had. We ended up creating a pastiche for our mainstage, themed as a dream, and it was about an hour long feature of virtual performances with different vignettes capturing different stages of a dream. We included lots of original student compositions, and we brought in singers, songwriters, instrumentalists, writers, filmmakers, dancers, poets, and more. We were able to expand beyond our traditional mainstage, and it was an incredibly fun and creative project during COVID and further strengthened our community and resilience in the face of adversity. We were also able to do our regular programmed masterclasses, albeit virtually – of which was one I performed in with Sumi Jo (my role model since I started singing opera)!
WHRB: What are you most hoping to accomplish with the group this year?
Alina: What we're really focused on this year is establishing a very strong structure to preserve institutional knowledge and promoting HCO beyond the immediate arts community on campus. As a result of COVID, we have lost some institutional knowledge, so we're working hard as a board to restructure our organization and set HCO up such that future Board members can take the reins and develop further on what we built. We've done simpler things like revamping our website to working on our History and Constitution to streamlining meetings and Google Drive Organization. We're also very excited to start new initiatives such as HCO x YOU to reach a broader community beyond just Harvard's arts groups.
WHRB: How have you seen the group shift over the years?
Alina: Now that we're back in person, there's this renewed sense of energy for the arts. Our board has lots of exciting initiatives to push forward this year — we have our Thirtieth Annual Mainstage, The Merry Widow, which we'll be putting on next year, and we're also planning our first annual One-Act Show, Puccini's Gianni Schicchi, in the spring. We'll also be doing our regular recitals and master classes. Another initiative that I'm very excited about is HCO X YOU. HCO sits at the unique intersection of classical music, performing arts, tech, and theater, and we want to bring students at Harvard together to put on smaller, more informal artistic initiatives. It will be a chance for songwriters or composers to showcase their music or put up performances. We hope to create this platform for the musical and artistic community to come together. This is part of our longer-term goal to bring more equity, access, diversity, inclusion, and belonging to Harvard College Opera. We're also looking to expand our alumni outreach through a newsletter or directory, making it a chance for us to spotlight our alumni who are working professionally out there. We also hope to open our doors to those without any opera experience, so we're looking at different training and shadowing opportunities, like a winternship in directing. I'm very excited for our new board and am incredibly grateful to be working alongside such a talented, kind, and warm group of people. Feel free to learn more about us on our new website!
WHRB: Out of all these exciting initiatives, what are you most looking forward to?
Alina: I'm most excited for our mainstage production, The Merry Widow, because it is our 30th Anniversary! It will be so wonderful to perform with everyone again and to have our black tie gala — which we haven't been able to do in the last few years because of COVID. Furthermore, I am really excited to see and support the incredible work that our Stage Director, Olympia Hatzilambrou '24, and Music Director, Benjamin T. Rossen '24 will bring to life this year!
WHRB: What's your favorite opera?
Alina: I like Puccini a lot, so I would say La Bohème. The music is beautiful, and Puccini is one of my favorite composers. I actually got to visit his summer house when I was in Italy and sing there which was surreal.
WHRB: Is there anything else you would like to share with our listeners?
Alina: One of our big goals is really to be as accessible as possible to everyone, even those without any opera experience. There are great initiatives to get involved in Harvard College Opera, so if anyone is ever interested, check out our lovely website and get in touch with us on board!
// Felicia Ho '23 is a producer for the Classical Music Department and the Director of Online Content for Classical Music.