Anthology of British Choral Music with Edward Elwyn Jones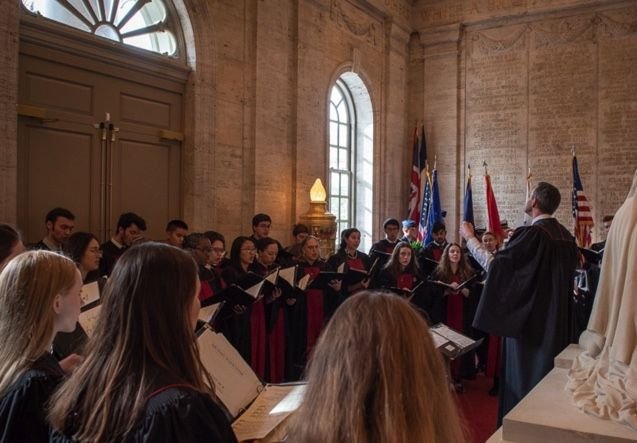 Edward Elwyn Jones, Harvard University's Gund organist and choir master since 2003, leads the 180 year old Harvard University Choir in its daily choral services, broadcasts, tours, commissions and recordings. Mr. Jones is also music director of the Harvard Radcliffe Chorus, as well as music director of Lowell House opera, New England's longest running opera company. A native of Wales, Edward Jones studied music at Cambridge University where he was Organ scholar of Emmanuel College. Our WHRB reporter, Angela Eichhorst, interviewed Edward Jones ahead of her Anthology of British Christmas Carols orgy, which will be broadcast on WHRB.org 5th December 5am-1pm EST.
The Harvard University Choir will be singing in their 110th annual Christmas carol services on the 8th of December at 5pm and on the 11th of December at 8pm in the Harvard Memorial Church.
Angela: Christmas carols go together with tree trimmings, warm fires and time with our loved ones. What do Christmas Carols mean to you personally, would you be able to share some fond memories?
Ed Jones: They evoke all of the enjoyment that you just said and the Dickensian Christmas around a tree, but they also strike a slight terror in my heart. When I was a chorister in a British cathedral between the ages of nine and thirteen, I sang Christmas services all the way up through Christmas Day, including to on Christmas day itself. We did the big Nine Lessons and Carol service on the 24th of December, which is a service at many cathedrals consisting of biblical readings interspersed with carols and congregational hymns, based off the model set up by King's College Cambridge 100 years ago this year. I sang the famous Once in Royal David's City solo a few times and there was always a certain amount of nerves before singing that to a rather packed cathedral. But certainly there is that wonderful homely feel of gathering around a Christmas tree and singing carols together.
Angela: What is your favourite Christmas carol?
Ed Jones: Hark the Herald Angels Sing is probably my favourite congregational Christmas Carol. Once in Royal David's City, to me, always has memories of the beginning of a service and Hark the Herald Angels Sing is usually associated with the end of the service. As Mendelssohn writes so brilliantly, there's something about the end of that carol with the very famous descant by David Wilcox that is usually done with the sopranos soaring up there, there's something that just says Christmas to me. Maybe it also says we're about to eat turkey and lots of Christmas pudding.
Angela: What do you think are the ingredients that go into a good Christmas carol?
Ed Jones: I think a good tune is always helpful. A text that is not just saccharine and jingle bells but actually has a bit of poignancy and carries the Christian message of treating each other well, and hopefully the whole year round. Also something that has an appeal to everyone, not just people who happen to be in Church on Christmas Eve or Christmas Day.
Angela: I think that's so true what you were saying about the poignancy of the words. I find that my favourite texts are the ones that point towards the sadness of Easter, that bring in the tears of Mary and the concept that this little baby is, in a way, sentenced to die.
Ed Jones: There's a duality in a lot of Christmas carols between the birth and then looking forward to the death and a sort of almost circular resonance to them. It's a journey that begins and ends over and over again as we retell the story every year. We know how it begins, we know how it's going to end but there's something very beautiful about the comfort within that.
Angela: How does a choir best bring a Christmas Carol to life?
Ed Jones: I always find it very exciting when we have a premiere in carol services, or on other occasions, where we have the opportunity to bring a new carol to life. It has its own unique set of challenges and also wonders. There are no recordings to have a listen to for anyone, we are doing it fresh off the page, which brings a real vitality to it.
In terms of the choir's own approach to singing Christmas carols, I think most choirs sing better when they're well prepared and there's enough time to get underneath the text and within the compositional craft of the composer. That brings extra meaning for the choir themselves, and is also tangible to the congregation.
Angela: A lot of the music that will be played in this orgy was written for particular chapels or cathedrals, which have a space that is both physically ornate as well as acoustically marvellous. Could you tell me about the most beautiful space you've ever performed in?
Ed Jones: I'm very partial to the cathedral where I was a chorister which is Llandaff Cathedral in Cardiff, the capital city of Wales. It's not a particularly big Cathedral and it's not a particularly ornate CathedralE, but it has a lot of wonderful memories and a very beautiful Lady Chapel at the East End. I've worked a certain amount in King's College, Cambridge, which I think is one of the most beautiful buildings on Earth, both architecturally and acoustically. Many of the other great cathedrals in Britain are both, as you say visually and orally, very exciting to be in, and particularly at Christmas when they're decorated to a certain degree, and often full, which is really nice. There's something beautiful, even though one might argue that the acoustics get ruined when churches are full of people, but there is something beautiful about singing to a full congregation.
Angela: How has your time as a choirboy impacted the pieces you choose now for the Harvard University choir?
Ed Jones: I grew up on the staple Anglican choral diet, which goes back to the sort of medieval carol tradition in Latin and goes all the way through to contemporary compositions, but I feel it was somewhat slanted towards the Anglican choral repertoire. A lot of composers who are associated with the Anglican tradition, John Rutter for example, who is very famous for all of his wonderful, wonderful carols - I'm a big Rutter fan. But I think when I came to Harvard, I really wanted to get involved in the American scene of the Christmas carol tradition, which is itself quite a flourishing one going back to the New England composers Billings, Daniel Read and Jeremiah Ingles, of whom I'm extremely fond so I tend to try to programme those things. I was very fortunate when I was in New York to work at a wonderful church on Park Avenue with a wonderful composer and director of music Steve Pilkington who knows a great deal about the American choral scene and about liturgical music in America. I learned a great deal from him, and it was a very different perspective to what I'd grown up from. I try to incorporate all of those along with more European stuff when programming for Harvard.
Angela: What is the influence of British music on American choral music? What are some of the other influences coming into American choral music?
Ed Jones: One of the wonderful things about my job is the chance to be inquisitive and always want to learn about new things. I think the worst thing a choir could possibly do is to sing exactly the same way that they sang yesterday, or last year, or 10 years ago. One of the lovely things about working with a student choir is that it is a very transient group. Every four years, it completely changes and every year it changes quite significantly. There are some conductors who have a very specific sound they'd like to emulate and will work to replicate that sound year on year, which is a beautiful sound in many cases. To my ear, I rather enjoy the fact that a choir's sound changes because of the personnel within. There are some years where our choir sound will be brighter, some years it will be darker.
In terms of influence, I think we're in a quite a nice place at the Memorial Church at Harvard because we have the best of both worlds. There is the British influence of a daily office choral service and in a very beautiful way there's a cycle that happens every day, every week, every month and every year. It relies on reading music very quickly, which is a wonderful skill for a choir to have but one potential negative is that it's often at the detriment of really getting invested in a piece of music. The American tradition is more of a college Concert Choir one, where a group will work extensively on blend, intonation and unifying sounds and vowels. We'll have a slightly smaller repertoire and work on it in a very focused way over a consistent period of time and build towards a few concerts in a semester, and then go on tour with that music so we really live with it over a long period of time.
What I've tried to do at the Memorial Church is to fuse those two things. Our 16 choral fellows sing a service in Appleton chapel every morning and then we have a bigger group that sings on Sundays and concerts throughout the year. But we also repeat a certain amount of music in concert and within the liturgies as a really nice fusion of two wonderful models.
Angela: As a proud Welshman, would you be able to tell me a bit about the Welsh choral tradition and how you feel Welsh music fits into the genre of British music. Is it very much related or is it quite a separate tradition?
Ed Jones: No, I think it's quite related. Wales is a nation of song and poetry starting from the great Welsh courts in the Middle Ages with a real bardic tradition of sung poetry of incredibly rich lyric poetry. Welsh is a very beautiful, mellifluous language, though some people would argue with that because of the guttural sounds and all the amount of spit that comes out when you speak the language. In the mining towns are the big Welsh Choral Societies, mainly male voice choirs. A lot of the towns in Wales for a long time were dry so instead of going to the pub, a lot of people would get together and sing after work. Listening to those choirs puts tingles down my spine every time and I think it probably does to other people as well. There's a Welsh word, hiraeth, which is a hard word to translate, but it means something like longing or a pull back to your homeland, to whatever home in inverted commas is. I feel that rich kind of harmony comes from within.
Welsh music is most closely allied to the Northern Choral Society tradition, for example in Huddersfield and Leeds. It was often in poorer mining communities where singing had an improving effect both on the community and the individual. All the studies coming out now show what we as musicians have known all along, that singing is actually good for you. I always think of singing as being a kind of group yoga, because what you're essentially doing is a very deep inhale with a very steady exhale, which is incredibly good for the brain and incredibly good for the soul. Singing is wonderful for listeners, and also for performers.
Angela: You brought up Welsh male choirs. There are choirs for men and women choristers as well as choirs that are made of only men and boys where the men sing alto, tenor, bass parts, and boys with unbroken voices singing the soprano part. What is your opinion on that sound?
Ed Jones: It's a very beautiful sound and the sound that I grew up with. Of course, it really is many different sounds. Let's talk about just the men and boys choir for a moment. It can change from being a rich, fruity, dark European sound, think the Vienna Boys Choir or in some eras, the choir of St. Paul's Cathedral in London, to a very fluty treble sound, think the classic King's College Cambridge sound.
One of the problems nowadays is that the tradition of being a chorister grew up alongside boarding schools. Certainly when I was a chorister we had to board. We had a rehearsal every morning at 7am and then sung Evensong every day at 6pm with a rehearsal at 5pm. That is a huge workload and it can only really happen in a boarding school environments. For many reasons, and I would suggest good ones, boarding schools are becoming less popular nowadays. Conductors are finding it harder and harder to recruit enough trebles.
One of the movements that started about 20 years ago is to have girls choirs as well, which sound fantastic. Girls, as we all know, are far smarter than boys at that age and can keep singing all the way through their teen years. One of the things that some colleagues find difficult is blending the two sounds of the young girls and boys so there are a lot of cathedrals now that have a boy choir and a girl choir. Sometimes they sing together, maybe once a week, but often they stay separate because of the blend issues. I think it's a wonderful thing, I've always found it rather difficult that girls never had the same opportunity to sing in cathedral choirs as the boys have.
Angela:Harvard University Choir's carol services are coming up, how is the preparation is going?
Ed Jones: It's going well and it's just around the corner! Memorial Church's Carol services are an amazing tradition started by one of my predecessors Archibald T. Davison. It was a goodwill offering to the Harvard and Cambridge community and has always been a very cherished part of the Christmas festivities with people coming even from different states to come and listen to the service. It's a gem of a service with three lessons from scripture, congregational hymns, and then various carols sung by the choir and processions. The Church looks gorgeous, it's a very beautiful church anyway but when it's decorated for Christmas it looks extra special. I think Christmas is all about playing into nostalgia and childhood memories and I think we do that quite successfully.
Angela: Who is your favourite composer?
Ed Jones: My favourite composer is Mozart. I love his choral music, there's not that much of it and it's of a particular period in his life. He didn't write much Christmas music actually, so if we're talking specifically Christmas, I think I have to say what John Rutter has done for Christmas Carols is extraordinary.
We are doing a little bit of Rutter in our services, the beautiful Sans Day Carol. We're doing music from a lot of different eras. We start off with Palestrina, we're doing some Rachmaninoff's Bogoroditse Devo from the Vespers. We're doing a little Welsh carol Ar Hyd y Nos, or Through the Night.
I'm very excited about a commissioned carol from a Harvard graduate of the class of 2009, Mike Schachter, who at the moment as well as being a very esteemed composer is in the Harvard Society of fellows. He dug through this incredible treasury of carols from the 15th century in England. Most of them are anonymous, some of them macaronic, meaning Latin interspersed with English. They are often foreshadowing death, Usually the words in Latin represent something slightly otherworldly, the virgin birth, the promise of redemption or those kind of things. He found a beautiful text that he has set in sort of an almost medieval style with some cool medieval cadences. We're going to sing this carol in Middle English pre vowel shift English, which is when English pronunciation changed but the spelling did not change, which is why English is such a difficult language with regard to how the vowels are going to be pronounced. Then the Latin rhymes with the English.
//
To hear the Harvard's University Choir come to the Memorial Church's carol services on December 8th 5pm and December 11th 8pm or tune in to their Sunday services broadcast on WHRB 11am EST.
Angela Eichhorst's Anthology of British Christmas Carols orgy will be broadcasted on December 5th 5am-1pm here on WHRB.org.
This interview was produced by Margaux Winter
Picture courtesy of Harvard Memorial Church