Bakery Bees: Great Company Served Sunny Side-Up at Vinal Bakery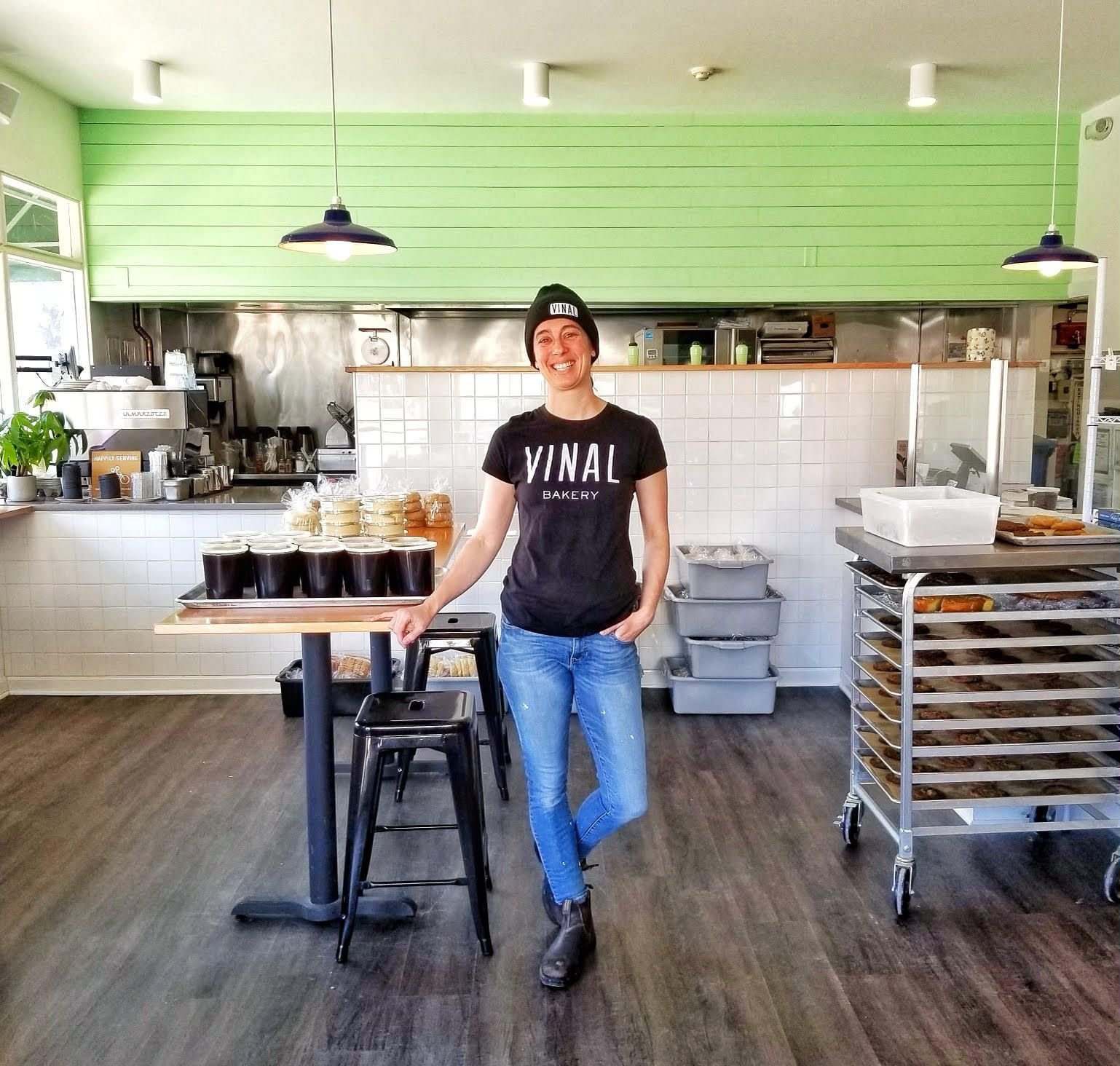 Listen
// Sarah Murphy, the owner and creator of Vinal Bakery, on site. Photo courtesy of Vinal Bakery
Vinal Bakery in Union Square, Somerville is the place to get your breakfast sandwich fix — English muffin style. Thinking Thomas' English Muffins? Think again. Led by Vinal Bakery owner and pastry chef Sarah Murphy, the team at Vinal makes six different English muffins (classic, multigrain, french toast, oat sesame, anadama, and portuguese), several breakfast sandwiches, and a few lunch options (English muffin pizza!), too. They also serve many pastries to end your breakfast on a sweet note. Murphy once worked in career services here at Harvard before pivoting to a career in baking around the greater Boston area, from Flour to Sarma to Bagelsaurus. Vinal is now nearly five years old and a welcome addition to Union Square.
On this final episode of Bakery Bees, Felicia Ho '23 and Vicki Xu '23 round out their Somerville bakery adventures with Sarah Murphy from Vinal Bakery — and learn about starting a bakery and taking the leap into pursuing one's passion.
TRANSCRIPT
Felicia: The word "muffin" may originate from the Low German word muffen meaning "little cake," and it was first used back in 1703. Since then, the roads have split between the US and the UK as to what exactly this "muffin" can describe — here we might picture a cake that's a bit like a mushroom or little cottage house with a fluffy, rounded top, while across the pond they might think of a round, flat bread. The latter is often called the English muffin, and you might be most familiar with ...
Vicki: ... the Thomas' brand, established back in 1880 by Samuel Bath Thomas. These line the grocery store aisles with their pale, uniform flat tops — but there's so, so much more possible with the English muffin, and Sarah Murphy of Vinal Bakery is here to show us how!
So get your muffin — whichever type you're a fan of — and settle in to learn more about taking a leap in starting a bakery with the Bakery Bees!
Vicki: Hi, I'm Vicki, and I'm a senior at Harvard. Since we're talking muffins and breakfast, my go-to breakfast would be a muffin — a blueberry one. I'm one half of the Bakery Bees.
Felicia: And I'm the other half! I'm Felicia, and I'm a senior at Harvard. Mine would definitely be a hearty bowl of steel-cut oats — plain!
Vicki: Together, we're the Bakery Bees, the dynamic duo behind finding your next favorite, greatest hit bakeries in the greater Boston area.
Felicia: Today, we'll be chatting with Vinal Bakery about the good and bad, the salty and sweet, the mild and the spicy. How they were founded, how they established themselves in Somerville, and what they would like — and what we would recommend — you to try at their bakery!
Vicki: After a brief history tour earlier, we'd like to welcome to the world of Vinal Bakery, where there are six different types of English muffins — classic, multigrain, french toast, oat sesame, anadama, and garlic bread — and oh-so-many breakfast sandwiches, ranging from sweet to savory. Vinal also sells some scrumptious pastries like the cinnamon snail or a spiced parsnip muffin, and some dog biscuits for your furry best friend. Everything is seasonal and sourced locally!
We conducted this interview with Sarah Murphy, the owner and creator of Vinal Bakery. We're here after hours on a Wednesday evening, so thank you to Sarah for sticking with us and for taking the time to chat.
Now, here comes the "muffin woman!"
Felicia: Here we are today for the next episode of our podcast, Bakery Bees, and I'm Felicia. I'm here with Vicki and Sarah Murphy, the owner and pastry chef of Vinal Bakery. We're so excited to get into food, baking, and the signature dishes at Vinal Bakery, and what you're looking forward to in the future.
Sarah, you're initially from New Hampshire, and I've read that you described growing up on a family farm. Being on a farm, what did preparing meals and cooking look like — was it a family affair, and how did you get started in the kitchen?
Sarah: For full clarity, it was not a farm in the sense that my parents did not make a living off of farming. They both had separate jobs, but they were back-to-the-land people. We had chickens, apple trees, blueberry bushes, and we had a garden. We also sugared and had maple syrup in the spring. I have lots of respect for people who make a living as farmers.
In terms of cooking, I didn't cook a lot when I was young. My mom did a lot of the cooking, which was pretty traditional in the 80's, and she was home with us a lot when we were really young and baked a lot then. I do have memories of her baking fresh bread. She wouldn't bake a lot of sweets, but when she did, I obviously loved it. I remember really wanting to taste vanilla extract because it smelled so good, and when she finally let me I realized it tastes nothing like it smells. It's a great flavor enhancer, but on its own it does not taste so good. I think really, though, being connected to growing food and the seasons gave me an appreciation for what making food does — especially the seasons of New England. Even though winters can be long and dark, I very much have an appreciation for the seasons and the joys, the highs, and the lows that every season brings.
Vicki: It's super cool to see your trajectory from childhood. You mentioned your mom, but what were there any pieces of media or baking shows you watched while growing up? Any particular fond memories there?
Sarah: We had no TV. I mean, maybe it was two stations — a PBS and an NBC. It was the 80s, but it was also very rural. My friends all had cable, but I was not part of it — I was not very into the celebrity chef era. It wasn't really around then, but I was also just not connected to it at all. My grandmother, my paternal grandmother, baked a lot, and she had a lot of energy. She was a receptionist, so she worked full time. She would get up before going into work and bake in the morning to bring everything in. Interestingly, I'm not much of a morning person — which is funny because I own a bakery — but I definitely get the active piece of that from my grandmother.
In terms of inspiration, though, I would say I got more into cooking and baking when I was in college. I worked at Harvard after I graduated, and I did spend a lot of time at the gym watching Food Network. All of that probably helped build my passion for cooking.
Felicia: Awesome, do you have a favorite show on the Food Network?
Sarah: No, not really. I would watch whatever was on at 5 o'clock at the MAC or the Law School gym. It was very soothing to watch it, and I learned techniques here and there, but there wasn't any sort of one person that really stuck out to me.
Felicia: You mentioned that you got more into cooking and baking in college — was it because you were making meals for yourself then or having friends over? How did that start?
Sarah: I went to the University of New Hampshire, and it was definitely when I was in an apartment in junior year. In the dorms, there was no cooking or baking at all. I was very happy to get out of the dining hall, but then I realized I was wading myself through — it was my first time away from having someone prepare meals for me. Living off-campus was when I got into it a bit more, and because one of my roommates really liked cooking and baking as well, we would do it together. We were testing the waters, then.
Vicki: You were working in career services at Harvard, and then you transitioned to baking full-time. That could be challenging, especially in having the faith and confidence in making the switch. Why did you make the switch — do you feel like it was your calling all along?
Sarah: Undergrad, I studied journalism. I worked one year, and then I came down to Harvard to work in career services doing administrative and editorial things. I learned from that job that I am very much not suited for a desk. Wonderful people I worked with, but I realized this was not for me. I was getting pretty antsy. I had dreams of opening a bakery — I liked the entrepreneurial aspect and having my hands in every aspect of running a small business, and baking is something I really enjoyed. I was thinking of going to culinary school, but I knew it would be a lot of money and time commitment without a big return on investment in that you still start at the same spot when you go to a restaurant. While in food services we are trying to change things, it is not the most lucrative career.
I said, I'm going to try to bake three days a week with a blog. I wanted to see if I would still like it when I'm doing it more frequently. It was a lot, but I enjoyed it. I would bake at night and have friends over, and then 2008 hit with the financial crash and recession. I got lucky in the sense that OCS furloughed over the summer to prevent laying off people. This gave me the opportunity to take some time and go test while still having a job to come back to. I could dip my toes in but still have something to come back to.
The blog helped me get a job working at Morning Glory Farm in Martha's Vineyard, and because it is a farm they had a lot of seasonal items. They had dormitory-style housing, so it was great. I worked for eight to nine weeks in the bakery, and this was also very nice because I used a lot of things from the farm like when I grew up. I loved it. That gave me the push when I came back to know I wanted to take the lead and work at some places. I applied at many places — it was different then, in 2010 — and had a few stages, but because I didn't have any professional experience it was hard to get a job.
I applied for a front-of-house position at Flour and wanted to just get my foot in the door. I was hired, and I think I enjoyed the work immensely and pay — going from a salary position to a very basic, first-person-in-the-door hourly wage was interesting — but it was worth it. I worked there for seven years.
Felicia: That's such an incredible story of taking the leave and then going from Morning Glory Farm to Flour. You also worked at a couple of other places, and from all these experiences I was wondering if you have any particular lessons you've learned.
Sarah: So many things! I worked front-of-house, then managed, and then became a baker at Flour. I worked my way up and then I was overseeing a lot of the bakers and running pastry production at Flour — which when I left, they had four locations. I knew that I still wanted to open my own spot, but I knew that when I left it would be a Flour because that was all I knew so far. I needed to see more and go back to an hourly baking job where I would have more brain space to work on a business plan and also see other spots to learn different things in how different spots are run.
I learned so much at Flour in leadership and pastry. I appreciate that I did front-of-house because opening a business you need to be able to run all parts of it.
Bagelsaurus was an amazing place to work, and I'm good friends with Mary who owns it. There, I saw the focus — a shop that specializes in something — and what that looks like. At Sarma, I saw that restaurants are not for me. The team was awesome, I just realized they are not for me. That was also reinforcing that I want to own a bakery — I like doing high-volume and selling lots of one thing. Three Little Figs is a great neighborhood spot and they're a very small kitchen. I learned a lot from working in a small space.
I really recommend to anyone to go to lots of different places because you never really know what you'll learn. It's similar to doing internships in any field — you don't realize what you learn until you come out of it. You don't realize what you've learned until you look back on it.
Vicki: That is so true. As someone who is doing internships and thinking about them.
Sarah: Exactly — and sometimes you can feel like you don't know what you're learning from it, especially those where you don't have a lot of responsibility to do anything. Afterwards, though, you realize you did just by being around new environments and absorbing from them.
Vicki: Yes, it's a reflex. I learned this here, you realize. That brings us to our next question — you mentioned that with Bagelsaurus, you learned what it's like to specialize in something. Vinyl specializes in English muffins. Why did you choose to specialize, and did you worry at all about starting too narrow? Because other bakeries tend to specialize in a region or a general type of pastry.
Sarah: I never had any intention of opening an English muffin shop. I was writing a business plan, and I was picturing what this bakery would look like. I knew that I wanted it to have a really good breakfast sandwich, and I love English muffins. I feel like there isn't a lot of variety or quality compared to bagels. I never intended on specializing, but then I started to think about what my bakery would look like.
I was testing English muffins at Bagelsaurus, and Mary, the owner there — who was so generous and had started as a pop-up at Cutty's in Brookline — said to me that these English muffins are getting really close, would you want to sell them here? They also fit in line with what they sell at Bagelsaurus. Then I started selling English muffins and people knew me for my English muffins. I was always working on different New England-style pastries, too. Even up to a week before we opened, we were thinking about offering a focaccia. I was still fiddling with the recipe, and then I decided that we would just be doing English muffins. One, it is easier to do one thing that is high-volume as it makes us much more streamlined and efficient. Still, it does make us more niche.
Felicia: What drew you to English muffins?
Sarah: For me, croissants are wonderful when they are done well. But I think they are a bit fancier than I am? I'm a bit more of a rustic baker, and while I love bagels and all that, I think the English muffin, the soft plushness of it, is really great for breakfast or egg sandwiches. Also, not a lot of people do different flavors so there's a lot of room for experimentation.
Vicki: How did your upbringing on the farm influence how you decided the bakery's menu by seasonality?
Sarah: We definitely try to have rotating seasonal specials. It's fun for variety and the changing seasons that mark where we are at. It's also made me pretty committed to trying to use good quality and local ingredients. Most of our English muffins have buttermilk in them, and we exclusively use Kate's, which is out of Maine. We also use Cabot butter and King Arthur flour. We try to source local microgreens on our sandwich at our second business, the General Store. It's just showing respect for the people and the community, and we also have to consider environmental factors. Understanding the impact of where food is made and the process of food has influenced our menu and our commitment to ingredients as we rotate specials.
Felicia: Going into community — especially in how you spoke about the seasonality and supporting local businesses in the area — I wanted to hear about your growth in the community as well. How did you start establishing a name for yourself?
Sarah: Always fun to look back, and what a four years it has been. The pandemic started 11 months after we opened. Everything has changed, and we've grown so much. We're based in Union Square — I've lived in Somerville since 2006 when I moved down here, so it's definitely where I consider home (especially as I live right around Union Square). I was very happy to find a location because that's a very tricky part of brick-and-mortar. I knew the neighborhood and the demographic, and I wanted it to be a community spot where you know your neighbors and the community. We've just had an amazing reception from the start. People come from all over. I'm always surprised when people say they come from Southie or Dorchester — people are coming to find us. The next few years will be even more telling. Great word-of-mouth and regular group. We're trying to build a good team offering great service with consistent product to build a regular base that snowballs and grows, which we've been very fortunate to have happen.
Vicki: For those who have not yet been to the bakery, can you describe what it's like to go and walk in?
Sarah: We're in "no-man's land." Outside of Union Square and next to the Target, which is where Bantam Cider used to be. We're out there "floating" in a corner spot. We're a very small shop with lime green board, and you see the counter — nice, light wood. It's very small, we just have seating for 13. It's primarily takeout — we installed a takeout window during the pandemic, and we redesigned the inside to always accommodate the takeout window. We're still 85 percent online ordering, and actually a lot of pivots in the pandemic have helped us grow. We never will be a fully sit-down spot with just 13 seats. The seats are full on the weekends with people lined up ordering coffee and pastries, and there's also a line out the takeout window. It's nice to have different outlets so we can serve as many people as possible as they enjoy their food.
Felicia: We're talking a bit more about the food and what's on the menu — do you have a favorite English muffin, or what's your signature?
Sarah: Any of the breakfast sandwiches — we have five or six, and we try to rotate specials. We also have some lunch-focused ones. When I say breakfast, I mean egg-based. We hit all the notes. We have the American Classic: egg and American cheese, and you can add bacon, ham, or avocado or our house-made turkey sausage or house-made veggie sausage. It's very modifiable, which is what people like about it. We also have six flavors of English muffins, so there's a way you can build your own favorite sandwich. The American Classic is straightforward and traditional, then we have a sweeter one that is maple and has our house-made maple butter, which we use local maple syrup to make . If you like the sweet and savory, our G.O.A.T. has spicy pesto that has different herbs and pickled jalapenos on house-made goat butter. Or we have a Sam I Am with garlicky greens and Dijon mustard. Everyone likes a different thing in the morning, so we aim to please.
Vicki: Do you have any advice for entrepreneurs who are looking to open their own little spot?
Sarah: Yeah, totally. This is from Joanne Chang, but she suggested going to work at whatever kind of place you want to open. By work, I mean put the time in. She says do it on someone else's dime. It just takes so many people, so much energy, and so much effort that it's an amazing thing to do to open a spot — but you want to know for sure you want to do it. It's very different from doing things at home. For some people, nothing ruins home baking more than getting a job where you have to bake. When we interview bakers, we find the best bakers thrive on doing the same thing over and over, on repetition. If you don't like that, baking professionally is likely not for you. After you've learned everything and gone to a few different places, really take the time to write a business plan. I probably spent a year working on a business plan before I brought it to a bank and looked at funding and a place to be. It takes time, especially for brick and mortar. If you're still committed through all that, it's a good sign that you want to do it. If you start to lose focus, it's good you learned that before you opened a place up.
Felicia: One of our last questions is about perseverance. We touched on this briefly with takeout, but we wanted to hear more about your story in the pandemic and lessons you're taking into the future.
Sarah: So many lessons. It's funny because we've been mostly a post-pandemic bakery at this point. We've been open three-plus years in the pandemic and just shy of a year before the pandemic. The takeout window and online ordering has helped the business model for safety standards and much more. The team was amazing to each other, and I tried to be the best leader I could. We still have two people who have been with us since the day we opened — a sign of people rallying with each other and building up that culture in the bakery. Being able to pivot was also key. One thing I'm grateful for is that we were in a very new business mindset, which meant that we were still figuring things out and pivoting all the time. It made it somewhat easier — it was still overwhelming and challenging with a global pandemic, but it made it easier to try this or that because we were not set. I knew others who had bakeries for years and years and it is much harder to turn everything upside down on its head.
Vicki: That's super cool and inspirational. Thank you so much for taking the time to call on a Wednesday night. To everyone who is listening in, this is Vinal Bakery, and they serve English muffins. Hopefully you can make your way to Vinal on a nice morning one of these days and get one of the sandwiches or pastries.
Sarah: We can't wait to have you in! We hope to see everyone.
// Reported by Felicia Ho '23 and Vicki Xu '23. Voiceover by Felicia Ho '23 and Vicki Xu '23 and studio engineering by Vicki Xu '23. Music theme composed by Jonathan P. H. Wiener '23.
// Tune in to Harvard Radio News on Sundays at 12 p.m. ET to experience the stories going on in Harvard and beyond. Follow Harvard Radio News on Instagram @whrbnews.