Bakery Bees: Sweet and Spicy with Nine Winters, a Korean-American Bakery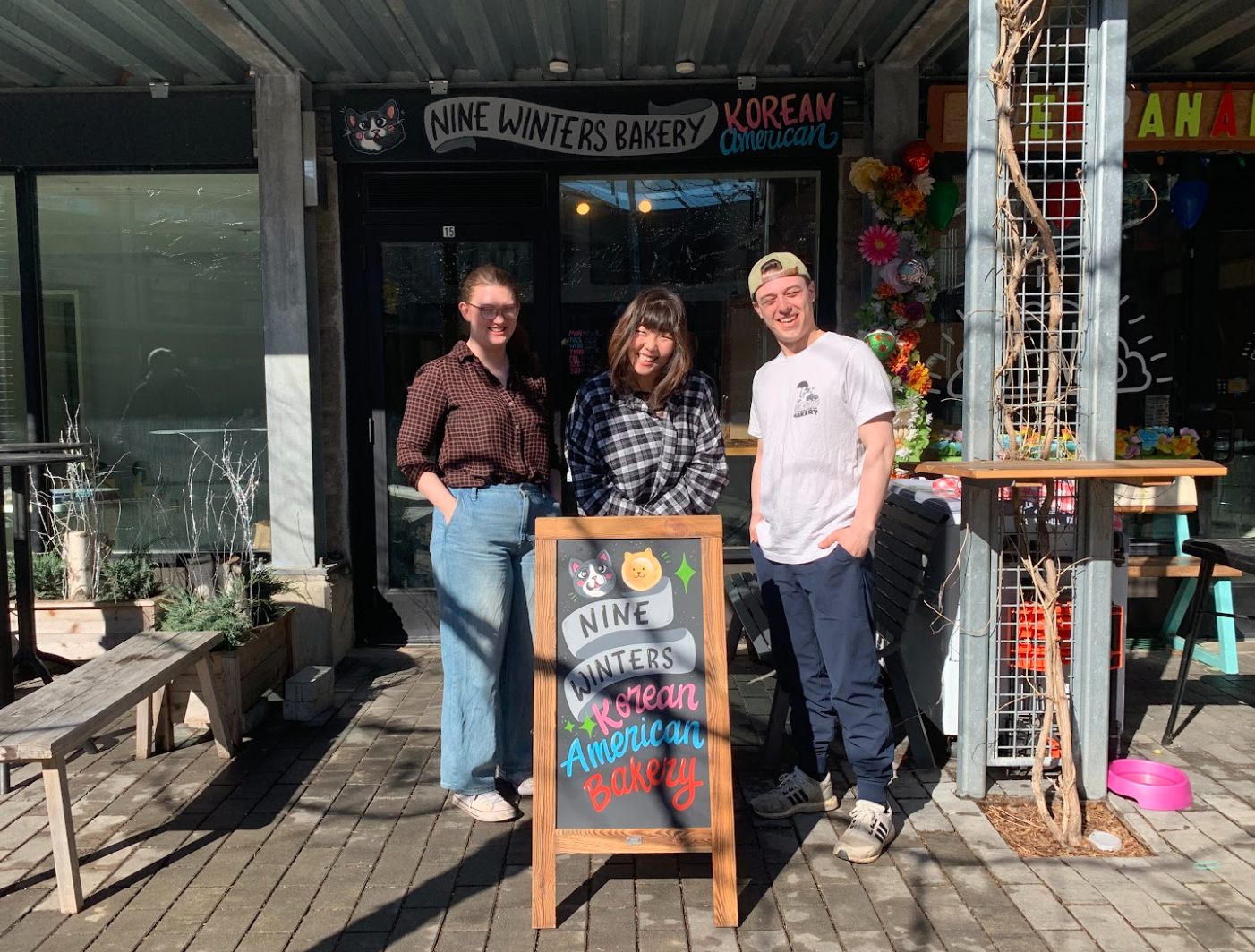 Listen
(Nine Winters bakery team: Erica, Marissa, and Ben. Photo taken by Vicki Xu '23.)
Nine Winters, a Korean-American bakery, was founded by Marissa Ferola initially as a weekly pop-up in Honeycomb Ice Cream near the Quad. Last year, the bakery found a more permanent home in Somerville's Bow Market and now churns out delectable cakes, cookies, pastries, and buns inspired by Korean-American flavors every day. Some menu mainstays are the double chocolate hot honey cookie—a rich dark chocolate cookie with gochujang-infused honey—and the doenjang sticky buns—a cinnamon sticky bun with fermented doenjang inside (Korean soybean paste). Though initially a one-woman show, the Nine Winters staff has since expanded to include bakers Erica Russom and Ben Gallini.
On the inaugural episode of Bakery Bees, Felicia Ho '23 and Vicki Xu '23 venture out to Somerville to learn about the recipe-making process, philosophies of, and unique challenges faced by the Nine Winters.
// Reported by Felicia Ho '23 and Vicki Xu '23. Voiceover by Felicia Ho '23 and Vicki Xu '23 and studio engineering by Vicki Xu '23. Music theme composed by Jonathan P. H. Wiener '23.
// Tune in to Harvard Radio News on Sundays at 12 p.m. ET to experience the stories going on in Harvard and beyond. Follow Harvard Radio News on Instagram @whrbnews.
TRANSCRIPT
Felicia: The sun is shining, the birds are chirping, and the sky is clearing. Finally, spring is just around the corner here in Cambridge as we're taping this first episode of the "Bakery Bees" podcast. This Sunday morning, we'll be strolling right down Kirkland Street to a unique, little bakery run by some passionate, hard-working folks in Somerville at Bow Market. Let's follow the scent of butter, sugar, and a touch of gochujang to the Korean-American bakery Nine Winters.
Get some coffee, tea, snacks, or whatever you're craving and get ready for your baking fix from the Bakery Bees! Before we dive in, though, let's introduce our podcast and ourselves. So, Vicki, who are the Bakery Bees?
Vicki: Hi, I'm Vicki, and I'm a senior at Harvard. I enjoy a good basque cheesecake. I'm one-half of the Bakery Bees.
Felicia: And I'm the other half! I'm Felicia, and I'm a senior at Harvard. I'm definitely partial to decadent, thick plain New York Cheesecake and oatmeal raisin cookies.
Vicki: Together, we're the Bakery Bees, the dynamic duo behind finding your next favorite, greatest hit bakeries in the greater Boston area. Think you need the T? Think again! Most, if not all these spots are accessible walking around Cambridge (and we highly recommend this as the flowers start blooming soon and the weather gets warmer… ah, the dream!) We've been hopping around this lovely, suburban town for hidden gems, and we want to share not only the most delicious, delectable, and absolutely divine baked goods these bakeries pump out everyday, but we want to more importantly highlight how incredible it is that they exist, that they were built out of dreams, that they are truly baked* into their community in heart and soul.
Felicia: Every episode, we'll be chatting with a bakery about the good and bad, the salty and sweet, the mild and the spicy. How they were founded, how they established themselves in their little neighborhood, and what they would like (and what we would recommend) you to try at their bakery! Of course, we're a little biased covering these bakeries — they're our top picks — and while we'll try to cover as many spots as we can, there's just so much more to explore.
Vicki: Today, as Felicia said, we're covering Nine Winters, a little shop in Somerville Bow Market selling baked goods with Korean-inspired flavors. Currently their menu consists of various cookies, milk breads, buns, and cakes.
We conducted this interview with all three members of their team — Marissa, the founder; Erica; and Ben — sitting around their rolling table. Because it's a busy morning, baking is already in high gear, and occasionally one would step to the back to check on the pastries or to load some cookies in the oven — which is why you might hear some background noise.
So come along for our first stop, Nine Winters, to a world of sweet and spicy!
Vicki: Tell us a bit about your founding story. How did the three of you guys come together? We know Nine Winters was born out of a pop-up in Honeycomb, so we're a bit curious about that.
Felicia: And feel free to introduce yourselves!
Marissa: My name is Marissa, and I began Nine Winters bakery out of Honeycomb Creamery. I worked for Honeycomb Creamery from the ground up for over 6 years, and my boss, the owner Kristen Rummel, gave me a really great opportunity to explore Korean culture through food with a pop-up. As things progressed and as we gained a little bit of a following, I was able to move into Bow Market, which is a really incredible opportunity.
Nine Winters really began as a pandemic project with my two young children. My oldest, who was three at the time, didn't really love how intense Korean flavors can be because I introduced her to kimchi jjigae, which is a really intense, aged Kimchi stew that is very pungent. It can be spicy, too, and I just assumed that she would like it—she didn't. So I started adding gochujang and gochugaru in cookies, and then it just kind of ballooned from there. As it turns out, now she will eat kimchi jjigae and doenjang. She loves all of these things now.
Erica and Ben came aboard pretty quickly after launching in Bow Market, and they have proved to be incredibly valuable members of the team.
Erica: Hi, I'm Erica. I was the first hire. I had worked at Bow Market previously and had left that job. I heard Marissa was in need of somebody, and my name was put forward, and that's how we met. I came in, and she's like, I need you to be here, and I said, I'll be here.
Marissa: Erica is also a fantastic chocolatier. If you've heard of any of our partnership projects that involve chocolate in any kind of way, Erica is the mastermind behind Fauve Chocolate, and I'm very happy to have her on board.
Erica: Oh, me, too. It's been great working in a sort of environment where it is about putting American and Korean together. It's a great concept, putting what is unfamiliar in the familiar for Americans and getting to use that in some of my chocolates has really been a stretch, a really good exercise, and I've appreciated it completely.
Ben: I'm Ben. I'm the second hire, but I was the first full timer. I'm pretty new to baking. I joined because a friend had sent me an Instagram post that Marissa made, and she was in search of somebody to join the crew. I took it up. I reached out to her and did a little stage for her. She was impressed, and I joined the Nine Winters crew.
It's been a real fun experience so far, just learning everything there is to know about baking. So much of this is incredibly new to me. I've never made Italian buttercream before. I've never really experimented with flavors before, but it's really just gotten me out of my shell and comfortable in the kitchen.
Marissa's also a great instructor, mentor, and cool mother. She's probably the best teacher for somebody who's got very little baking experience. I had some kitchen experience prior to this, working in local businesses, but Nine Winters is sort of where I came into my own.
Felicia: On that point, what are some of the greatest pieces of advice you've learned from Marissa, Erica and Ben?
Ben: This is a tough one. It's such a small space that we're in right now, so just learning how to navigate such a small space and stay on task. Keep doing something, whether that's minimizing your downtime or maximizing your efficiency in the kitchen. That's probably the biggest thing I've learned.
Also, learning to follow instructions and not always taking the easy way. Baking can be pretty rigid, but at the same time, a lot of the best ideas that we've had here just come from crazy, spur of the moment, stupid thoughts. Where we get most of our creativity from is just following our weirdest impulses and bouncing off of them. We've created a space where we're not afraid to do something a little stupid.
Erica: I think my background is a little bit more rigid, so it's been really great to try. Is this silly? Is this weird? Let's try it, at least.
In terms of what I've learned here technically, I had never really made bread before, and so getting to make milk bread every day has been a real skill that I'll take with me for the rest of my life. I'm still working on cakes, but I'm going to get there. And buttercreams.
Marissa: Anything can go in a buttercream.
Erica: That's true — anything can go in a buttercream, that's what I've learned.
Vicki: That's actually a great segue into our next question, which is, tell us a bit about your recipe making process, and what are some technicalities involved in developing your recipes?
Marissa: Most of these recipes really started as a way to get my young children very familiar with flavors that they might not see in a more Western-based market. It's very important to me to get high quality, locally sourced ingredients, if possible, but because we're working with Korean materials, it's not always possible. Really, it's been ingrained in me since I began working in Somerville and Cambridge ten years ago that sustainable, local and seasonal products make a huge difference. That definitely impacts how I think of recipes quite a bit.
I also really appreciate balance. No matter what the flavor is, no matter how strong it is, or how mild it can be. Balance can always be achieved, and I believe that that makes a more approachable product as far as coming up with ideas. Like Erica and Ben had mentioned, we often ask: is this silly? It might be, but silly is fun! Outside of sourcing ingredients that are special, having fun and no pretension when it comes to food and being approachable is the core of everything that we do here.
Vicki: Have there been any funny mishaps or happy accidents?
Marissa: The k-pop tart, which I would love for Erica to talk about, because that's her brainchild for sure. Also, our rice krispie treats, which are made with turtle chips. They're these four-layered turtle shell chips. We just thought, let's buy some marshmallows, not knowing how many marshmallows we actually can purchase—a lot. So many marshmallows. But that's how we came up with the turtle chip rice krispie treat. It's lovely, and it really reminds me of being a kid. Again, this whole project started as something for my children, so something that makes me feel like a kid is top notch.
Also, it's great to have an excess of something in the kitchen and ask, what are we going to do with these things? That's a really great part of the creative process in any kitchen, making sure you use everything you have. The K-pop tart also reflected this: we were doing a laminated dough with just butter and hallabong or plum jam. We were doing sweet danishes.
Erica: Yes, we would laminate the dough, cut it into squares, and fill it with the plum jam. We had some roasted seaweed (gim) hanging around. I thought it'd be really really tasty to put that into a croissant. Kind of like a savory, delicious croissant. Marissa said, you know what we also have, that kimchi from Kaju.
Marissa: Their kimchi is great, and we're really excited to be working with them.
Erica: It's a phenomenal product, so we just put all of that into the dough, laminated it, and then we took it a step further. We had some Cabot cheese left over. Ben went a bit overboard with the cheese shredding, and then we got the K-pop tart. It's this silly thing that we've made, and now they sell out every day. They're delicious, and we're so proud of it.
Marissa: I would also like to say that these products have helped folks get over certain stressors. We have switched out the kimchi currently for dried squid, which, as you all know, is great. It's a delicious snack, and so yummy. Some people get a little nervous about products like that, though, but eating something that is familiar like a buttery, flaky, soft dough helps.
Erica: I think I'm surprised because when we bake them off, it definitely smells like squid in here. But people come in and say that it smells delicious. It's about putting a little bit into something that's familiar, and it can really open something up to people.
Felicia: Starting with Ben, what were some of the most challenging flavors to either bake and get through or get accustomed to tasting yourself?
Ben: For me, the doenjang sticky buns were something I never experienced before. When I first left my stage, I believe Marissa gave me a bunch of things to try. When I first had the doenjang sticky bun, I thought it was really salty at first. Then, slowly, I've worked with it so much and am around it so much that now, if one comes out bad in the morning bake-offs, I actually find myself snacking on it, which is something I never thought would happen.
I also come to the table with a lot of food and dietary restrictions: I'm allergic to peanuts, tree nuts, and sesame. It's a hang up here because I can't have at least three of the products that we have on our shelves right now. I've worked around that. It's also made me more curious about Korean flavors. I find myself being jealous of the fact that I can't have certain things, so the things that I can have I really want to try.
Second to the doenjang would be kimchi. It's something that I wasn't too familiar with, but I've really grown to like it. The Kaju kimchi is phenomenal. It's really good. I've actually had the pleasure of working with some. I'm trying to develop a kimchi arancini, so that's something to be seen in the future.
There's a lot of things that I haven't really tried, like pork floss, for that matter, and spam. I've got three boxes of spam at home on my shelves. So much has become a staple in my everyday life, and it's definitely eye-opening for me.
Erica: I would say the different heats and sweets that we put into things. I never worked with different chilis—having something like a gochugaru, which is so fruity and warm, and then something like a Laoganma, which we make into a toffee for the top of the peanut butter chili crisp, which is my favorite cookie, which is just a bit smoky. My thought process is that it'll make this cookie lean savory, or it's going to fundamentally change it somehow. But it really doesn't. The way Martha balances things, they really go hand in hand, and it's not like a separate sort of sensation, like chocolate and heat.
Marissa: As an adoptee and being raised in Massachusetts on the South Shore, I did not have a lot of cultural ties growing up. Coming into Boston and experiencing more people and more of everything, and then starting my own family and having my children, I wanted them to know why they look the way they do and where they come from. We try to go to Flushing as much as we can—truly the best Asian food you can have in the states—and go there to experience all these things for what they are and really feel in somebody's home. It has made me look at ingredients and realize my own identity and journey exploring these flavors
As for formatting them into more of a Western styled pastry, I'm always saying that I hate the word fusion because I'm not a fusion of a person. This is my table. All of these ingredients were at one point new and exciting. They're still very exciting, but just more and more familiar. Nothing makes me happier than when somebody comes in with their young kid, and instead of getting that black sesame chocolate chip (which is a delightful cookie, but at its essence it's a slightly nutty chocolate chip), they go for the mugworm turmeric sugar cookie, and that's their little kids favorite. That means the world to me.
Vicki: That is super cool. Now that you have a space to yourself in Bow Market, do you find that anything has changed or stayed the same from when you were a pop-up in Honeycomb?
Marissa: This is so different from popping up at Honeycomb Creamery, which was phenomenal. When I was popping up over there, we did a lot of partnerships with their products — we were doing an ice cream cake roll for a long time, and we used their thai tea ice cream. We made pandan extract, and made that into a cake with some Italian buttercream. We were just working with what we had.
But what I've learned in coming over here is that folks love savory stuff, but they don't go to an ice cream shop to eat dried squid. Coming over here, we get those questions like, what do you have that's savory? It made me really make space for savory items.
We were also doing hotteok every week at Honeycomb Creamery. In this space, I don't have a hood. We love our landlord, but the hood is on hold right now. ACtually, this is technically a pop-up space, and we've spent a year here. We are also very grateful for the opportunity to be moving soon into a space right next door as a permanent shop.
Even just coming from Cambridge to Somerville, it's just different. The people and the communities are different, and it's nice to see familiar faces every day. Bow Market's courtyard is beautiful, and lots of folks come here to do work or meet up with friends. At Honeycomb, I was open for only 3 hours once a week, so now I definitely get to know folks better being here, and it's nice to establish that kind of relationship with the guests.
Erica: This space is pretty small. Having the skills will serve us well when we move to a bigger space. We have around 12 products here, and we make everything out of a space that should really only fit one person—we have three people in here. It's a bit of tetris all the time, making sure we're using the freshest product and organizing ourselves to make sure we don't sell out of things too quickly. We can only bake off so many things at a time, which is a bit of a challenge.
Ben: If we have a nice day and we get slammed, our cases are just stripped bare. We're just working really really crazily to get things back on the shelves.
I would also say that being in Bow Market has a lot of benefits, too, because we have three places that serve alcohol across the way—it draws a late night crowd, and you never know what they want. They might want to bring home something sweet for dessert in the morning, or they want something savory, and that can be a little bit of a challenge. If you run out of savory products, you're scrambling to get some savory stuff up in a small space, and it can be difficult.
Marissa: I would also like to shoutout to our Bow Market vendors — Buenas, Saus, Bluefin, Maca. We have absolutely said, "We have made too much product, can we store things here. Can we use your refrigerator for a little while," and they always have our back. There's a sense of community, not just with the guests and the guest relationship, but also with these micros and other small businesses. Everybody comes together to really help everyone else succeed, which is unlike something I have ever been a part of before where we all have the same goal and the same ideals. Truly, we love our neighbors so much, and they do a lot to uplift and have helped me immensely in launching here and getting my footing. They've been truly wonderful supporters.
Felicia: On the topic of space, a lot of our listeners are probably aspiring home bakers themselves and have their own little space at home. I would love to hear some advice you might have for baking in general or trying out new recipes or flavor combinations and having fun in the kitchen. We all know baking can be a little bit stressful with ingredients and instructions, and the general stigma is you must follow everything exactly or it might not turn out okay.
Marissa: Does anyone live in a home in the city? We all have an apartment or shared kitchens. Everything is a table, if you believe it. So that's the first step. Everything is a table. Everything is a shelf. Make it work. As far as trying to come up with your own recipes, baking can seem incredibly daunting because it is a scientific process. But if you know the science behind it, changing out ingredients or adding a little something and taking something out becomes less daunting when you understand why products react the way that they do. Why certain things invoke a different type of flavor if you add too much, or how butter versus oil, or even just solid butter versus melted butter, how that affects gluten structure, and how that affects everything else. If you know all of that, you can just pepper in whatever you want. If you have a favorite recipe, play around with it and make changes, and the texture should be the same as long as you don't change the science.
Erica: I know that baking has this wrap of being a really hard science, even stressful. But during the "pandy," a lot of people turned to baking. For a lot of people, it was like a real sense of stress relief. I think that's what it should be. Even as professionals, you can find a recipe that you think is really great, and then you just make it better, or you just make it yours. Finding a good spot to jump off from is great. It should be a beautiful process the whole time you get to make something, and then you get to eat it and share it.
Add spice to things. If you want to put peanut butter in it. It's going to taste good if you put peanut butter in it.
Ben: Try a couple of new recipes and increase your familiarity with things. Buttercream was something I've never really encountered besides an American buttercream. That stuff's pretty boring, and it tastes way too sugary. Italian or Swiss, though, I've learned how to make them a few times. You can go whatever direction you want to with it, and they can become staple recipes that you can mix and match or mess with and improvise on.
You don't necessarily need a scale or anything, though it does help you, and the stand mixer is also kind of important. That's maybe a little bit of a threshold or barrier, but there's some things you can do without it, like lemon bars. Baking is a fun thing, and it can be for everyone.
Vicki: We have one last question, and then we'll wrap it up. Thank you so much for answering all of these questions so genuinely and so wonderfully. This has been really special.
We're just curious about your day to day. The bakery opens at noon or later, except for on Saturdays, but I'm sure you all are here way earlier than that (just like as we're taping this right now).
Marissa: Most bakeries open up at seven or eight o'clock, and then they all close by seven or five. As somebody who's worked in such a bakery in the past, you get up at 3 in the morning. Thank God, we don't do that here. But if I clock in at 3 in the morning, I go home and am so tired and have nothing to pick from if I want something sweet or it's like. I've got to plan my whole day around a bakery. What do I want to eat later? Better go now and go get it, but then it sits in my bag for 10 hours, and then I'll only be able to eat it later.
People deserve a treat at any point in time, and it should be fresh. It should be good, and they should have options, and our space is limited. I know that sometimes, at the end of the night, we don't have as many options as we would like. That's why we open later in the day to give other folks those opportunities if you are not a breakfast or morning person.
As far as our process goes, opening takes between 3 and 4 hours, just to make sure everything's baked off in the oven that we currently have. We can make 12 cookies at a time, so it's tough and you learn how to structure your time. Figuring out whether it is better to make six of each cookie instead of spending time baking one and a half dozen, for example. I would rather have people have variety rather than we have a 1 million of one thing, and production is all day. Our oven is on from the moment we walk in to the moment we shut our doors. I know that a lot of bakeries have larger ovens where they can do bigger bakes in the morning, but for us, we're just going to bake 12 cookies every 10 minutes. It is on demand, all the time, with the amount of space that we have, and we're trying to figure out that structure. It's just everything now, and we need everything.
Erica: The math isn't good when you can only bake off 12 cookies every 10 min, and you have a line out the door and people are buying dozens and half dozens at a time. Those three or four hours first thing in the morning are crucial for us to try and get ahead, especially on the weekends. We just try to load up as much as we can, but even then, sometimes by three o'clock we're sold out. We close the doors for a little bit and try to bake off as many as we can, but even then it's not good.
It's a game that we play all day, trying to get a sense of what people are coming in for, because sometimes there's just something in the water, and people are coming in for just chocolate chip cookies. Customers are always right in that sense, so you just keep baking those off, but also trying to make sure that we're good for tomorrow as well. It's hard to make the product, and it's a tightrope for sure.
Ben: I've learned a lot about structuring my day because I've never opened for a bakery before. I've learned how to set us up for success, and I've gotten decent at it. Thankfully, Erica carries us on Saturdays because she is a star. It's just so unpredictable. You have no idea how many people Bow Market will attract on any given day. People come in specifically for us, but people also just wander around like maybe a little buzzed, "Oh, hey, I really want something sweet." It could be fifty people, and you have no idea how to prepare for this ensuing madness.
It really can be crazy sometimes. Yesterday, it was really hectic, and I think our hours kind of reflect that, too, because in a traditional sense you're going to have regular foot traffic. But, that sort of dies down as people start to go home after work. Bow Market truly attracts people at all hours and later. It's truly a very special thing that we have afforded to us and can offer to the public.
Felicia: We really want to thank you for your time. This is so special for us because it is our first interview for our podcast. We're really thrilled to be featuring you all. Is there anything else you want to add at the end? Anything else you like to share for listeners?
Marissa: Well, first of all, thank you so much for coming out here to our incredibly small space with our Thank you, Remnant, for the chairs. Thank you so much for this opportunity. It's amazing to be able to talk to folks and reach people about baking being just fun, and it should be relaxing, and it should be something that brings you joy.
We are moving (fingers crossed) mid April, maybe May, to a larger space, and hotteok is coming back. Donuts are coming. Arancini is coming. Things are happening, and we are so excited about that Black Day, April 14. We're going to have Kaju, Honeycomb Creamery, and Anju Apparel, a new streetwear company from New York. It'll be cool to see our friends at Bow Market bring a little bit of Korean culture to their shops that day and do something special.
Erica: Yes, we're busy. Thanks for doing this. People are interested in small business, and we're a micro business. It's great to bring attention to it, especially because the food industry is so much about friends helping friends, working really hard, working late, working early. Thank you for appreciating this.
Ben: Thank you.