Bakery Bees: A Treat for the Eyes (and Sweet Tooth!) at Yafa Bakery & Cafe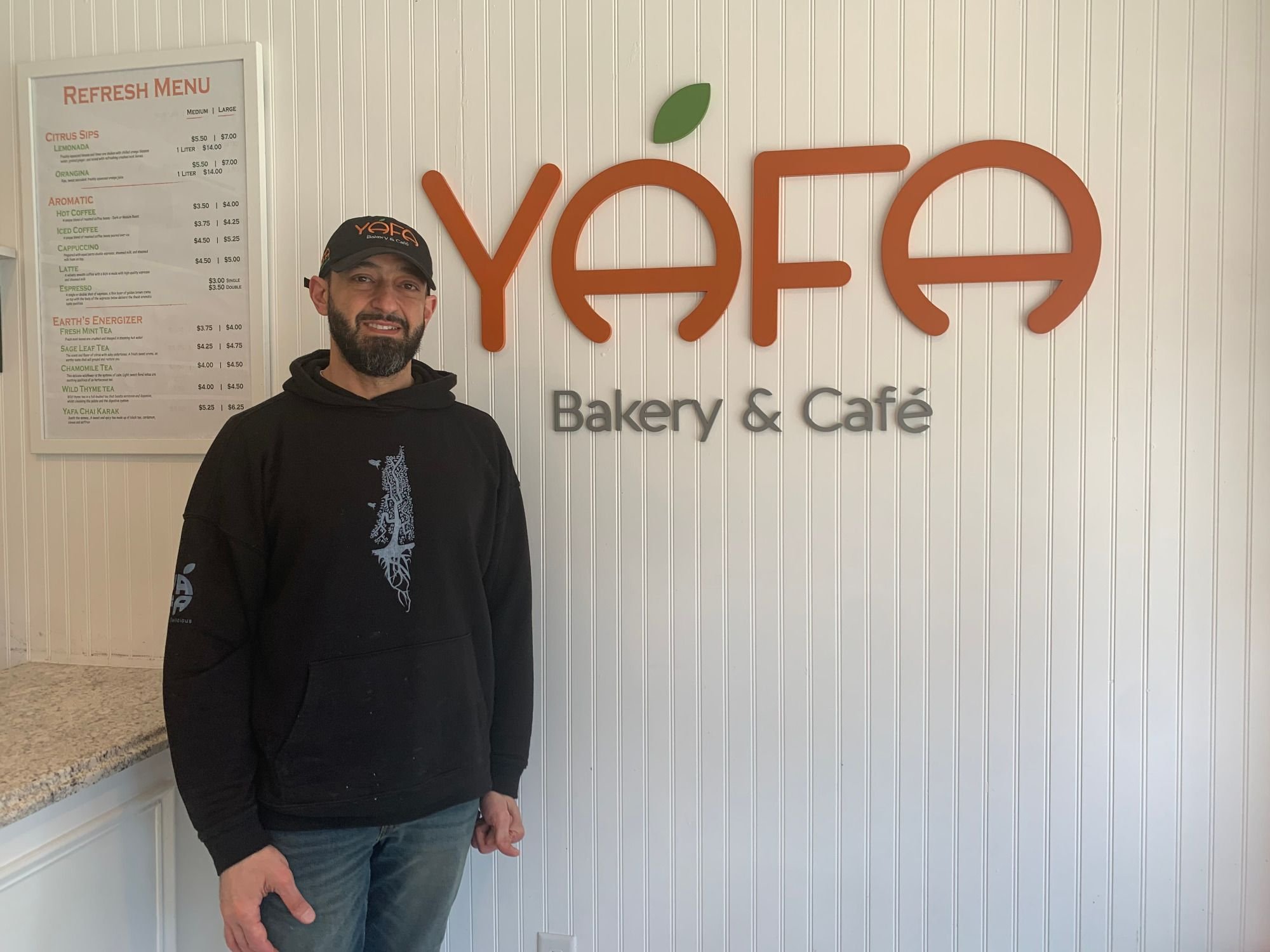 Listen
// Abdulla Awad, the creator and owner of Yafa Bakery. Photo by Vicki Xu '23
Yafa Bakery & Cafe, a Mediterranean bakery in Somerville tucked right up by Porter Square, celebrated its one-year anniversary in early May. Creator and owner Abdulla Awad draws inspiration from his artistic passions, pursuits, and business ventures to present the "artfully delicious" in the savory and sweet foods and beverages offered at the cafe. While they are constantly innovating their items, they typically fall into five categories — chocolates, nuts, dates, cookies, and "authentic" pieces — with everything made in-house in what Awad likes to call the "culinary art lab." Some highlights on the menu include the ovular and fluffy Jerusalem bread, the hearty and creative stuffed dates, and the delicate kanafeh or maamoul.
_On this second episode of Bakery Bees — after a warm and tasty welcome the first time — Felicia Ho _'_23 and Vicki Xu _'23 revisit Yafa Bakery & Cafe in Somerville to learn about the story behind the "artfully delicious," the challenges they have faced, and what exciting futures await.
TRANSCRIPT
Felicia: We always seem to pick the best days to go on bakery runs, don't we? Spring is finally here! The magnolias outside are so fragrant and fresh, and although it's a bit brisk in the morning, it's incredible to sit back in the golden sunshine and sample some sweets ... which means ... we're back for our second episode of the Bakery Bees podcast! This Monday morning, we'll be strolling right down Somerville Avenue to a bakery just on the brink of celebrating its one-year anniversary. Vicki and I were here just a few weeks ago, and we're so excited to be back ... It is just so elegant, delightful, and simply a joy to walk in and be welcomed by a complimentary cup of chai — some of the most delicious tea I've had — and the owner is one of the most passionate managers around with an eye for the art in food. Let's embark on a journey into the beautiful and the artfully delicious at Yafa Bakery and Cafe!
So get some coffee, tea, snacks, or anything else you're craving and get ready for your baking fix from the Bakery Bees!
Vicki: Hi, I'm Vicki, and I'm a senior at Harvard. If I were a kitchen utensil, I'd be a spatula. I'm one half of the Bakery Bees.
Felicia: And I'm the other half! I'm Felicia, and I'm a senior at Harvard. If I were a kitchen utensil, I would be a rice cooker!
Vicki: Together, we're the Bakery Bees, the dynamic duo behind finding your next favorite, greatest hit bakeries in the greater Boston area.
Felicia: Today, we'll be chatting with Yafa about the good and bad, the salty and sweet, the mild and the spicy. How they were founded, how they established themselves in Somerville, and what they would like —and what we would recommend — you to try at their bakery!
Vicki: Yafa Cafe and Bakery offers Mediterranean sweet and savory picks to brighten up your day, along with some rich and memorable drinks like chai in the fall and winter and limonada in the spring and summer. Currently their menu consists of various cookies, cakes, chocolates, date products, and nuts — some creative and innovative, others more traditional and authentic.
We conducted this interview with Abdulla Awad, the owner and creator of Yafa Bakery and Café. We're here about an hour before Yafa opens on a Monday morning, so we're incredibly grateful that Abdulla has taken the time to chat with us even as the whole team is working hard to open the doors!
Keep listening for a peak into the "artfully delicious" and the man behind the culinary art lab!
Vicki: Please walk us through the founding story — why Somerville, why the menu, just anything you want to share.
Abdulla: Hello, good morning. Welcome to Yafa Bakery. My name is Abdulla Awad, I'm the creator and owner of Yafa Bakery in Somerville. Next month, May 3rd will be a one year anniversary for us here. Yafa, as a name, is one of the oldest cities in the world that is 45 minutes northwest of Jerusalem. Literally, it means beautiful in the Hebrew language. In the Arabic language, that's the name of the city — the old city of Yafa, an old city on the Mediterranean. For our pastries, then, around 70 percent are Jerusalem recipes, and the remaining are from the Mediterranean, focused on Turkey, Morocco, Tunisia, and France. Overall, it's Mediterranean cuisine with an emphasis on Jerusalem recipes. We serve sweet and savory. Twenty-five percent is more savory, and the sweet section is what we are known for. The slogan is "artfully delicious," which is what we hope to achieve with the appearance and attention to the items.
Why Somerville? It's a very diverse community and city. I have lived here for many years, and Somerville is not a stranger to me. It's one of the prime locations as it sits near many colleges and near the Green Line. The bus stop, too, is 594 Somerville Ave, which is our location.
Felicia: Thank you so much for sharing. Since you are approaching your one-year anniversary soon, I was wondering what you have learned in this past year in building up your bakery and starting such a community in Somerville.
Abdulla: There are two aspects of this I can elaborate on. This particular location, the previous business was a French bakery. Across the street, it was an Italian bakery, so people who were living in Somerville or Medford were looking for something unique in that particular location. They know it used to be a bakery around here. When we opened up this bakery with our unique products here, I really valued this as the Somerville community really welcomed us in. They are very interested in learning about this type of cuisine and the sweet items we produce. They also are interested in knowing that everything is sourced here — everything is done in building. Building that community relationship to Yafa is becoming one of the most crucial parts of the business.
In terms of challenges, any business — as in life — faces them, especially small business owners. First of all, we love what we do, and we do what we love. We overcome challenges in many creative ways. Staffing and the cost of ingredients are the main two challenges. When it comes down to staffing, the world is changing with online shopping. The shift has moved to convenience and availability, the manpower and the labor market. With the cost of ingredients, there is nothing we can do as businesses to control. I was hoping to hold it a bit until we established our name and our branding to accommodate everyone. That being said, the community was very supportive in terms of looking at — oh, that's a new bakery that opened up — and stopping by. Challenges are challenges, but we are trying to overcome them with creativity.
Vicki: We were interested in the "culinary art lab" label for your kitchen, too, and as your motto is "artfully delicious," can you walk us through the naming and the innovation that happens in the lab?
Abdulla: Yes, and we try to avoid the word "kitchen." I'm glad you mentioned this. I myself am a very visual person and I love art. What we do in here, we are very keen about producing unique products in terms of taste and appearance. Just think of it this way — in Jerusalem, we have this saying that the eye eats before your tongue or your mouth. If you look at what you are about to eat and you believe it is beautiful, that encourages you to eat more. Rephrasing it, we as humans after work or school, we deserve to be treated well as a gift to ourselves. Why won't you get a small bite of an artfully delicious item here, then?
So why the "culinary art lab"? Again, we wanted it to be a part of our business strategy and be unique and distinguished. When I say "do what you love, love what you do," no matter what our products are in taste or texture, if we are to be known as a place where everything is done in house and in a detailed manner, we need to ask why we can't start innovating our own creations? Why not get innovative in appearance and consistency?
Inside our lab, the staff members have been trained carefully so that if a customer comes today and sees or eats or has some kind of experience to enjoy our sweet or baked items, I want that customer a year from now when he or she comes again to have that experience again. So when I talk about art, it's not just about the appearance, but it's about the detail and attention to this detail, about hopefully making everything in consistency the same, as well as the texture and appearance.
Felicia: Turning to the food aspect, the taste, now that we've talked about the presentation, I'd love to learn about how you yourself got into baking and food.
Abdulla: I can't call myself a chef. I never went to school to be a trained chef. And actually I'm not big on food. But growing up, food and beverage has been a business I have an interest in and related to art.
Stepping back, I love art, and I even have an art business. Although I'm not big on food, I do love sweets. Growing up, I used to eat more than what I might have these days. I wanted to combine these two.
I come from a big family of six siblings and my mom used to always cook at home. Seeing that culture and environment — where my dad was big on food, with my mom cooking on a daily basis for all of us and neighbors who pass by our house to enjoy our hospitality and generosity — seeing this, along with my dad having his own business, a grocery store, did not make it strange to me. I did not have an interest in running a food business originally, but thinking about this from an artistic perspective where I have an art business, I wanted to do something about food. I thought, why don't I combine both — art and food at the same time? Again, being a beautiful city here in Somerville or greater Boston, I wanted to use my passions and interests to create something that doesn't exist. For the past year, it has proven to be beautiful. Again, that goes back to the meaning of Yafa, meaning beautiful.
The recipes are mostly from my mom, but we have modified some over time. The art and the final outcome is a combination of many things. It comes from my creativity and visualization in how I envision things, and I have also received a lot of feedback from customers, friends, and families over time. Over time, people will stop by and see how things change. We can continue innovating over time.
One of my customers has since become one of my good friends. She says not to trust an Ashkenazi chef — and I tell her two things. One, I'm not a chef, and two, I'm not Ashkenazi. Of course, she does trust me. If she's listening, I definitely give my regards to her. She even has her own business just two steps away from here.
Vicki: To your point of hospitality, we remember you served us some chai and when you offered to have us sit down with the food, you actually plated it and offered us rose petals, too. We were so awed by that because it was actually like being in someone's home, and we just never had experienced that before.
When we came the first time, you also asked if we had been here before and then walked us through the display. Could you do the same with our listeners — not that they can see it, but just to share?
Abdulla: Earlier, I mentioned that we have sweet and savory. One of our most traditional savory items is Jerusalem bread. It's an oval shape and very popular. Roasted sesame on top. It's very popular in Jerusalem, and it gives a different artistic touch when people see that they are giant and oval-shaped.
If I break down the other products we have into categories, I would break it down into four categories — chocolate, cookies, nuts, and dates. The dates are very healthy foods, and we have over 27 natural date products. We take the date and remove the pit, then we stuff them with different fillings. To give the listeners an idea of what they expect to see, that's one of the most creative parts that we enjoy working on. You can see different colors — green, white, gold-ish. We use 24-karat golden leaf and golden dust, which gives a delicate element when we consider the "artfully delicious." We also have different types of cookies.
While everything is bite-sized, it is still filling. We try to have our customers enjoy both the taste and the appearance of the product. At the same time, we also try to maintain "health" in the sense that if something is sweet, it is not too sweet, and it is very moderate in terms of sugar.
We use a lot of almonds and pistachios as well. We play around with these two main ingredients. The two colors are brownish and greenish. We roast them or grind them, and we have a category of "art of nuts." That's when we decorate and come up with different shapes.
Yafa Bakery would be more than happy to show the listeners what we mean by that when they start visualizing this by eating them themselves.
The last category is chocolate, and while chocolate is chocolate, we try to be very innovative in terms of appearance. We have different shapes, but they're all bite-sized. Some are round, rectangle, or even oval-shaped.
The last category is the "traditional" or "authentic" sweet collection. Why do we do that? Because that's what you would have in Jerusalem — we did not change that appearance, even if we changed the recipes but keep the taste. The most popular is the kanafeh cream or kanafeh cheese. The traditional one is flat and rounded, and we are also innovative in how we serve it individually. It looks like the most delicate item we have because it is topped with pistachio and rose petals. We also have the baklava and the maamoul. Maamoul is the semolina pastry stuffed with dates and pistachio. We decorate those by hand, and it is a bit time-consuming. Still, we wanted to maintain history and heritage and culture so that when people see it for the first time, they see something very unique and decorated by hand. For people who have been in that part of the world and have seen it, that brings good memories of what they have been exposed to.
Felicia: You've mentioned that there's a lot of innovation that goes into your products, so I was wondering what's next on the horizon for you in terms of new projects or recipes that are coming up.
Abdulla: I don't like routines, in the sense that I always want to keep innovating. For the past year, we've removed some products or introduced others. This one-year experience has given us a solid foundation in terms of our milestone — everything has gone as planned, or even better than we had planned for. We have five-star reviews so far, which is great, but it does put a lot of pressure on us. There's pressure in a good way because we need to maintain it by reading the reviews from our beautiful customers — they really enjoy the taste, the ambiance, and the art with the quality and consistency and service. I would like to maintain that.
As a business owner, from a business perspective, I want to make sure the business is sustained before growing it even more. It is growing organically already. In fact, there are a lot of different parties and corporations who have reached out to us to do catering. We have done catering for a lot of colleges and businesses, along with a lot of weddings. Weddings are the most popular we cater for. We also do baby showers, birthdays, and graduations. We also cater to some high-end hotels in the Boston area here, and we also supply restaurants with certain items to be served in their own restaurants.
We want to sustain the business and grow it. The main thing I have in mind is to start automating the process. Thankfully, the demand is definitely back now, and we need to accommodate and meet the demand. That will take production and staffing and manpower ... this is somewhere we need to start heading to meet that demand. When we get to that point, maybe we will do something special — something I can't reveal right now but is in discussion with other parties.
Vicki: For anyone who wants to visit Yafa, what is something that people cannot miss?
Abdulla: Sure, it depends on their appetite and the day and the time they would be coming over. I can guarantee that they will never leave unhappy. We always greet our customers with samples. We do serve beverages, too, cold and hot. Our featured drink in winter — our signature — is chai, and during summer or spring, our feature drink is limonada: fresh mint, ginger, and lemon. We always greet our customers with some of our beverages to sample as complimentary, to taste their uniqueness and — most importantly — to welcome them. We want them to feel that they did not just walk into a business, but that they are part of Yafa. It means a lot, even as a consumer, when you go to any business. You go there for a reason — to get what you want or to explore with curiosity. It makes a big difference when you are connected to the business. We are building a community or a relationship here. Business is business at the end of the day, we have to run a business to cover our costs and make money.
For beverages to try, they must try chai and limonada, depending on the time they come in. For savory, I love bread, so Jerusalem bread is a must — and the safayeh, which is a flatbread that is soft and fluffy. Jerusalem is known to grow olive trees, so we use a lot of olive oil in most of our savory items. The Safayeh with za'atar or cheese and za'atar or spinach and ricotta cheese is great. For sweet, based on our sales history and record, almondo and palma. These are the two names to keep in mind — soft, home-baked cookies covered in chocolate covered in roasted almond or coconut, respectively. Kanafeh is another must-try item and date products. The nutrition facts of each one of those bites, those dates, are great. Those are must-try. I'd be more than happy for anyone to come by and have a taste or sample.
Felicia: It's been such a pleasure to come here a month ago and sample your products, and now to hear the story behind those amazing sweets, too. Thank you so much.
// Reported by Felicia Ho '23 and Vicki Xu '23. Voiceover by Felicia Ho '23 and Vicki Xu '23 and studio engineering by Vicki Xu '23. Music theme composed by Jonathan P. H. Wiener '23.
// Tune in to Harvard Radio News on Sundays at 12 p.m. ET to experience the stories going on in Harvard and beyond. Follow Harvard Radio News on Instagram @whrbnews.