bbno$ takes on Boston's Paradise Rock Club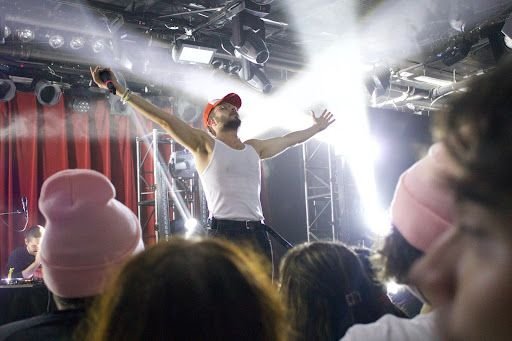 // Image courtesy of Sharmila Dey
This past month, Alex Gumuchian aka bbno$ (pronounced Baby No Money) has been performing around the country for his "eat ya veggies" tour to promote the release of his sixth studio album of the same name. His sold-out show at the Paradise Rock Club in Boston on October 15th came exactly one week after the release of the new album and included performances from SavageRealm, Shotgun Willy, ceo@business.net aka lentra, and special guest Jungle Bobby.
// Image courtesy of bbno$
The new album, eat ya veggies, is a 12-track project that is a continuation of bbno$'s experiments with quirky production and witty lyricism. However, this album also demonstrates the artist's expanding horizons, featuring a wide repertoire of producers: lentra, Y2K (who also produced the bbno$'s hit song Lalala), Diamond Pistols, dwilly, Mayer Hawthorne, and ANH. The tracklist also has multiple features from other artists. The track "yoga" has a fun and dancy verse from Rebecca Black. Rich Brian appears on the infectious "edamame" and Night Lovell delivers a smooth, deep-voiced verse on "2 time zones." Yung Gravy, a long-time friend and collaborator of bbno$, appears on the groovy track "wassup." While these tracks stand out as some of the fullest-sounding on the album, the album's solo work is just as fun and energetic. "resume," and "black eyed pees," particularly stand out as great displays of interesting layered production and playfully confident lyrics. "i remember," a pop ballad about heartbreak, is one of two tracks this year from bbno$ featuring a new sound of full, synth-filled instrumentals and more serious, melancholic lyrics.
The highlight of the album, much like in bbno$'s previous work, is undoubtedly the energy, and this was only enhanced in the concert setting. The openers did a fantastic job at building community and excitement in the room in between playing their own music: SavageRealm hosted a hyped-up rock-paper-scissors competition between two members of the crowd; Shotgun Willy had the whole crowd screaming the lyrics to the iCarly theme song; lentra excited the audience with the unexpected appearance from special guest Jungle Bobby.
By the time bbno$ arrived on the stage with "u mad!," the audience's excitement was palpable and the energy was infectious. He then performed two more tracks off of his new album: "resume" and "edamame." The night's set featured songs across his entire discography including "tony thot" (bb steps, 2018), "jurassic" and "nursery" (recess, 2019), and "mememe" (good luck have fun, 2020). Some of these tracks were introduced by fun skits. For example, at one point in the show, bbno$ sat down for a minute and read an original children's rhyme before jumping into "nursery."
// Image courtesy of Sharmila Dey
As previously mentioned, bbno$ has done a lot of work with Yung Gravy over the last few years. Towards the end of his set, bbno$ invited Jungle Bobby back to the stage (this time in a banana costume) to perform Gravy's part on some of their popular collaboration tracks ("shining on my ex," "Welcome To Chilis," and "Whip A Tesla"). lentra was also invited to the stage and the trio performed their recent collaboration "take a trip" off of lentra's new album, incentivize unpaid overtime 2. The show ended with SavageRealm and Shotgun Willy also coming back onstage for a group performance of bbno$'s hit song "Lalala." The performers ended the night by thanking the crowd and promising to be back in Boston soon.
// Sharmila Dey '25 is a guest writer for The Record Hospital.