The Best Albums of 2022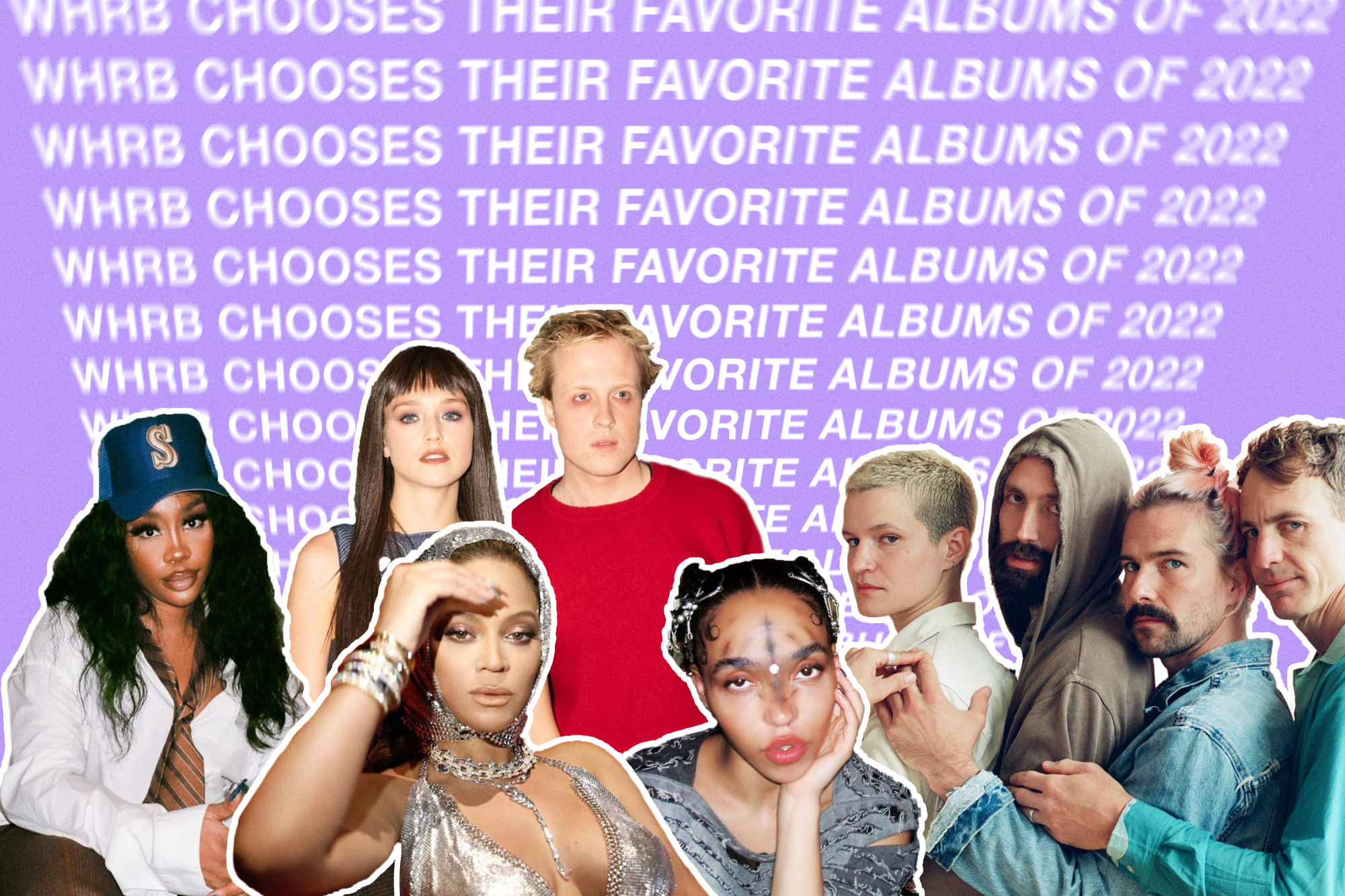 // Photos courtesy of the artists. Image by Bea Wall-Feng
From bad bitch anthems to genre-exploding art pop to gothic Americana to vocal jazz, here are some of the albums our DJs loved last year. Other than the top five, they are unranked. Take it away:
Kaitlin Butts, What Else Can She Do
// Courtesy of Kaitlin Butts / Soundly Music
In a just world, Oklahoma native Kaitlin Butts — blessed with a voice and a name for the ages — would be the biggest female star in country music. But her 2022 release, What Else Can She Do, has, outside of alternative country publications like Whisky Riff and Saving Country Music, received little attention from the country music world. Drawing from the genre's time-honored tradition of themed concept albums, the seven songs on What Else Can She Do — more than half of which, interestingly, are waltzes — all center on female protagonists in situations reflecting Butts' own life. Six original tracks and a cover of the American blues traditional "In the Pines," each dripping in steel guitar and driven by Butts' massive vocals, showcase the very best of what country music has to offer. Nowhere to be found are the trap-influenced drumbeats of Morgan Wallen or the pop instrumentation of Maren Morris; Butts is a real-deal country traditionalist. Every country music fan — and every person who claims not to like country music — needs to listen to What Else Can She Do. // George Roggie '26
Alfred Cortot, The Wartime Chopin Recordings (1942/43)
// Courtesy of Pristine Classical
Uniquely renowned for his insights on Chopin, the French pianist Alfred Cortot (1877-1962) revisited several of the composer's major works during a morally inglorious wartime career. The recordings have been reissued before, but encountering them anew in Pristine Classical's state-of-the-art restoration is akin to seeing a Vermeer after layers of dust and varnish have been lifted from the canvas. These invaluable documents are the closest a modern listener will get to sitting in the same room with Cortot at the piano. A gem among the études is an incomparable rendition of Op. 25, No. 1 in A-flat major. Its languid tune glides upon the gentle rustling of restless tuplets; for once Schumann's nickname for this piece, "Aeolian Harp," rings true. The preludes seem to be on firmer technical ground than Cortot's 1933-34 recordings, but interpretively the earlier cycle remains difficult to surpass. The real highlights are the waltzes. Cortot's takes on these miniatures showcase the very best facets of his musicality — a near-miraculous lightness of touch and fluidity of line, an affect of spontaneity, and a bold originality which, however idiosyncratic, somehow convinces one that the only way to hear the music is Cortot's. // Kevin Wang '23
Alabaster DePlume, GOLD
// Courtesy of International Anthem
One of the nicest things anyone has told me is that Alabaster DePlume's "If You're Sure You Want To" on his 2020 LP To Cy & Lee sounds like me. That was the first time I'd heard of the English jazz saxophonist, and I've been obsessed ever since — not just for narcissistic reasons, but because his compositions feel like a warm hug. GOLD feels less like a hug, and more like DePlume's plead for a hug, a reminder that our future, imaginative selves are no more worthy of love than who we are right now. His spoken-word lyrics are growled, whispered, hummed over an orchestra of what sounds like synths, Gregorian chants, strings, a steel guitar, and freeform sax. He's unabashedly vulnerable ("I'm not good at crying," he sings, "I'm not good at not needing"). He's commanding ("Don't forget you're precious"), yet consoling ("I forget sometimes"). Maybe it's a bit cliché — on first listen, I was thrown off by DePlume's (somewhat corny) bluntness. But I was on the bus one day relistening to the album, and as DePlume was hitting me over the head with his repeated mantra of "Don't forget," something inside me just broke. Sometimes it's the simplest reminders that never fully stick, and that we need to be told over and over and over again. // Amber Levis '25
Hurray For The Riff Raff, LIFE ON EARTH
// Courtesy of Hurray For The Riff Raff
Alynda Mariposa Segarra's newest album, an incandescent call to "survival and adaptation" under the climate apocalypse, bears little resemblance to their earlier, rootsier work. Still, there are roots in LIFE ON EARTH, tying Segarra's subjects to the land even as they are constantly in motion. Take "WOLVES," whose pounding synths open the album — "You gotta run, babe, you know how to run" — and follow its pulse through the solarpunk rhapsody of "RHODODENDRON" and the searing spoken-word "PRECIOUS CARGO," as characters wander and whirl and cross borders. The poet Ocean Vuong makes an appearance; the writer and activist adrienne maree brown is everywhere. Life on earth may be changing, dying, precious, doomed, but ultimately, Segarra declares on the title track, what it is is long. Long enough to hold as much violence and beauty as this record suggests. "Wrap your limbs around me," they sing: "This won't be over soon." // Bea Wall-Feng '25
Samara Joy, Linger Awhile
// Courtesy of Dear Beverly Music, LLC
Looking for a beautiful cozy vocal jazz album? Your search ends with Samara Joy's second album, Linger Awhile. Before her viral breakout on TikTok, Joy won the Sarah Vaughan International Jazz Vocal Competition in 2019. Now, at 23, Joy is finding her voice and musical style. Linger Awhile features stunning deep, rich vocal performances accompanied by percussion and piano with features from rising jazz guitarist Pasquale Grasso. While her first album featured muted electronic piano instrumentation, Linger Awhile refocuses on more classic sounds without sounding derivative. Joy brings a certain modern flair and finesse to classic jazz standards, evoking the style of Billie Holiday, Ella Fitzgerald, and Carmen McRae. Samara Joy is bringing vocal jazz back into this generation's eye and has been dubbed "the first Gen Z jazz singer." Joy is definitely a rising star to listen to — I'm so excited to see what she'll do next. // Sharmila Dey '25
Palm, Nicks and Grazes
// Courtesy of Saddle Creek
Nicks and Grazes is the latest in Palm's oeuvre, offering a further advancement in the direction of their previous release Rock Island: a seamless fusion of synth elements with their traditional four-piece band setup, psychedelic soundscapes with impossible-to-predict meter changes, and a totally unique sonic aesthetic that just couldn't be mistaken for anyone else. The album features a sample of a guided meditation by a child; a 45-second chaotic glitchy noisy mess that fades into a stately waltz; and, of course, lots of their characteristic steel drum samples and two-part vocal harmonies. The band's ability to play such complex polyrhythms in perfect synchronicity is astounding, and this album really showcases their chops. Palm seems to know exactly what they're doing, and with their consistently inspired songwriting pushing all the right boundaries, Nicks and Grazes is without a doubt worth a listen. // Luca Hinrichs '22.5
Pye Corner Audio and Andy Bell, Let's Emerge!
// Courtesy of Pye Corner Audio
Combining the electronica of Martin Jenkins as Pye Corner Audio and the guitars of Andy Bell of Ride, this collaboration is a concept album around sunlight and psychedelia that showcases some of the artists' best work. The album captures the feelings of sweltering heat and bright sunlight with a great combination of analog synthesizers and airy guitar tones. While mostly textural, with their rare melodies more buried and only emerging gradually, the tracks balance many drifting layers of sound that feel immense without seeming busy. Jenkins' solo songs contain some of the album's most subtle and memorable moments even as they crescendo into expansive passages. The tracks featuring Bell's guitars come closer to more standard song structures and riffs, but they still ground and complement the soaring tones of the synth palettes. The album encapsulates a distinct warmth in texture and style that cements it as a great atmospheric work and a standout project of the year. // Ryan Golemme '23
Seventeen, SECTOR 17
// Courtesy of PLEDIS Entertainment
Self-producing K-pop powerhouse Seventeen released SECTOR 17 as the repackage of their fourth full-length studio album, Face the Sun, adding three songs to the original tracklist. The group, known in the K-pop industry for their charismatic, tightly synchronized performances, is composed of 13 members divided into three teams: hip hop, performance, and vocals. The album as a whole is eclectic, including "_WORLD" as a bubbly and uplifting dance track, "Don Quixote" as a powerful anthem, "IF you leave me" as a soft ballad, "Domino" as a percussive bop, and "Circles" as a sentimental message from the group to their fans, who are called Carats. SECTOR 17 is an inventive and fresh step in Seventeen's journey that combines a reflection of their path to the present and the hopes they bring leading the K-pop industry into the future. // Claire Liu '26
Special Interest, Endure
// Courtesy of Special Interest
The second line of Special Interest's excellent third album, Endure, sets the tone: "I can be whoever you want." The band self-describes as "genre non-conforming," and with each subsequent album they've displayed a stronger control of that blurring. "Kurdish Radio" has some of the industrial impact of "Street Pulse Beat," a standout from their 2020 album The Passion Of, but it blends it with an unhurried and haunting vocal, creating a track that feels both brutally sparse and intimate. "Kurdish Radio" may be the most explicitly political track of theirs yet; they ask, "Is love like Arab oil? Do we take take take 'til it's depleted?" Songs like "Impulse Control" channel the anger of these questions into more traditionally punk tracks, with it and "Concerning Peace" sounding like a beautifully freshened Mission of Burma. The masterpiece of the album, though, is its very last track, "LA Blues." Eight minutes long, the song wanders through the lives of Johnny, Joe, Shauna, Shawn, Dimitri, and more, building the city of New Orleans into the heart of the beat. Forty-four minutes into the album, Special Interest end poignantly: "I had to grow to love / Yes, and now I know I'm not unworthy of love." // Ben Roberts '23
Stromae, Multitude
// Courtesy of Mosaert Label
If you like artists about whose genre you say "Well ... I don't know really ... he's just him," then Rwandan/Belgian singer/songwriter Stromae's your guy. Having reached international fame in the 2010s, Stromae took a long hiatus for health reasons, but came back this year bearing the gift of his album Multitude, which incorporates rhythms and instruments from around the world — from Congolese rumba to Bolivian Baile funk to solos by a Chinese erhu. Stromae also continues his trademark cocktailing of genres, mixing electronic sounds with acoustic instruments, chanson française interspersed with hip-hop. As a cherry on top, Stromae produced elaborate music videos brimming with metaphor (see "L'Enfer"), historic and political references (see "Fils de Joie"), and comedic relief (see "Mon Amour"). On tour this year, Stromae made history by becoming the first francophone singer to sell out two consecutive nights at Madison Square Garden. So I feel more than confident in saying: francophone or not, meet your new favorite musician. // Madeleine Riskin-Kutz '25
Sudan Archives, Natural Brown Prom Queen
// Courtesy of Stones Throw Records
The crowning achievement of Natural Brown Prom Queen, the self-taught violinist Brittney Parks's second album as Sudan Archives, is its ability to render the ordinary in such a magnificent light as to make the listener want to live more attentively to life's random, absurd, and sometimes cruel details. The album is full as a life — you glean a lesson in self-love from an ode to hair ("Selfish Soul"); you tell a partner what you want and you feel sexy about it ("Milk Me," "Freakalizer"); you look back on a road trip with a lover, young and unsure, and Tracy Chapman is blasting, and there's a huge, unfamiliar world pressing in from all sides ("ChevyS10"). There are complaints here, too, weaved between the celebrations; on "OMG Britt" and "Ciara" — the former over a seismic beat befitting Rico Nasty's signature rasp, the latter bouncy and bassy, like an Ari Lennox joint — Parks bemoans betrayals and fake friends with deft emotional maturity. But perhaps the greatest moment of this album is the booming, beautiful appeal to freedom on the title track; nothing I write will ever come close to "I just wanna have my titties out, titties out, titties out." // Chase Melton '25
Jack Van Cleaf, Fruit from the Trees
// Courtesy of Jack Van Cleaf
Fruit From the Trees, Nashville-based folk artist Jack Van Cleaf's first EP, came out in March 2022. The ten songs on this album combine quintessential alt-folk sounds — buzzy acoustic guitars and bold vocal harmonies — with Van Cleaf's signature poetic lyrics to tell the story of the songwriter's youth through a series of vignettes. Detailing heartbreak and infatuation, wanderlust and the placelessness of adolescence, these songs encapsulate a sense of a modern coming-of-age story. The melodious vocals and masterfully arranged instrumentation of this record cemented it as my favorite album of the year, and the stories of growing up that van Cleaf captures in tracks like "Holy Smokes" and "Rattlesnake" make me carry this album with me wherever I go. // Emma Hughes '25
JID, The Forever Story
// Courtesy of Dreamville/Interscope
Destin Choice Route, professionally known as JID, was once easy to lose in the ever-crowded Atlanta rap scene; he was recognized as another Dreamville collaborator with captivating flows and clever wordplay. But The Forever Story establishes him as mature and profound — not just a rapper, but an artist and innovator. "Raydar" is a hard-hitting and bass-heavy opener; his prowess on the mic makes it easy to listen and marvel. Back-to-back tracks like "Bruddanem" and "Sistanem" overflow with emotion and intimacy, portraying the close kinship between JID and his siblings. Songs like "Dance Now" and "Yoel's Niggun" display his masterfully speedy lyricism and genre-bending rhythms. Five years after his freshman album, The Forever Story confirms JID's boundless talent, and proves that he can continue to produce quality and cohesive work across his discography. We are so lucky to hear his energetic, inventive, incisive music and to witness the momentum he is gaining. JID's stardom is imminent. Tune in. // Victoria Kishoiyian '26 and Gabriel Brock '26
Rico Nasty, Las Ruinas
// Courtesy of Sugar Trap
Rico Nasty is back and nastier than ever, experimenting with genre and style to create a work that has evolved from her earlier sound. Las Ruinas starts off loud in true Rico fashion, her gravelly voice rapping over tracks that blend rock, electronica, and whatever else she can get her hands on. "Intrusive" opens the collection, a head-banging hit, followed later by "Black Punk," an homage to the often overlooked subculture. Like Rico Nasty, I hail from the DMV, so I appreciate that her new sound continues to reflect the music coming out of this area today. When we reach "Messy (feat. Teezo Touchdown & Bktherula)," she more fully leans into the dance-pop sound with an frantic cadence reminiscent of an impossible young love; this song in particular reminds me of music my classmates would make and listen to in high school. The second half of the album, where she begins singing rather than yelling, also reminds me of music from home; though this is her first time making this shift, I hope it is not her last. Finally, I would be remiss not to mention the designated bad bitch anthem of this album, "Gotsta Get Paid." It is so delightfully deviant. Thank you Rico Nasty for giving me my new favorite song to blast in rich white neighborhoods. // Chloe Koulefianou '23
Ethel Cain, Preacher's Daughter
// Courtesy of Daughters of Cain Records
Ethel Cain knows all too well the price paid in pursuit of the American Dream — she's chased it like a lover across state lines, the open road ahead and heaven above. Cain, the invented muse-slash-creative-persona of songwriter Hayden Anhedönia, is the undeniable starlet of the exhilarating debut Preacher's Daughter. And for the 75 minutes of storytelling coiled within the album — part ill-fated romance, part cautionary tale — Cain asks that we witness her dizzying descent into the cold underbelly of the heartlands in pursuit of that dream. Escape, worship, homecoming, rebirth — our familiar favorites of Americana saturate this narrative, rendered especially striking through Gothic pastiche. The album opens with an unmissable, nostalgia-heavy ode to hometown living ("American Teenager"), but slips just as deftly into interludes of sultry hip-swinging ("Gibson Girl"), a litany for the lost and betrayed ("Ptolemaea"), and delicately rendered scenes of transition from this life to the next ("Televangelism," "Sun Bleached Flies"). Each song slips another frame of Cain's bittersweet journey into focus, so commit to listen from the start and without skipping your first time through. // Grace Carlson '23.5
Rosalía, MOTOMAMI
// Courtesy of Columbia Records
Even if you don't understand Spanish, you'll love MOTOMAMI by Rosalía. Have a craving for chicken teriyaki after moving your bed from your dorm's beloved single to a bunk-bed-only double? Listen to "Chicken Teriyaki" for danceable rap to restore your energy. Feeling your mood swing as you weave in and out of midterm season? "CUUUUuuuuuute" has you covered, opening with lyrical verse, moving to club-level beats, pausing with a near-operatic break, and then combining all three styles to close. Perhaps winter break is around the corner, and you're missing that feeling of home. "Bulerías" pulses with flamenco-inspired rhythms and claps, connecting Rosalía back to her musical roots: controversy as she combines traditional Spanish style with modern pop. MOTOMAMI is Rosalía's most experimental album yet, with its 16 tracks ranging across genres while keeping a cohesive theme of strength through Rosalía's powerful voice and lyrics. MOTOMAMI was here for me throughout every moment of 2022. Hopefully, it can bolster you through 2023 as we wait for Rosalía's next musical masterpiece. // Lily Roberts '25
5. FKA Twigs, CAPRISONGS
// Courtesy of Young Recordings Limited
Ethereal is the first word that comes to mind when listening to FKA Twigs' mixtape CAPRISONGS. Along with exciting. And wanting and fun and lonely and sweet and angry and content and sad and empowered. The mixtape contains so many multitudes, which is probably why it claimed almost as many top spots in my Spotify Wrapped. CAPRISONGS is a complex piece of art that presents itself differently every time I listen to it, a "mysterious being" indeed. The collection was released early in the year, and as a Capricorn Sun myself, it carried me throughout 2022. My favorite songs are as follows: "meta angel," showcasing her mesmerizing vocal talents; "which way (feat. dystopia)," music that would be playing on an elevator to heaven; and "honda," baby. CAPRISONGS is a piece of art that invites you to romanticize your life, to learn and grow, to love and be loved, and to have fun doing it. // Chloe Koulefianou '23
4. SZA, SOS
// Courtesy of Top Dawg Entertainment
On her second album, Solána Rowe, stage name SZA, crafts a breakup to remember. In mixing and merging rap, R&B, pop, rock, and indie-folk stylings, Rowe sonically mirrors the intense emotional range of a young fantast dealing with the hard actualities of love, lust, and heartache. The songs, in both their emotional and aural opposition, are in conversation with each other. The electric guitar and drums, the rough and raunchy lyrics, and the wailing, slightly-synthesized vocals of "F2F," for example, immediately precede the acoustic strumming and airy crooning of "Nobody Gets Me." These musical foils parallel the natural emotional progression of the two songs, from a sexual rebound void of emotion to an impassioned, heartsick realization of the loss of a deep emotional bond. // Ethan Phan '25
3. Jockstrap, I Love You Jennifer B
// Courtesy of Jockstrap
Since their 2020 EP Beavercore, the London-based duo Jockstrap has been dancing along the border between pop and classical music. Their debut album blows that border apart. Across 10 wildly varied tracks, Georgia Ellery's voice floats amid Taylor Skye's startlingly fresh production, equally moving in its hushed croons and dancefloor battle yawps. The pair met as students in music school, and their music, while singular in its construction, hints toward a wide sphere of influences; Jockstrap have done their reading. The austere, archaic lyricism of "Lancaster Court" and the whispered vocals and demonic electronic flourishes on "Angst" evoke Joanna Newsom's baroque harp sagas on 2006's Ys, while the shrill, volcanic breakdown on opener "Neon" and sultry, string-orchestra-assisted synth-pulse of its follow-up "Jennifer B" sound like cousins of the early Xiu Xiu albums, or Björk's Homogenic. And they also somehow sound entirely unique. For all this sonic experimentation, Jockstrap's lyrics are just as exciting, as in the marvelously wobbly roller-rink joint "Greatest Hits": "Imagine I'm Madonna / Imagine I'm the Madonna / Dressed in blue / No, dressed in pink." Invention is not enough; Jennifer B is a record about reinvention, of genre, of self, of how music makes you feel. // Chase Melton '25
2. Big Thief, Dragon New Warm Mountain I Believe In You
// Courtesy of Big Thief
On Dragon New Warm Mountain I Believe In You, the indie rock band's sprawling fifth record, Big Thief goes wide. The 20 (!) songs here are still grounded in folk, but they spiral from there into weird and breathtaking places. They fold in jaw harp, flute, wispy vocal synths, left turns like the cratedigging experiments of "Heavy Bend" and "Flower of Blood"; the result feels like a living, breathing space through which ideas drift and coalesce. As ever, Adrianne Lenker's delivery is the band's beating heart: Listen to how her interlocking visions of winged creatures and fluorescent drones snap the sinuous guitar riff into place in "Simulation Swarm," or, in "Spud Infinity," how the quaver in her voice elevates an outrageous line about potato knish. "When I say infinity, I mean now," she pleads, and the stars align. Big Thief believes in the thing they have made, and you do, too; you could live in it. // Bea Wall-Feng '25
1. Beyoncé, RENAISSANCE
// Courtesy of Parkwood Entertainment LLC
It has been six years since Beyoncé's last album, Lemonade, which was the best-selling album in the world in 2016 and received wide acclaim from both fans and critics. However, with RENAISSANCE, her seventh studio album, Beyoncé displays her baddest-bitch persona whose main concerns are being hot, sexy, and self-assured. While Lemonade was about healing after her husband's infidelity, RENAISSANCE is purely about being powerful. The tracklist is purely composed of club pop bangers heavily inspired by disco and house music with many homages to queer artists and culture. Listening to this album provides an ego boost that I haven't experienced through music in years. RENAISSANCE features some of Beyoncé's best vocal performances, flawless production and epic songwriting: an hour-long lesson in how to make a pop album in 2022. // Sharmila Dey '25