The Best of "Home Taping Killed Music"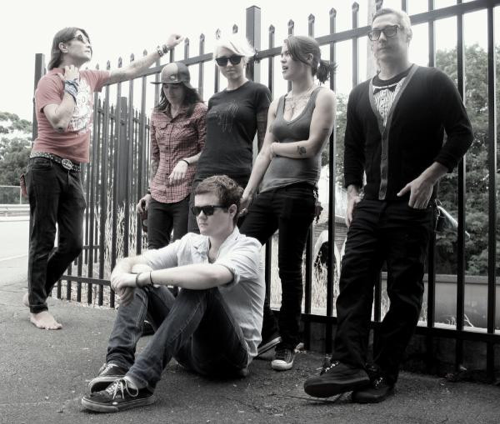 // Image courtesy of Like...Alaska
Home Taping Killed Music, a Sydney-based initiative of Black Wire Records, seeks to "archive, share and make freely available (or by donation) orphaned, out of print, under appreciated or otherwise forgotten Australian recordings of the pre-streaming age". Here are some of the best albums/collections brought to streaming by the project.
Beds, Like.. Alaska
Self-released on CD, 2006
A collective of 3 men and 3 women brought up in the Newcastle, NSW punk scene, Like… Alaska is an early incarnation of the acoustic folk-punk that took hold of the Melbourne indie scene in the 2010s. Singer and guitarist Jen Buxton's aching vocals are the highlight of the record, ranging from powerful belts on "Bring Me Back" to the perfect accompaniment for the sad acoustic pop of "Scorn".
Brainwaves, Brainwaves
Self-released, 2009-2010
Brainwaves makes distinctly Australian garage punk recalling both classic punk and the riot grrrl inspired vocals of Mika Miko. The longest song clocks in at just above 2 minutes, and these 12 short bursts of intensity were originally split between a 7'', a cassette, and rehearsal tapes.
Tales Of Late Night Excursions Into Urban Wastelands (A Political Economy Of Noise), St. Alban's Kids
Released on mini-3" CD by Deplorable Recordings / Kickstart My Heart Records, 2002
In a project teeming with screamo records, this one comes out on top. The heavily satirical St. Albans Kids belonged to the Adalaide punk scene in South Australia, existing outside the spheres of the other bands on this list. "Dance on Road, Dance on Street, Dance on Face (An Introduction)" acts as the band's manifesto of sorts, with vocalist Thomas McFarlane bluntly stating, "This band is not a band in the ordinary sense of the word, no, this is a full-on insult".
**Fear Like Us Demo, Fear Like Us
**
Self-released, 2004
Eighteen minutes of blunt, frustrated folk-punk calling to mind the music of the later Smith Street Band. Hailing from the same Newcastle punk scene as Like… Alaska, Fear Like Us relocated to Melbourne alongside many of their peers. This demo was released 3 years before their debut album release on iconic Melbourne indie label Poison City Records.
The Millennium Rock Saga, Headless Horseman
Released on CD by Gutless / Shortfuse Records, 2003
For all it's worth, there has to be one purely hardcore punk record mentioned here due to the massive influence of hardcore on Australia's punk scenes. Here it is, albeit a collective discography of Sydney's Headless Horsemen. Each song is less than two minutes of honest guitar-driven rage, with titles that range from political encouragement to Beatles references.
The Thaw, The Thaw
Released 2013
This 35-song collection by all-female group The Thaw incorporates indie rock, post-punk, hardcore, and noise with a heavy dose of politics and feminist sensibility. Katrina Byrne, who later became a founding member of Aussie indie mainstays Mere Women, is behind the aggressive drumbeat featured on the tracks. Track 20, "No name," serves to show how the band recalls the feminist punk manifestos of the early 90s:
"man to be male to be male
to be male to be male to male to be male
to be male to be male to be male
TO BE PRIVILEGED AND UNSCATHED!"
Needletail EP, Needletail
Self-released on CD, 2007
Needletail was a Melbourne-based hardcore punk band incorporating many elements of noise rock. I'm going to be honest, the best part of this record is a) the random, slow, emo-tinged indie rock song thrown in the middle, and b) the song titles. Personal favorites include "Where There Once Was a Yacht, Now There is Not" and "All Cats are Brown, as This Exception to the Rule Proves."
Your House is Built on a Frozen Lake, Because of Ghosts
Released on CD by Bright as Day Records, 2004
Experimental? Yes. Post-Rock? Yes. Noise Rock? Also yes. Your House is Built on a Frozen Lake may be the most interesting album of Home Taping Killed Music. Melbourne's Because of Ghosts create sprawling soundscapes with traditional rock instruments on "Upwards! Forwards! Towards the Sun!", get metaphorical integrating actual shoveling sounds on "There's Nowhere Else to Put Them," and creepily accompany spoken word on "A Simple Dare," all before falling into roots-tinged indie-rock instrumentals on the latter half of the record (without eschewing intermittent noise, of course).
// Cate Van Stone '25 is a staff writer for Record Hospital.