The Birth of the NBC Symphony Orchestra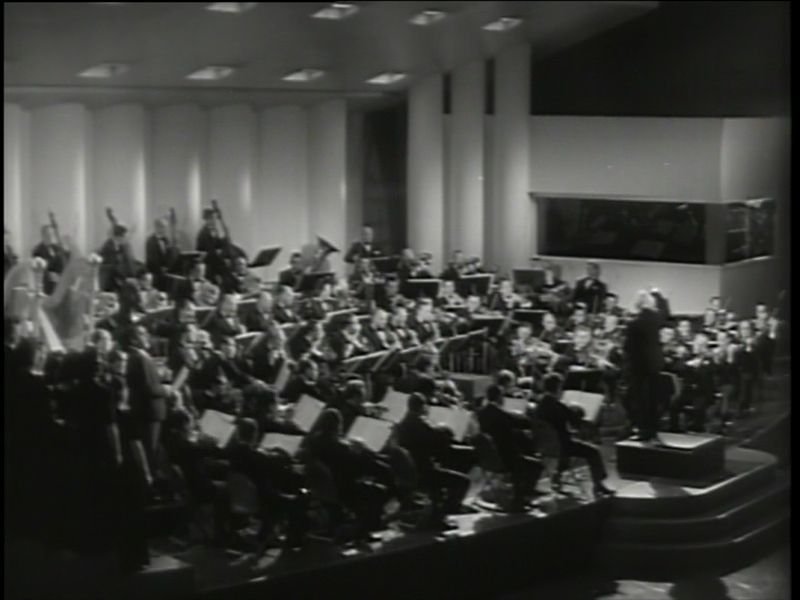 The NBC Symphony Orchestra, from a 1944 OWI film. Public domain.
Rarely are modern-day listeners privileged to hear the genesis of a truly historic musical institution. Conceived by longtime RCA chairman David Sarnoff, the NBC Symphony Orchestra was created in 1937 for the renowned Italian conductor Arturo Toscanini, who had been persuaded to come out of an intended retirement after his departure from the New York Philharmonic the year before.
Ahead of Toscanini's Christmas 1937 return to the United States, two other distinguished conductors were engaged to lead the NBC SO's initial performances. On this week's Historic Performances, we will hear the official debut concert of the NBC SO from 13 November 1937, under the baton of Pierre Monteux. Monteux had premiered The Rite of Spring, Petrushka, and other productions of the Ballets Russes in the 1910s and went on to lead numerous orchestras, including the Boston Symphony Orchestra from 1919-24. [1]
The 13 November program was the NBC SO's first-ever full concert, but not its first radio broadcast. Less than two weeks before, on 2 November, the Polish conductor Artur Rodziński led the orchestra in an on-air "dress rehearsal" (a recording of which, to my knowledge, regrettably does not survive). Rodziński was well known by this time as an orchestra builder, having established high standards at the Los Angeles Philharmonic and the Cleveland Orchestra. [2] Indeed, Toscanini was disappointed that Rodziński was not chosen to succeed him in New York and insisted that NBC hire Rodziński to assemble and train its new orchestra. We will hear two selections from the NBC SO's concert broadcast of 4 December 1937, the first led by Rodziński. [3]
Special thanks to Pristine Classical for these XR-remastered NBC SO broadcasts and for many other fine historical recordings that feature on Historic Performances.
Kevin Wang is a producer for the Classical Music Department and the host of Historic Performances on Sundays from 6-8 PM.
Historic Performances: 3 October 2021
Debut concert of 13 November 1937, under Pierre Monteux
Bach-Respighi: Passacaglia and Fugue in C minor, BWV 582
Mozart: Symphony No. 35 in D major, "Haffner"
Franck: Psyché et Eros
Debussy: Ibéria
R. Strauss: Till Eulenspiegels lustige Streiche
Broadcast of 4 December 1937, under Artur Rodziński
Handel-Harty: Water Music Suite
Sibelius: Pohjola's Daughter
[1] https://www.pristineclassical.com/products/PASC640
[2] https://www.nytimes.com/2021/05/14/arts/music/artu...