black midi casts a spell at The Sinclair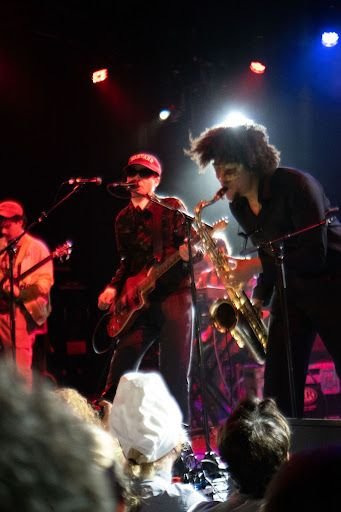 // black midi. Image courtesy of Rivers Sheehan, riverssheehan.com.
L'rain played a stunning opening set last week at The Sinclair, easing the audience into a calm trance in preparation for the chaos to come. When UK band black midi took the stage, a voice boomed out from the speakers introducing them in the tone and cadence of WWE announcer. The lead singer, Geordie Greep, wore a Harvard cap, looking like he might have just left class in Sever hall. The saxophonist, Kaidi Akinnibi, wore a blazer with nothing underneath and a masquerade mask (which he eventually had to remove once things heated up on stage).
// black midi. Image courtesy of Rivers Sheehan, riverssheehan.com.
The bassist, Cameron Picton, was dressed like an Elk hunter or a Nascar driver, showing off a quarantine grown moustache. Seth Evans sat down at the keys in a crimson red suit, and Morgan Simpson kept his look simple in a tank top, letting his spectacular handiwork on the drums say it all.Something about the band's eclectic costuming speaks to their incredible showmanship, and also their careful attention to their fellow bandmates. Despite each band member's variety in outfits, they were prepared from the start to show off some extremely tight playing, listening and watching each other intently as they prepared to let loose upon the crowd.
// Morgan Simpson of black midi. Image courtesy of Rivers Sheehan, riverssheehan.com.
The first notes of the song "953" (off their 2019 record Schlagenheim) were explosive. Everything was unpredictable. The crowd went wild. It was bliss, and it was careening quickly towards the ecstatic.
The concert went for an hour or so, each song often increasing in intensity upon the last. I was reminded of the gag in the song "Ascending Forth" from their most recent record Cavalcade where Mr. Greep croons, "everyone loves ascending fourth", both a reference to the musical technique at play in the song, and the song's title which describes ascending forth. Each world of sound was a labyrinthine, intricate puzzle of interlocking sections revealed to us with a musical fluency that knew no bounds. Every song was a veritable maze of references and nods. "John L," performed later in the set, is a great example of the treasure trove of references to be found in the lyrics of black midi's songs. Whose lyrics are these, so strange and historical, enigmatic, deftly penned? While many fans might have first responded to the incredible musicianship put on display that night at the Sinclair, careful listeners will find warm company long after the show ends as they unpack each and every wonderful story that each line of a black midi song weaves.
// black midi. Image courtesy of Rivers Sheehan, riverssheehan.com.
After the show, fans congregated outside the Sinclair, and were treated to jovial conversation with members of the band as they cooled off from their spectacular show. The conversation was, notably, an exchange of equals, with the band members just as curious to learn what Harvard and Boston were like as we were curious to hear how the tour was going. I noted to my friends afterwards that we and the band members are all around the same age. When I spoke to Morgan Simpson, who played incredibly on the drums, about encores, he noted that they had never played an encore, and we agreed that this was right. Better to walk off and let the crowd simmer in the fantastic ecstasy of sound and vision woven throughout the night. Black midi might just be magicians, for all I can tell, and it's any day now before they cast their spell on us all.
// black midi. Image courtesy of Rivers Sheehan, riverssheehan.com.
// Rivers Sheehan '23 aka ponds is a DJ for The Darker Side and a guest writer for The Record Hospital.