Blue Heron to Premiere Pandemic-Commissioned Christmas Piece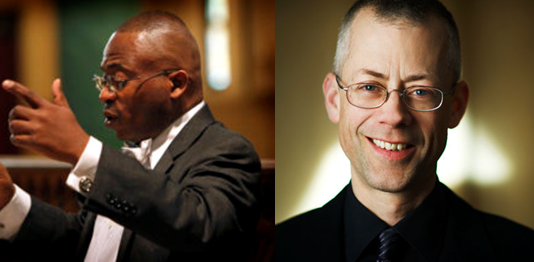 Listen
We recently spoke to Scott Metcalfe, artistic director of the Boston-based early music ensemble Bue Heron, and Kevin Allen, composer of Blue Heron's recently commissioned piece, Puer Nobis Nascitur. In this interview, we spoke about how Blue Heron is dealing with the pandemic, how the new commission was uniquely created due to the circumstances of the time, and how Kevin Allen and Blue Heron approach the composition and performance of early music. Read on for some short excerpts from the interview or listen to the recording for the full interview.
_Scott, I know that you chose to program a virtual concert series for Blue Heron this season. How has that process been going? And how did you make the choice to transition to a paid virtual concert series?
_
Scott: In April or so, it became obvious that there wasn't going to be any live concert being performed in Boston or probably anywhere in the United States or North America to speak of in this season of 2020-2021. At that point, we scrapped all of our plans for this entire season and redrew them to do four of these remote concerts or pre-recorded concerts instead of the live ones we were planning. But that meant completely redoing all the programming as well, because we're normally an ensemble of eight to ten singers and we do a lot of ensemble singing. We're not doing anything with more than two singers in it all season. It's involved an awful lot of recreating, well, really just starting from scratch and making four new programs.
Kevin [Allen]'s [new] piece [Puer Nobis Nascitur] which has four performers in it is the only piece with more than three performers we're going to do this entire season. It's scored for two singers and two sackbut players. But otherwise, we're doing one singer and one instrument or one singer and two instruments, or two singers and one instrument, or three instruments, and our rehearsals are all at considerable distances. It's that's been quite a challenge to figure out how to do that - it's very hard to make chamber music when you're 25 feet away from somebody. And the singers wear masks, which cuts down a lot of the information that you get, in terms of consonants especially. When we record, we're still 10 or 15 feet apart. We don't wear masks for that, but we're in large, well ventilated spaces, and the only other people in the room are the videographer, maybe an assistant, and the recording engineers in another room.
I want to hear more about this new piece that you have commissioned, Puer Nobis Nascitur by Kevin Allen, for your upcoming Christmas concert on December 19th at 7:30pm. Was that commissioned before the pandemic or is it something that came about afterwards? What is the origin story of that piece?
Scott: The idea for this came up in the spring after we were in the pandemic and thinking about revising all of our plans for the next year. We'd had to cancel a concert in which we were going to do a new piece … for 12 singers. That was really out of the question for next season. But I was thinking, well, we maybe we could do something else new, and it'd be great to commission something that would fit this particular circumstance. I began looking around and came across Kevin's music. Kevin and I have not met in person and I didn't know his music before last spring, but I ran into it and, and really loved it. And then I heard an interview that he'd given on a podcast where he was asked, who were the composers who most influenced them or who we liked the most? The first was Bruckner, and the second was Lassus. And I thought, this is very interesting. And then the third was Ockeghem, and I thought, this is our guy, he can write actual polyphony. And he gets what we do. He writes the sort of music that we normally do, but he's writing it now in his own idiom, but clearly informed by a great understanding of counterpoint and compositional processes that were used in the 15th and 16th century as well. So, so I phoned him up and said, "Would you like to read a Christmas piece? Let's talk." And he took it from there.
Kevin: If you're going to compose a piece for a big day, Christmas is the day… Many of the great texts have been set many, many times. I surely didn't want to use something that there are just so many associations with. So I looked around and I thought some of the Gregorian hymns would be a great idea or some of the English Carol texts. A number of settings, you know, already exist for just choir or choir and organ, but I was certainly intrigued by the idea of having two instruments, and two instruments that not many composers today are asked to write for: the sackbuts. I was extremely interested, and I thought, well, what could I use? What text can I find that could really sell this unusual ensemble? I narrowed it down to about four texts, and Scott chose I think the best possible one, at least for our purposes.
Scott: The sort of standard obvious choice would have been to write an SATB [soprano, alto, tenor, bass] setting or something like that. But in this particular year, we only wanted to have two singers maximum. And I also knew that our Christmas concert this year was going to be a collaboration with the Dark Horse Consort with whom we worked in the past, which is a really brass ensemble. I thought, well, we'd love to have some of them along for this, the ones that are relatively local. In Dark Horse, there are two sackbut players.
Kevin: Composing informed by this style is something not new to me. I write in this medium all the time. I'm using Renaissance techniques with kind of my own voice, or the modern voice. The style wasn't really the issue, it was actually getting my head around this ensemble: two sackbuts and two lower voices. I initially suggested that we have, soprano and alto, or two sopranos, and sackbut, which, which would be very pleasant, but I found that the tenor and bass voice with tenor and bass sackbuts gave great opportunities to pair the voices in ways that are not as obvious as you would with high singers, and lower instruments. It was also a challenge. But because of those challenges, I was able to come up with some very, very interesting combinations, and actually quite enjoyable from a compositional standpoint.
Kevin, how did you get into composing music in the Renaissance style? What is it about Renaissance music that draws you in?
Kevin: I've been a church musician my whole life. Composing for the masses, particularly the Roman Catholic mass, requires you to write, well I shouldn't say requires. But some of the documents of the Pope say that the more a composition resembles Gregorian chant, the more fitting it is to provide music for the liturgy. So, I kind of did a reverse history of the motet and the mass. I got started with Bruckner, because I thought after Bruckner, things kind of started falling apart. I traced my way from Bruckner back to Lassus and actually even earlier than Lassus. And so after doing that backwards research going from the modern idea of writing church music and the contrapuntal style, I thought, okay, so where did Bruckner leave off? That's where I'll take up. And so that that's basically how it happened. And I've been exploring that, that process ever since.
Scott: i could jump in for a minute here and say that the goal here was not to produce a piece that sounded like 16th century music. That was not our idea and not Kevin's idea either, I think. But rather, here's a composer who works with 16th century material, 16th century techniques, who understands counterpoint and polyphony. And who's not primarily working from a harmonic orientation, which is sort of a post 1600 orientation. Obviously, it's not that he's not aware of harmonic developments since the 16th century, but rather that his orientation compositionally seems to be towards counterpoint and polyphony. I would say, that, more than any particular historical style, is what Blue Heron is about. We're about equal voices being joined together into a larger whole. For that reason, Kevin seemed like an ideal choice, especially once I knew that he liked Ockeghem. The thing about Ockeghem and 15th century composers is they're not working in the kind of pan-imitative mode that becomes common in the 16th century, but it's mostly non-imitative, or at least imitation doesn't structure the way everything works. And that's a rarer skill to be able to do that, or certainly a rarer interest nowadays, maybe even rarer than counterpoint.
Kevin: I would agree with that. It's a rare skill. Certainly one that's not taught. I mean, when we're taught counterpoint, we're taught the 16th century counterpoint. Before that, there's references to it, but there's certainly no formulaic practice, or certainly no practice that I'm aware of. I really studied that music quite a lot, and Ockeghem was a great place to start for that. And Josquin of course. After dissecting that music, I thought this is a this is a very good way for me to put my modern idiom on this quite old idea and quite disciplined idea, I would say.
_
Blue Heron's upcoming virtual concert takes place on December 19th at 7:30pm Eastern. You can purchase tickets and find more information at blueheron.org.
// Allison Pao is a radio host for WHRB Classical. You can hear her hosting the upcoming David Elliott Memorial Broadcast on December 24th, 8am to 6pm.
_