Bluegrass Orgy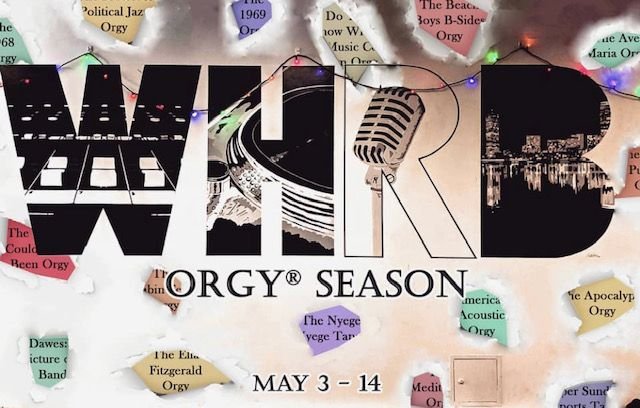 This online orgy contains the playlist and commentary during the Bluegrass Orgy Aired on Tuesday May 12, 2020. The Bluegrass orgy is focused on the bands and musicians playing this music, with an emphasis on bands from North Carolina.
The musical duo and married couple Mandolin Orange is based in Chapel Hill, NC. This band features Andrew Marlin (mandolin, guitar, banjo) and Emily Frantz (fiddle, guitar). This group most recently came out with their album Tides of a Teardrop, which the pair created while they were becoming parents. This first song from this group is called Wildfire. Wildfire addresses the conflict of the civil war. The song starts with the story of Boston physician and Revolutionary War patriot Joseph Warren, who was killed at Bunker Hill, and moves on to address modern struggles in the south between those who use history as a justification to hate, and those who want to leave the hate behind.
The band Nickel Creek features Chris Thile (mandolin), and siblings Sara Watkins (fiddle) and Sean Watkins (guitar). This band was formed in 1989 in Southern California. Chris Thile currently works as the host of the radio variety show A Prairie Home Companion, which in December 2017 was renamed Live from Here. As a side note – the old host of A Prairie Home Companion, Garosion Keilor, has a daily newsletter "The Writer's Almanac" that includes a "on this day in history" section, a poem, and a link to listen to that day's episode, which may be of interest to those in quarantine during this time of coronavirus.
Chris Thile is also involved in another band named Punch Brothers. This band features Chris Thile (mandolin), Gabe Witcher (fiddle), Noam Pikelny (banjo), Chris Eldridge (guitar), and Paul Kowert (bass). The band's most recent album, 2018's All Ashore was awarded the Grammy Award for Best Folk Album at the 61st Grammy Awards on February 10, 2019
The first song on the playlist from this group is called Another New World, written by Josh Ritter. The song, itself a riff on Edgar Allan Poe's 'Annabel Lee', and it tells the story of an obsessive polar explorer and his relationship with his ship, the Annabel Lee.
Another song from Punch Brothers is called "Boll Weevil," which is a traditional blues song, also known by similar titles such as "Boweavil" or "Boll Weevil Blues". Many songs about the boll weevil were recorded by blues musicians during the 1920s through the 1940s.
The lyrics deal with the boll weevil (Anthonomus grandis), a beetle, which feeds on cotton buds and flowers, that migrated into the U.S. from Mexico in the late 19th century and had infested all U.S. cotton-growing areas by the 1920s, causing severe devastation. The destruction caused by the little bug had a tremendous impact on the lives of those connected to agriculture. The weevil seemed indestructible and did its work in secret, hatching in the boll to consume from within.
Pumpkin Bread is an American folk band currently based in Boston, MA The band includes Steven Manwaring (mandolin), Jackson Clawson (accordion), Maura Shawn Scanlin (fiddle), Aidan Scrimgeour (piano), and Conor Hearn (guitar). The lead fiddle player Maura Shawn Scanlin is from Boone, NC. She is a classically trained violinist Masters Degree in Violin Performance at the Yale School of Music and the New England Conservatory in Boston
Violinist Maura Shawn Scanlin and guitarist Conor Hearn are in a separate duo called "Rakish."
Chatham Rabbits is a band based out of Chatham County, NC, and features married couple Austin and Sarah McCombie who both went to school in Raleigh, NC. The band's name comes from a time over a century ago, when rabbits were the prized cash crop of Chatham County. Austin and Sarah McCombie currently live in Bynum, North Carolina, on the banks of the Haw River, in a house which used to be owned by a mill working family. The husband of that family was a member of the mill sponsored stringband, The Chatham Rabbits. Their first album All I Want from You, stories the band had heard over their years growing up in North Carolina. Their second album The Yoke is Easy, the Burden is Full are songs from their own lives.
The Texas-based band Cadillac Sky is currently on an "indefinite hiatus." This playlist has music from their 2006 debut album Blind Man Walking. During the time of this album, the band members were Matt Menefee (Banjo), Ross Holmes (fiddle), Bryan Simpson (mandolin), Mike Jump (guitar, and Matt Blaize (bass). Ross Holmes, the fiddle player, has also played for the bands Mumford and Sons, ChessBoxer, and Bruce Hornsby and the Noisemakers. The mandolin player Bryan Simpson also has a solo career called The Whistles & The Bells.
Hank, Pattie & the Current is a band based out of Raleigh, NC. This group includes Hank Smith (banjo) and Pattie Hopkins Kinlaw (fiddle), Stevie Martinez (bass) and Billie Feather (guitar).
Hank has his BA and MA in middle eastern history and also fronts the world's first and only tribute to Bela Fleck and the Flecktones. There are a few songs from Bella Fleck later in the playlist. Hank also serves as an adjunct professor of banjo at The University of North Carolina at Chapel Hill. Pattie is also an educator, teaching at private studios. Pattie has played on Broadway, and as a part of multiple other ensembles including the Trent River Chamber Players, The Long Bay Symphony in Myrtle Beach, SC, and the Lynda & Pattie Duo
Cane Mill Road, renamed to Liam Purcell & Cane Mill Road describes themselves as bluegrass roots music. They are based in Deep Gap, NC, close to where Doc Watson lived. Liam Purcell who is currently 17, headlines the band and performs mandolin, fiddle, and vocals.
Béla Fleck is one of the most commercially successful American banjo players. He is originally from New York City and has been part of multiple bands, but is best known for his work with the bands New Grass Revival and Béla Fleck and the Flecktones, which has won multiple grammys
Tony Rice is a guitarist originally from Danville, Virginia and grew up in Los Angeles. He was inducted into the International Bluegrass Music Hall of Fame in 2013. One of the songs from him on this playlist is called Muleskinner Blues. Muleskinner bBues is a classic country song written by Jimmie Rodgers and George Vaughan Horton, which was made famous several times over by Dolly Parton and in Ken Burns' documentary Country Music.
The Avett Brothers are a folk rock band from Concord, North Carolina. The band features two brothers, Scott Avett (banjo, guitar, piano, kick-drum) and Seth Avett (guitar, piano, hi-hat) along with Bob Crawford (double bass, electric bass, fiddle) and Joe Kwon (cello).
In 2018 an HBO documentary was made about the band called May It Last. The band is also known for their eclectic posters.
Earl Scruggs was born in Shelby, North Carolina and is known for what is called his Scruggs style of playing which is a crackling, syncopated style in which the player uses the thumb and two fingers fitted with plastic and metal picks to play chords, melody and cascading rolls of notes. Earl Scruggs might be most well known from "The Ballad of Jed Clampett" which the theme music for the television sitcom The Beverly Hillbillies, which was on CBS from 1962 to 1971, and at least I grew up watching
"Foggy Mountain Breakdown" is a bluegrass instrumental written by Earl Scruggs and first recorded on December 11, 1949 by Flatt & Scruggs and the Foggy Mountain Boys. It was reworked from the song "Bluegrass Breakdown," played by Bill Monroe's Bluegrass Boys in Nashville. Scruggs said he wrote the song "Bluegrass Breakdown," but after not being credited, released "Foggy Mountain Breakdown." "Foggy Mountain Breakdown" was made famous in the mainstream when it was used as background music in the 1967 motion picture Bonnie and Clyde.
Doc & Merle Watson are from Deep Gap, NC. Doc's born name was Arthel Lane Watson, but one day before playing for a radio show being broadcast from a furniture store, the radio announcer decided that Watson needed a snappier name and a woman in the audience suggested the name "Doc." Doc has been blind since he was a baby, but was an incredibly prolific guitar player. Doc often performed with his son, guitarist Merle Watson. Unfortunately Merle died in 1985 in an accident on the family farm. The North Carolina bluegrass festival, MerleFest, is named in his honor.
//This online orgy was curated by Margaux Winter