History of the Blues: St. James Infirmary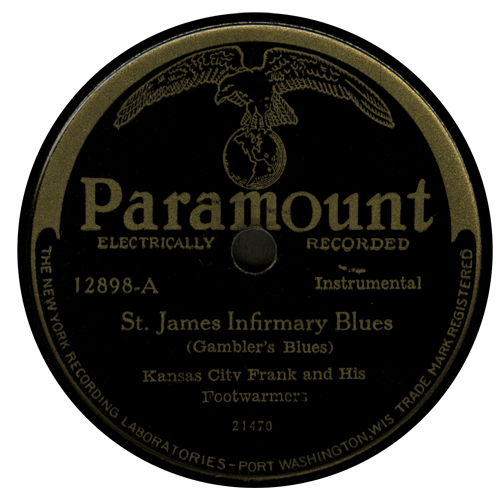 Jazz and Blues fans alike will be familiar with the title "St. James Infirmary Blues." However, this is just one variant of an old song whose history traverses continents and cultures. Tracing the evolution of the tune and lyrics of this standard provides a valuable window into the folk process at work.
The song began in England as a ballad, most often known as "The Unfortunate Rake" but also called "The Unfortunate Lad" or "Trooper Cut Down in his Prime." It begins with a frame narrative, telling how a soldier encounters one of his comrades dying of venereal disease contracted from a prostitute. In the second half of the song, the dying man proceeds to give his comrade instructions about the arrangements for his funeral.
One version of "The Unfortunate Rake" begins:
As I was a-walking down by St. James Hospital,
I was a-walking down by there one day.
What should I spy but one of my comrades
All wrapped up in a flannel though warm was the day.
The dying man instructs:
Get six young soldiers to carry my coffin,
Six young girls to sing me a song,
And each of them carry a bunch of green laurel
So they don't smell me as they bear me along.
When this song was carried to America, it naturally took on new, distinctly American valences. In the Old West, it emerged as the cowboy ballad "The Streets of Laredo." The funeral instructions took on new images, more appropriate to a cowboy.
Get six jolly cowboys to carry my coffin.
Six dance-hall maidens to bear up my pall.
Throw bunches of roses all over my coffin.
Roses to deaden the clods as they fall.
In the American south of the 1920s and 1930s, the song re-emerged as "St. James Infirmary Blues," with notable recordings by Louis Armstrong and Cab Calloway.
The melody and chord structure were shifted from major to minor. The frame narrative was moved to "Old Joe's Barroom, by the corner square." The funeral instructions took on a new swagger. As recorded by Calloway:
Now, when I die, bury me in my straight-leg britches,
Put on a box-back coat and a stetson hat,
Put a twenty-dollar gold piece on my watch chain,
So you can let all the boys know I died standing pat.
Then get me six crap-shooting pallbearers
Let a chorus girl sing me a song
Put a red-hot jazz band, we raise
Hallelujah as we go along, well.
The song may be better known to blues fans in the version by Blind Willie McTell, called "Dyin' Crapshooter's Blues." McTell's version, which he claims to have made up "out of three different marches of tunes," is one of the most involved and elaborate, although it is heavily indebted to an earlier recording by Fess Williams and His Royal Flush Orchestra under the name "Gambler's Blues" and one by Martha Copeland under the name "Dyin' Crap-Shooter's Blues." Here, the vice that lead to venereal disease in the "Unfortunate Rake" has been exchanged for an addiction to gambling.
This same tune was used by Bob Dylan as the basis of one of his greatest compositions, which was recorded in the 80s but left unreleased for decades because Dylan felt that it was incomplete. In homage to McTell's "Dyin' Crapshooter's Blues," the song was titled "Blind Willie McTell."
---
In "History of the Blues" our DJs take you through curious facts and strange tales from the storied annals of the Blues.