Boston Art Book Fair 2019 Highlights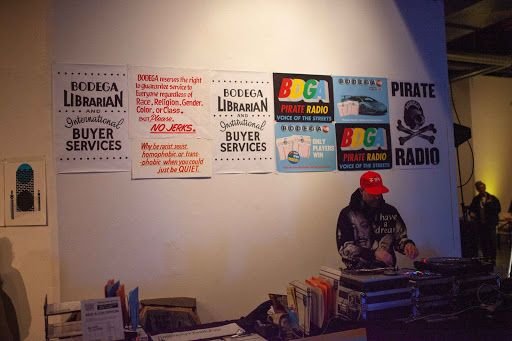 WHRB visited the 2019 Boston Art Book Fair Preview Party to take a peek at this year's wonderful offerings. Set to an eclectic DJ set (Dilla & Talking Heads in the same night?) by DJ 7L, we saw some of the best in bookmaking for this year. Here are some of our highlights!
**Headmaster
**
Based in Providence, Headmaster is a yearly magazine "for any sophisticated man-lover who appreciates contemporary art and writing". The twist: each issue features work produced in response to assignments specifically written by the two editors (Jason Tranchida & Matthew Lawrence) and assigned to artists. Featuring submissions by artists like Wolfgang Tillmans and Alan Ruiz, their latest issue examines "hypermasculinity, sexuality, and gay male subcultures" using The Village People as an analytical lens.
**Wizard Core Babes
**
The brainchild of three Bodega designers (Montana, Rasheed, & Christina), Wizard Core Babes is a new collective whose work lays bare the contradictions and frustrations of neoliberalism. Merging memes, anti-capitalism, and airbrushed wizardcore aesthetics, their zines depict a generation alienated from the status quo.
Studio Human Beings
Studio Human Beings makes wholesome art for wholesome people. Their manifesto "Frank" evokes images of simple joys and nostalgia: "a glass of water", "your favorite shirt", "a breath of fresh air". Making work that centers around storytelling and food, Studio Human Beings also has a wonderfully earthy, plant-filled Instagram feed that is almost a manifestation of their, well, manifesto. Situated next to the Wizard Core Babes, they represent a return to a simpler past.
Amadeus
Boston-born, LA-based Amadeus Magazine started as a school project at Emerson and has quickly grown into a magazine suffused with the creativity and collaborative spirit that is characteristic of the LA art community. Though it's certainly a magazine with an LA focus, editors Alex Khatchadourian and Samantha Grad still haven't forgotten about its Boston beginnings, bringing a little bit of California sun back to the East Coast for the weekend.
Mooneaters
Elevating Asian and Pacific Islander American (APIA) voices, issues, and art, Mooneaters Collective was founded last year by Lily Xie, Crystal Bi Wegner, and Ailin Lu to provide a platform for those at the margins. And they don't make art in a vacuum; they've collaborated with the Asian American Resource Workshop on their latest zine, "Queering the Pan-Asian Organizing Timeline" to materialize and engage with the intersection of LGBTQ+ and Asian American activism.