Boston Calling 2022 Recap: All the Best Artists, Day by Day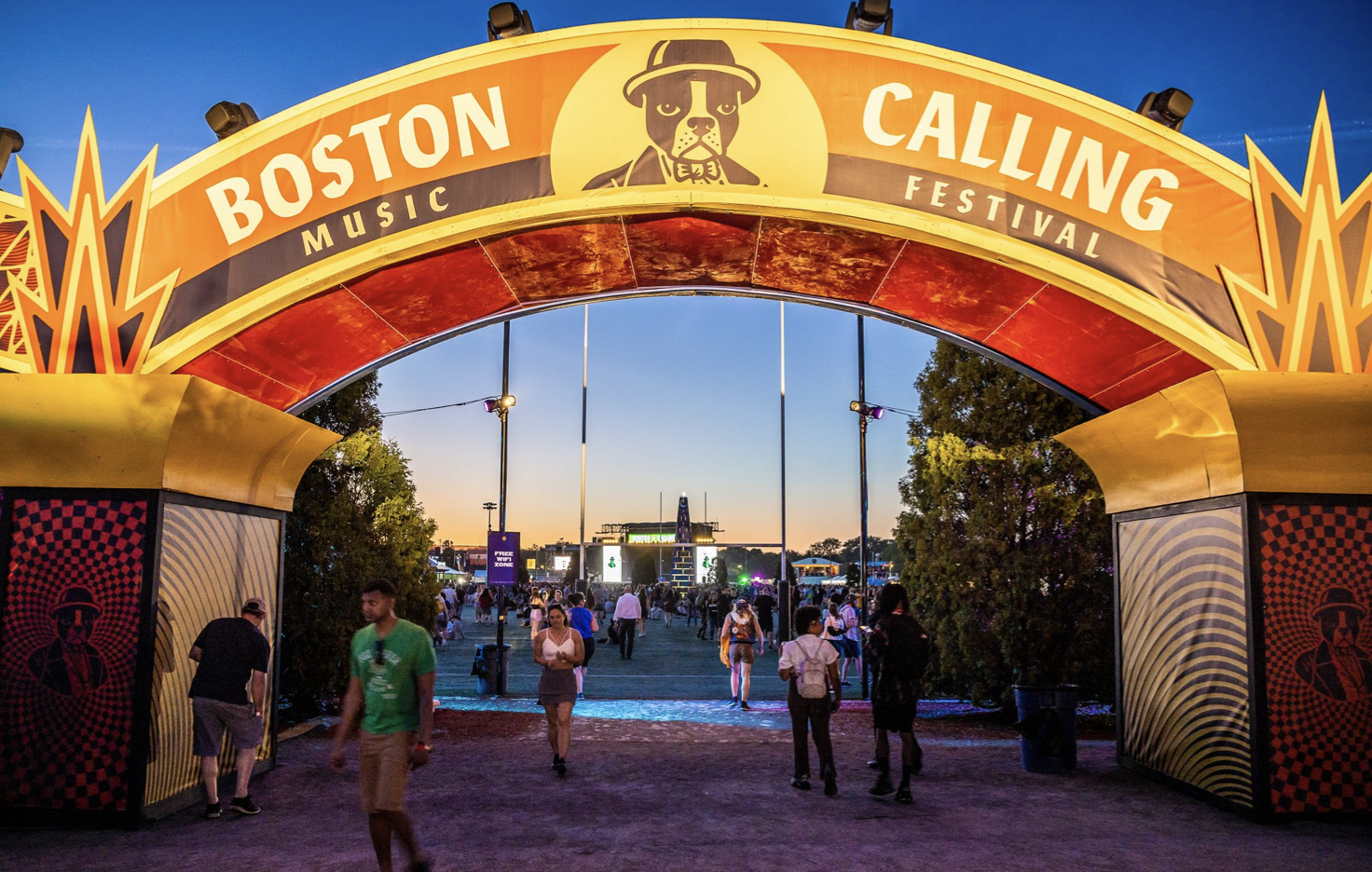 // Thousands of fans gathered for three days of live music at the Harvard Athletic Complex in Allston. Photo courtesy of Boston Calling / Alive Coverage
Iconic Boston music festival Boston Calling came back to the Harvard Athletic Complex this year with a vengeance. After several canceled iterations due to the coronavirus pandemic (the last Boston Calling was in 2019), this year's festival, attended by 40,000 people over a three-day run, proved that the Boston-area staple is indeed among the most anticipated and joy-filled events for music lovers everywhere. (Most of the festival's attendees are local to Boston or the U.S., but many come from as far as the U.K. and other countries to see their favorite acts.)
Though not without its (largely unavoidable) setbacks — original 2020 headliners Foo Fighters dropped out after the death of legendary drummer Taylor Hawkins, both The Strokes and King Gizzard and the Lizard Wizard had to cancel their sets at the last-minute due to internal Covid cases, and about half of Day 2 was canceled due to inclement weather — the festival proved a much-needed celebration and an opportunity to catch some of the world's greatest bands perform at the large-but-intimate festival.
DJ Olivia Carter and I covered some of the festival's hottest acts for our readers here at WHRB Cambridge 95.3 FM. Read on for breakdowns of the biggest and best to take the Boston Calling stages. — Sofia Andrade
DAY 1:
Over 25,000 fans attended Day 1 of Boston Calling Music Festival at the Harvard Athletic Complex, which featured Nine Inch Nails as the headliner.
// Grandson crowd-surfs in the middle of his Friday afternoon set at the Boston Calling Green stage. Photo courtesy of Boston Calling / Alive Coverage
Grandson
The shirtless singer-songwriter took time off from opening for Avril Lavigne on her "Love Sux" Tour and took to the Green Stage on Friday afternoon. After briefly crowd surfing, his 35-minute set of rap-rock with an EDM flair concluded with the hit "Blood // Water" off of his debut EP A Modern Tragedy Vol. 1. Midway through the song, he tossed water bottles out, instructing festival-goers to open them up on his signal and to drench the sweaty crowd. The charged energy was palpable — from the fans dancing at the front barricade all the way back to just entering the festival at the opposite end of Harvard's Mignone Field. — Olivia Carter
Pom Pom Squad
This Brooklyn-based band has made itself known as the perfectly unapologetic answer to all your grunge, riot grrrl-inspired needs. Their Friday Boston Calling performance confirmed that beyond question. Founder and frontwoman Mia Berrin's vision to create a "highly stylized" version of herself saturated the band's lyrics and performance alike. All decked in red, black, and white outfits to complement Berrin's own established color scheme (her own white miniskirt and corset provided the perfect subversion to the "all-American" cheerleader image that inspired much of her work), the band showcased their range as they caught the crowded audience in a trance. Slow, cutting songs like "Cherry Blossom" and "Be Good" provided the perfect dose of melancholia to make the band's more punk-fueled tracks — notably the irresistibly fierce "Heavy Heavy" and "Head Cheerleader" — stand out in all their grunge glory. The show marked Pom Pom Squad's second Cambridge performance this year (the first was back in February at the Sinclair, supporting Fenne Lily and Illuminati Hotties), and its undeniable power promised more fabulous shows to come. — Sofia Andrade
Backseat Lovers
Opening with steady drum kicks and a psychedelic guitar riff, indie group The Backseat Lovers — Joshua Harmon, Jonas Swanson, KJ Ward, and Juice Welch — walked out onto the Red Stage. "Good afternoon everybody, what a beautiful day!" exclaimed a mustachioed Harmon, his long hair flowing in the wind. The band played many songs from their 2019 album When We Were Friends. The crowd roared over the guitar solos and sang along. Once "Kilby Girl" began, those chatting near the refreshments flocked to scream the lyrics made viral by TikTok: "I overheard that she was 19, she's got a fake ID and a nose ring." Harmon expressed gratitude for the crowd's applause and announced that this performance was a meaningful one, as the group would be taking a break from live shows for a while. — Olivia Carter
// Cheap Trick take the Red Stage for a set filled to the brim with classic rock hits. Photo courtesy of Boston Calling / Alive Coverage
Cheap Trick
I stumbled upon Cheap Trick's set as I was waiting for Haim to take to the neighboring stage. Robin Zander's boating captain's cap in particular was quite an entertaining touch. It was great to see fans waiting alongside me perk up and rock along as they recognized some of the '70s rock group's greatest hits, including "Surrender" and "I Want You to Want Me." Even though the Rock n' Roll Hall of Famers are well into their 60s and 70s, they put on a fantastic show that was enjoyable for all ages. — Olivia Carter
// The Struts perform in front of a giant British flag at the Boston Calling Green stage. Photo courtesy of Boston Calling / Alive Coverage
The Struts
British four-piece The Struts have been making the case for the glam rock revival since their founding in Derby in 2012. Seeing them take the Green Stage on Friday showed the undeniable fun inherent to the genre. If frontman Luke Spiller's blue eye shadow and all-leather get up wasn't proof enough of the band's predisposition to borrow from classic rock aesthetics, the band's performance of hits like "Kiss This" and "Could've Been Me" all but transported audiences back into a rockstar-dominated past defined by its soaring guitar solos as much as it was by its penchant for bold outfits. Featuring a surprise performance by collaborator Paris Jackson, the Struts' set was jam-packed and energetic from start to finish. Through direct engagement with their audience, Spiller, guitarist Adam Slack, drummer Gethin Davies, and bassist Jed Elliott made sure the performance was one to remember. — Sofia Andrade
// Haim dance for the massive crowd gathered for them at the Green Stage. Photo courtesy of Boston Calling / Alive Coverage
Haim
Los Angeles indie-pop band Haim has taken the world outside their indie music base by storm as of late. With all three of the sister trio (and their parents) starring in director Paul Thomas Anderson's latest film Licorice Pizza (2021), where percussionist and vocalist Alana Haim played the lead role, it's safe to say the band has been more acutely present in the cultural zeitgeist than ever before (and that's including their well-documented period of best-friendship with Taylor Swift back in the late 2010s). They deserve it, too — Alana, Este, and Danielle Haim are beyond talented, crafting infectious melodies and entrancing lyrical storylines which they perform on stage as if effortlessly. Crowd favorite "My Song 5," for example, features Alana slamming her drums in time with Danielle and Este's own expressive choreography. Other highlights of the band's Friday performance included "Summer Girl," "The Steps," and a much-dramatized "3 AM." — Sofia Andrade
// Avril Lavigne sends off her fans with a heart rending rendition of "I'm With You" at the Delta Airlines Blue Stage. Photo courtesy of Boston Calling / Alive Coverage
Avril Lavigne
With a 20th anniversary tour well underway, it's clear iconic punk princess Avril Lavigne is back in full force. Taking the stage right before the first night of Nine Inch Nails, Lavigne took her audience — many of them long-standing fans — through a holistic tour of her career. From her critically acclaimed 2002 debut "Let Go" to her most recent effort "Love Sux," Lavigne made sure to leave no corner of her discography unturned. This meant fans got to rock out to hits like "Complicated," "Girlfriend," and "Sk8r Boi" at the same time as they were introduced to Lavigne's latest tracks, which proved popular with the crowd despite their relative obscurity. (The wide-ranging set also meant fans were reminded of some of her more controversial work that should have been left in the past.) Lavigne closed out the hit-filled set with early single "I'm With You," a song that journalist Ilana Kaplan recently (and rightfully) called "one of the best power ballads of all time." It was the perfect way to end the nostalgia-inducing performance. — Sofia Andrade
DAY 2:
Day 2 saw more than 18,000 fans attend, with Nine Inch Nails stepping in as headliners for the second night in a row after The Strokes had to pull out due to Covid.
Charlotte Sands
Continuing the pop punk theme from Day 1's performances by Avril Lavigne and Pom Pom Squad alike, rising newcomer and Massachusetts area native Charlotte Sands carried her audience through a set overflowing with punk-inspired bangers. Accompanied on stage only by powerhouse drummer and hype man Danen Reed Rector, Sands' songs raged. Their power was matched only by Sands' own voice, which was as capable of effortless soaring as it was of more gritty vocals that drove forward her pounding tracks. With tracks ranging from the infectiously fun "Bad Day" and "Dress" to the heavier stylings of new single "Out of My Head," her midday set was an energizing introduction to her music, keeping Boston Calling attendees captivated from start to finish. — Sofia Andrade
// Orville Peck performs in his signature leather mask at the Delta Airlines Blue Stage. Photo courtesy of Boston Calling / Alive Coverage
Orville Peck
Attendees were anxious for music to start back up, celebrating the crew members that were working to reassemble the speakers and sets. Orville Peck was the first to take back to the stage on Saturday evening after the severe thunderstorm that had halted the festival three hours prior. His denim-clad band members walked out just before the tattooed cowboy entered in a sleeveless embroidered vest"Daytona Sand" and "The Curse of the Blackened Eye" seemed to be the fan favorites in this shortened set since they showcased the range of Peck's voice, from a low growl to powerful belts. Country fan or not, the performance was extremely engaging as it was interspersed with commentary alongside the continued mystery of the blue eyes behind the fringed mask. — Olivia Carter
// Black Pumas deliver an irresistibly groovy set at the Green Stage, giving fans the perfect post-rainstorm pick-me-up. Photo courtesy of Boston Calling / Alive Coverage
Black Pumas
Hailing from Austin, Texas, Black Pumas returned to Boston after two and a half years. They gave a charming performance on Saturday evening that was reflective of their Southern roots. Eric Burton wore a fabulous orange fedora and wasted no time introducing his bandmates. Background vocalist Angie on the tambourine momentarily stole the show with a soulful welcome during "Know You Better." Black Pumas insisted on a "vibe check" after this and taught the audience a simple two-step sway. Burton's vocal riffs, both on stage with his guitar as well as down on the walkway as he took selfies and shook hands with fans, can only be described as a controlled explosion. — Olivia Carter
// Nine Inch Nails perform their second headlining night of the festival at the Green Stage in front of their signature industrial backdrop. Photo courtesy of Boston Calling / Alive Coverage
Nine Inch Nails
While it would be close to a lie to say the quintessential 1990s industrial band ever misses in their performances, their Day 2 headlining set at Boston Calling's Green Stage was one for the history books. The rockers took fans on a stunning, two-hour-plus set that kept adrenaline high from its nitro-fueled beginning until the melancholic end (marked, of course, by a haunting rendition of the 1994 hit "Hurt"). Frontman and band founder Trent Reznor gave audiences an inside look into what makes Nine Inch Nails such a compelling and lasting band to begin with: their stellar, near-impeccable musicianship, yes, but also their willingness to push the boundaries of what rock music can and should be. From megahits like "Terrible Lie" to other equally explosive tracks like "The Line Begins to Blur" and "Shit Mirror," the set was without flaw. There was even a rather unexpected, yet somehow perfectly included, cover of David Bowie's "Fashion." They brought some sense of humor to their set, too, with Reznor joking that he never thought he would be the "reliable band." And yet, after an unfortunate cancellation by The Strokes, here they were, reliable and at the top of their game. Given the already-strong performance NIN had given as the headliners for Day 1 of the three-day music festival, their Saturday set was all the more impressive. — Sofia Andrade
DAY 3:
The biggest day for the rapidly-growing festival, Day 3 welcomed over 40,000 fans to the Harvard Athletic Complex in Allston. Iconic metal band Metallica took to the stage to wrap up three days of great music.
// Peach Tree Rascals perform their early afternoon set for fans at the Boston Calling Green stage. Photo courtesy of Boston Calling / Alive Coverage
Peach Tree Rascals
First up on the festival's final day, the Peach Tree Rascals wanted to take full advantage of the "big ass stage." The San Jose collective dashed back and forth across the Green Stage and shared their new song "Let U Go," which will be released on June 24. It was very well received and bodes well for their upcoming EP Does a Fish Know It's Wet? out on July 22. The harmony of their voices carrying across the field was delightful. A highlight before wrapping up with the certified gold track "Mariposa" was taking time to sing Happy Birthday to singer Joseph Barros, who had penned the song. The band could be found roaming the ground following their set, taking time to personally engage with their fans. The show can only be described as tie-dyed with good vibes, easily enjoyed not only by the impressive crowd they had drawn but also by those recharging in the shade yards back. — Olivia Carter
// Djo perform at the Delta Airlines Blue Stage on Sunday afternoon. Photo courtesy of Boston Calling / Alive Coverage
Djo
Djo, the clever moniker of Joe Keery, offered a stellar performance on Saturday evening. "It's wild being up here, looking out at all of you," he admitted. Keery was extremely considerate, stopping to ensure fans had sufficient sunscreen and water and encouraging everyone to look out for those around them. Some seemed initially unfamiliar with the group as they walked out in white painter's jumpsuits and their signature sunglasses. By the end of the set, though, listeners could be seen bopping along to the psychedelic rock as far out as the Ferris wheel next to the stage. They closed with "Flash Mountain," noting that it is one of the more exciting tracks to perform live, and thanked Boston Calling for providing them a space to play. — Olivia Carter
// Glass Animals perform their vibey, unearthly set at the Boston Calling Green Stage. Photo courtesy of Boston Calling / Alive Coverage
Glass Animals
This British quartet is a personal favorite of mine, so I was more than eager to push my way through the sea of Metallica fans who had made their way to take up space in the pit before the headlining act of the night. The band played fan favorites from all three of their albums —their earthy record ZABA, their indie-rock How To Be a Human Being, and their latest, more electronic Dreamland. The group took full advantage of the sound system and light effects despite the scorching sun that led singer Dave Bayley to shed his sweater vest almost immediately. Bayley paused the set to share that Boston Calling felt like a homecoming for him, as he was born and briefly raised in Worcester before moving to England. "The Other Side of Paradise" was one of the most exhilarating from the setlist, but the crowd was undoubtedly most engaged for "Pork Soda" during which Drew MacFarland and Dave Bayley cycled through multiple guitars for various extended solos. A rhythmic clap breakdown was followed by a real pineapple, a reference to the song's lyrics, being thrown out into the crowd as drummer Joe Seaward shook a matching pineapple-shaped maraca. Song of the summer "Heat Waves" was the keystone in rounding. — Olivia Carter
// Harvard alum Rivers Cuomo '03 performs with his band Weezer at the Red Stage. Photo courtesy of Boston Calling / Alive Coverage
Weezer
Weezer's Sunday performance at the red stage was everything one would expect from the alt-rock band. Fronted by Rivers Cuomo '03, the four-piece is known for their tongue-in-cheek tracks and dad rock sensibilities (hello, "Island in the Sun."). But that's exactly what made them such a fun way to gear up for Metallica's headlining set and begin wrapping up a jam-packed festival experience. With a hit-filled set — including "Buddy Holly," "Say It Ain't So," "Undone (The Sweater Song)," and a questionable-yet-enduring cover of Toto's "Africa" — the band had their audience won over from the very first minute. — Sofia Andrade
// Rock and roll legends Metallica wrap up three days of nonstop music with their powerful Sunday night headlining set at the Green Stage. Photo courtesy of Boston Calling / Alive Coverage
Metallica
There's a reason Metallica is among the biggest rock bands in the world. They carry themselves with undeniable rock star charisma, give a power-packed performance, and, of course, are technically perfect as any good metal band should be. Drummer Lars Ulrich, frontman James Hetfield, bassist Robert Trujillo, and guitarist Kirk Hammett were stellar, their impeccable musical chops lending themselves to the heavy, impossibly fast-paced music that makes Metallica, well, Metallica. The larger-than-life energy of songs like "For Whom the Bell Tolls," "Master of Puppets," and "Ride the LIghtning" was perfectly balanced with the crushing lightness of "Nothing Else Matters" and other, more intimate tracks to create a dynamic, driving show. The care the band extended towards their audience, too, was palpable. Hetfield checked in with the crowd multiple times, and fans in the first few rows were treated to an array of guitar picks and drum sticks thrown from the stage. By the time the band came out for their three-song encore — capped by an unforgettable performance of "Enter Sandman" — they had taken their massive audience to their limits. For the die-hard fans (myself included) who had spent the blistering Boston day camped out at the Green Stage barricade and more casual fans alike, the two-hour set proved exactly what was needed to wrap up three days of nonstop music from some of the best bands. — Sofia Andrade
// Sofia Andrade '23-24 is a DJ and writer for the Record Hospital and the Blues Hangover. Olivia Carter '23 is a DJ and writer for The Darker Side.