Boston Calling 2023, Day 1: A Friday's Farewell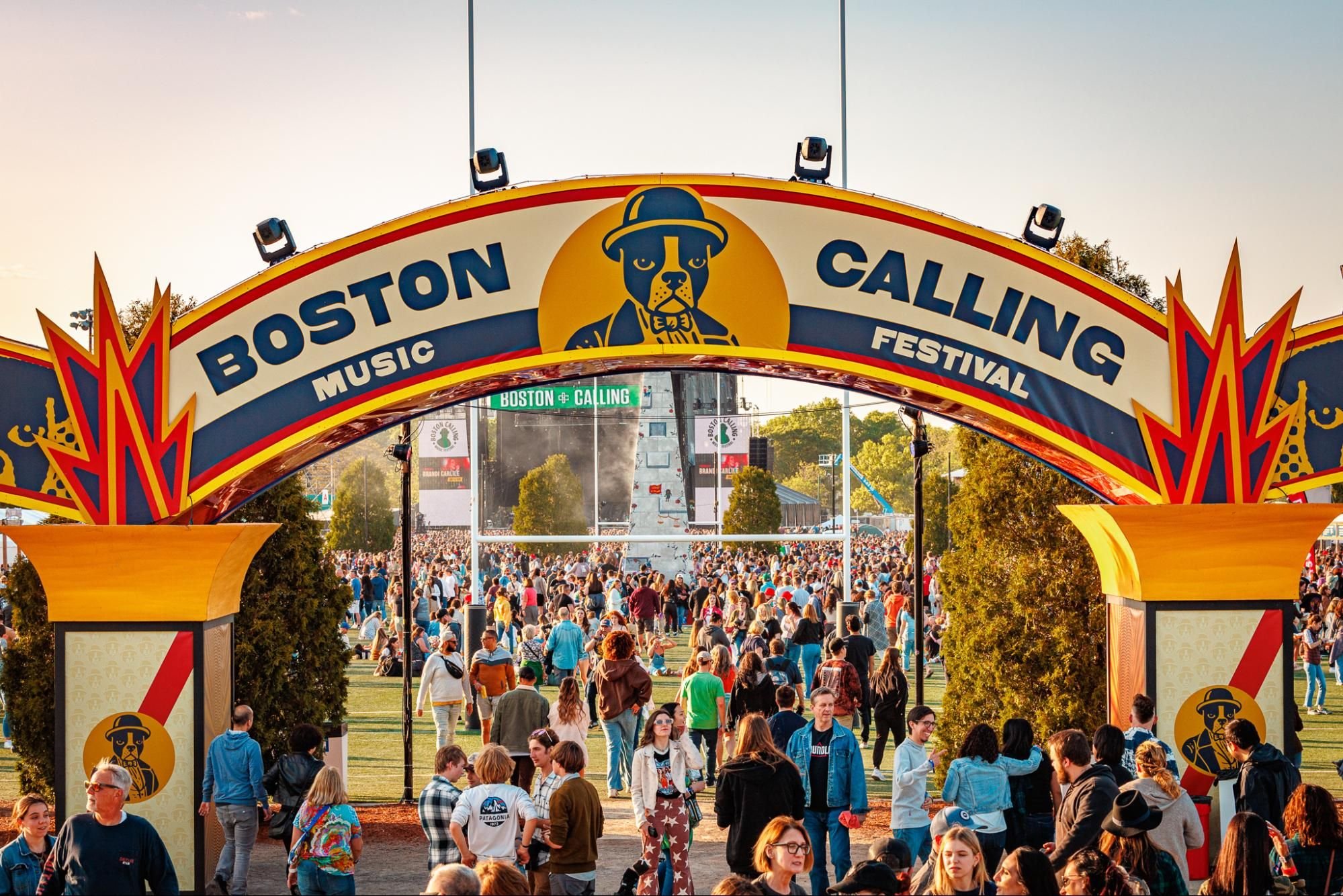 // This Memorial Day weekend, thousands came out for the incredible line-up at the 10th anniversary of the Boston Calling Music Festival. Image courtesy of Alive Coverage / Boston Calling
On Friday, May 26, over 50 artists took to the Orange, Blue, Red, and Green Stages at Boston Calling. Celebrating its 10th year, the vibrant music festival was in full swing — and showed us once again why it is a staple for the community. Thousands of attendees of all ages made their way over to the Harvard Athletic Complex to see some of the most iconic names in music. Unlike last year's festival, which was met with a freak thunderstorm that canceled half of Day 2, all three days this year were full of sun and an undeniable sense of excitement.
This year, I was treated with the opportunity to cover Friday's showings. Following graduation and moving out of my college dorm earlier in the day, I couldn't help but feel a mixture of nostalgia and anticipation for the sights and sounds that lay ahead.
Read on for highlights of some of the most thrilling acts on the stage during my first day of summer:
**Blue Light Bandits
**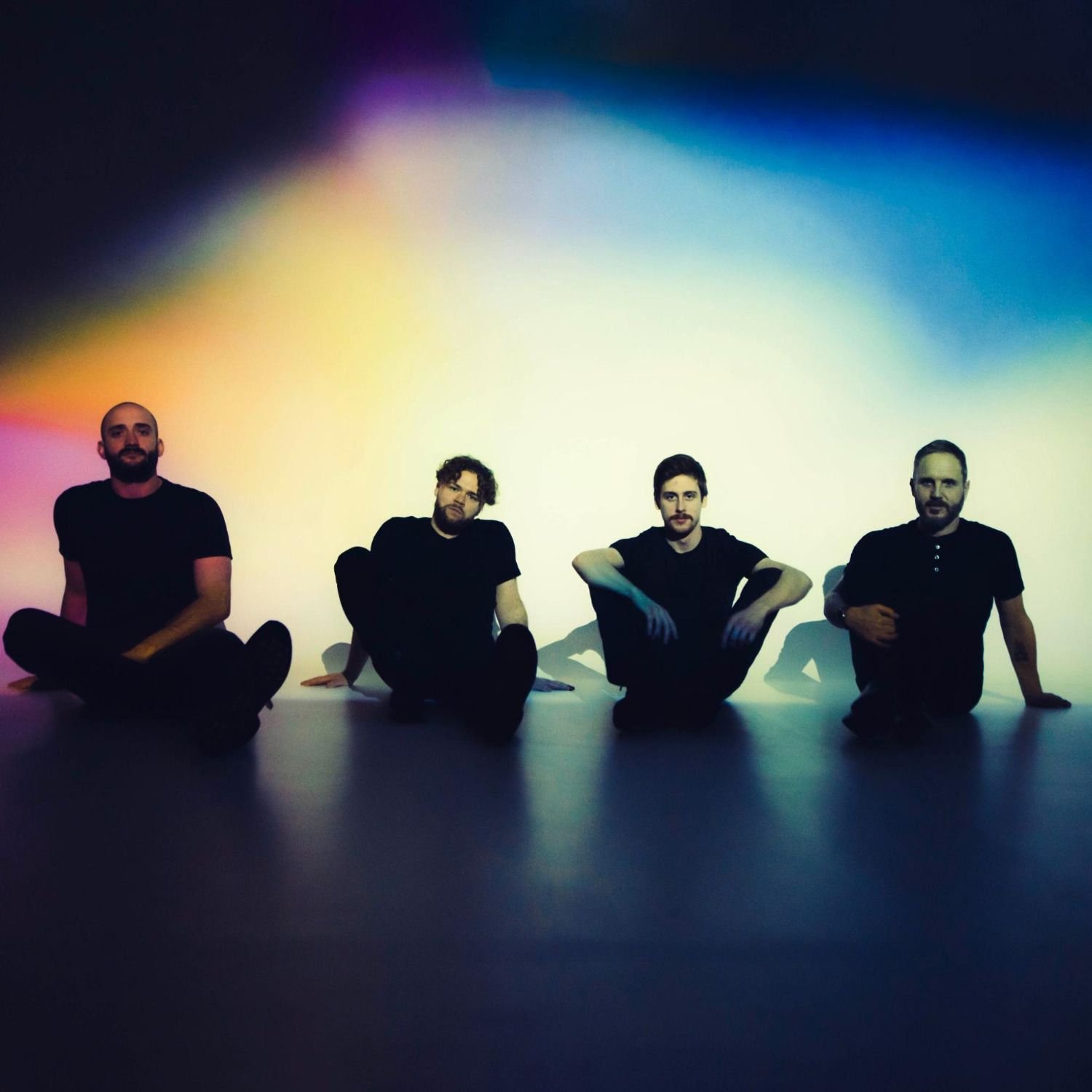 // Image courtesy of Yazi Ferrufino
There's nothing quite like a homecoming, and Blue Light Bandits made that clear as they took to the Tivoli Orange Stage for a magnetic six-song set. From the opening track, attendees stopped their conversations aboutthe Celtics game and poured onto the tennis court to determine the source of such an electrifying sound. The quartet of rockers, who hail from Worcester, were clearly comfortable in their home state, actively connecting with the audience and encouraging them to clap or sing along, notably to their single "Old Habits."
With seamless transitions and extended riffs, the group's music created a rich soundscape that enveloped the audience. Cheers could be heard even from the back of the court. The groovy atmosphere was simultaneously laid-back and captivating. Blue Light Bandits offered a dynamic fusion of genres like rock, soul, R&B, funk, and blues that was impossible to resist.
As I exited the area, their music continued to ring out and I reflected on my day before arriving — the Blue Light Bandits provided what felt like the soundtrack to the end of a movie I'd watch again and again. The band made a lasting impression and gained more than a few new fans this weekend; they certainly have the potential to maintain this trajectory. Having already amassed millions of streams on Spotify on top of their standout performances at notable venues, their star is rapidly taking off. Following Friday's showing, I, for one, truly look forward to continue watching it rise.
You can check out Blue Light Bandits' latest EP Sadness, Madness, Pride, & Greed here.
**Teddy Swims
**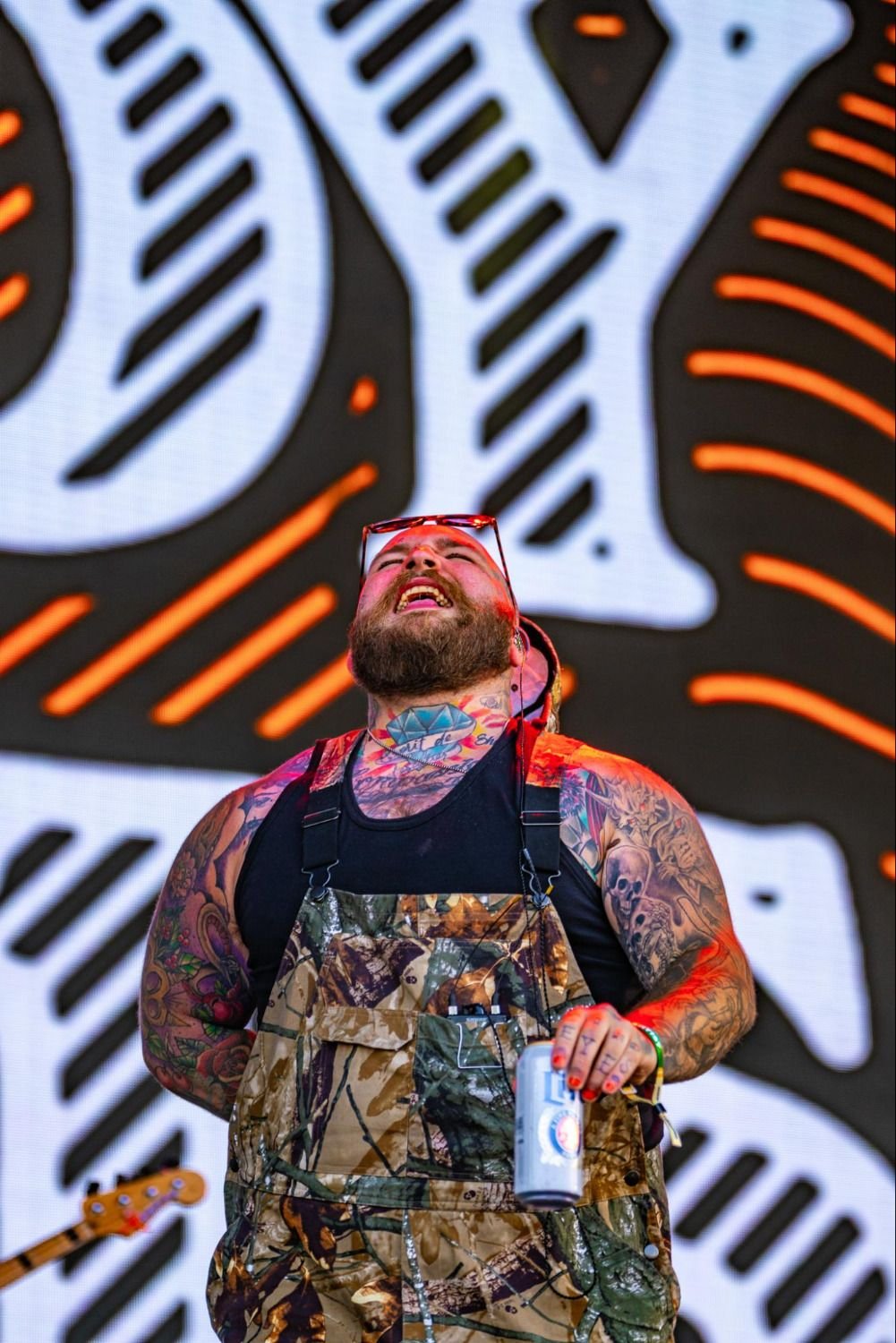 // Teddy Swims shotguns a beer onstage. Image courtesy of Alive Coverage / Boston Calling
Around 6 p.m., I wandered over to the Blue Stage to rest on one of the many colorful geometric inflatables. I had no particular expectations for Teddy Swims, but was more than pleasantly surprised by the charismatic singer. With his camo overalls and sunglasses perched on his head, the singer greeted the crowd with a warm "Good to see ya." After he shotgunned a beer onstage, it was evident that the audience was in for a wild ride. No matter the subject of the song, his infectious energy reverberated to the back of the plaza. Teddy Swims delivered 15 songs, each one more of an earworm than the last, commanding the stage as he strutted back and forth.
With a twang and smooth vocal runs akin to those of Chris Stapleton and a tattooed facade like that of Post Malone, I was enraptured by his stage presence. In between songs, Swims shared the personal anecdotes behind songs like the vulnerable ballad "Simple Things," dedicated to his grandfather, and "What More Can I Say," which addressed a raunchy scandal of iCloud sharing gone wrong — and which felt reminiscent of the Ivy Oration speech I had heard a few days prior at Harvard's Class Day Exercises. Teddy Swims is nothing if not versatile. Festivalgoers in the back remarked on their surprising level of enjoyment with "country" music — though the artist also blends in genres like hip-hop and soul — but everyone came together to sing along to a raspy, raucous rendition of "Don't Stop Believin.'" I promptly added his setlist to my own personal playlists and I can already see myself listening to any of those tracks at the next kickback on the river back home.
Catch Teddy Swims on his international tour this summer.
**Niall Horan
**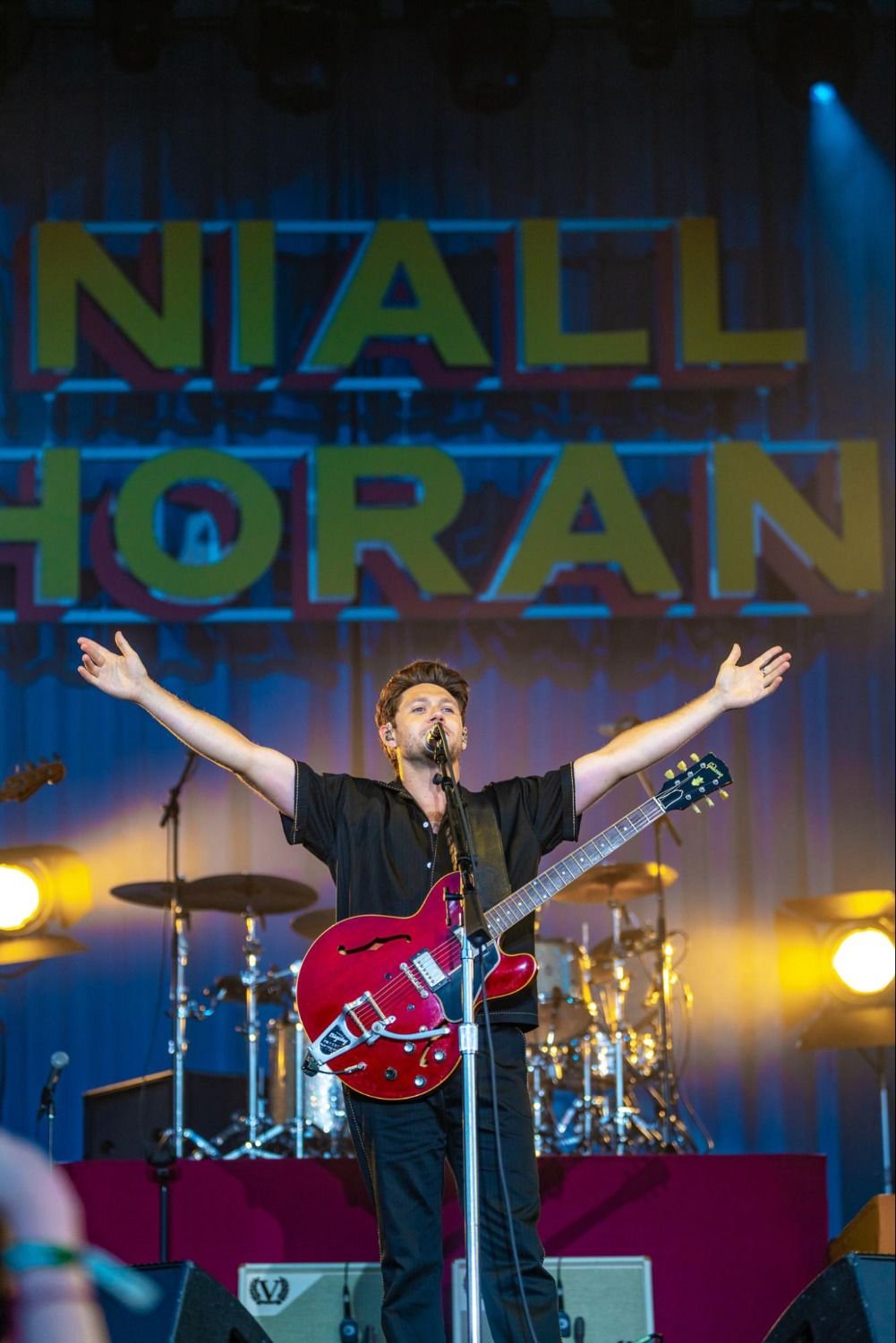 // Niall embraces as fans sing along to "Meltdown." Image courtesy of Alive Coverage / Boston Calling
My personal highlight of the evening took place on the Blue Stage just as the sun began to set over the largest Ferris wheel in Massachusetts. Niall Horan's Flicker tour was the first concert I ever attended, so I came in feeling quite sentimental. With his debut festival performance, he recaptured the hearts of thousands of fans after a five-year hiatus from touring. The anticipation for his set was palpable as young women rushed over to claim a spot with a clear view more than an hour before he was scheduled to perform. With only five minutes to call time, a chant of "Niall! Niall! Niall!" broke out. His joyous dancing upon arrival ignited screams that continued to nearly overwhelm the loudspeakers, especially during crowd pleasers like "Black And White" and "Slow Hands."
The Irishman was quite happy to be in Boston and to reference his One Direction roots, playing "Story of My Life" and reminiscing about the boy band's shows around town in years past. Nevertheless, Horan made certain to promote his new album The Show, which comes out on June 9, donning a black button-up with the project's artwork on the back. It was clear that the audience adored the singer, and he loved us right back. He continually expressed his appreciation for the audience, noting that many of the tracks on the setlist, particularly those on Heartbreak Weather, hadn't received much live play due to their release at the beginning of the pandemic. Niall's down-to-earth demeanor made for an intimate showing and fostered connections not only with himself but also among fans — many of whom exchanged numbers and social media handles after taking their BeReals together in the middle of "Save My Life." We basked in the warmth of the atmosphere that Niall's passionate showing had facilitated throughout the whole set — and even after, as we pleaded for an encore.
Find your tickets for Niall's 2024 tour here.
**Foo Fighters
**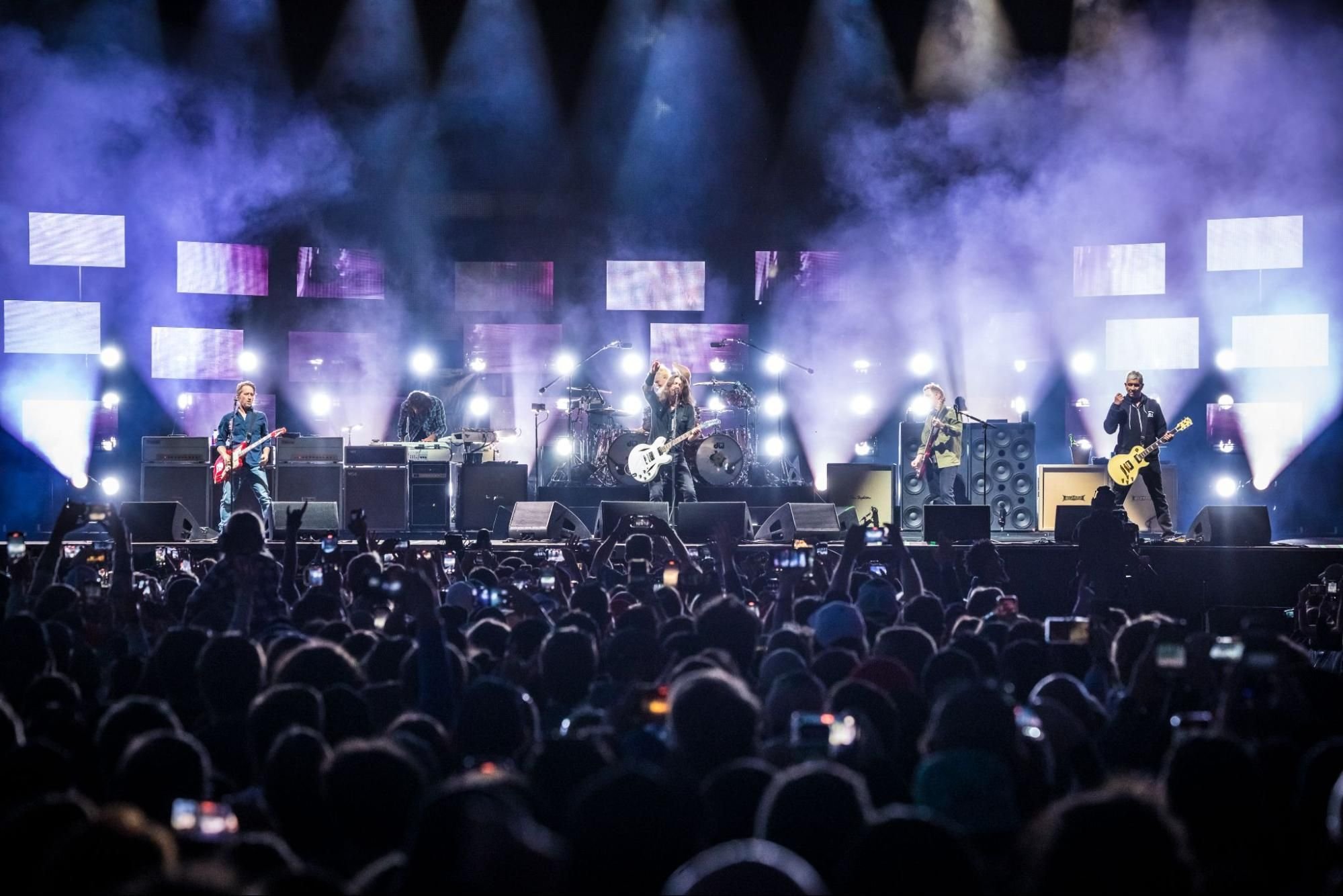 // Foo Fighters make a triumphant comeback to the stage. Image courtesy of Alive Coverage / Boston Calling
Friday night's headliner was long awaited. But Foo Fighters didn't disappoint, unleashing a powerful sonic journey that served as a climax, leaving everyone in the vicinity spellbound. The setlist was a musical tapestry, showcasing a mix of highs and lows but always feeling next-level. Among the most memorable moments were the relentless guitar licks by frontman Dave Grohl and a tireless drum solo by brand new member Josh Freese during "Breakout." Having pulled out of last year's lineup following the tragic passing of Taylor Hawkins, the band's return to the Green Stage marked a momentous family affair. Cheers erupted as the band brought out the late drummer's son, Oliver Shane Hawkins, for "I'll Stick Around"; later, Grohl's daughter joined the band on-stage for "Shame Shame."
Foo Fighters transcended generations — self-proclaimed "true fans," young bandwagoners, and even attendees who had stumbled through Mignone Field at the right time all appeared to be elated with the show. It's not hard for an artist to be compelling when you can tell they're pouring their heart and soul into each and every note. The Rock & Roll Hall of Famers did not disappoint, creating an inescapable wall of sound for all two hours. This legendary performance was visceral and, amidst the strobing lights and screaming crowd, otherworldly. As the cathartic set drew to a close, their performance seemed to continue echoing across the Charles, a testament to the indelible impact the Foo Fighters made on Boston Calling and the memories they had etched into the minds of all those who had the privilege of taking part in the night.
You can listen to their 11th studio album But Here We Are, which comes out June 2, here.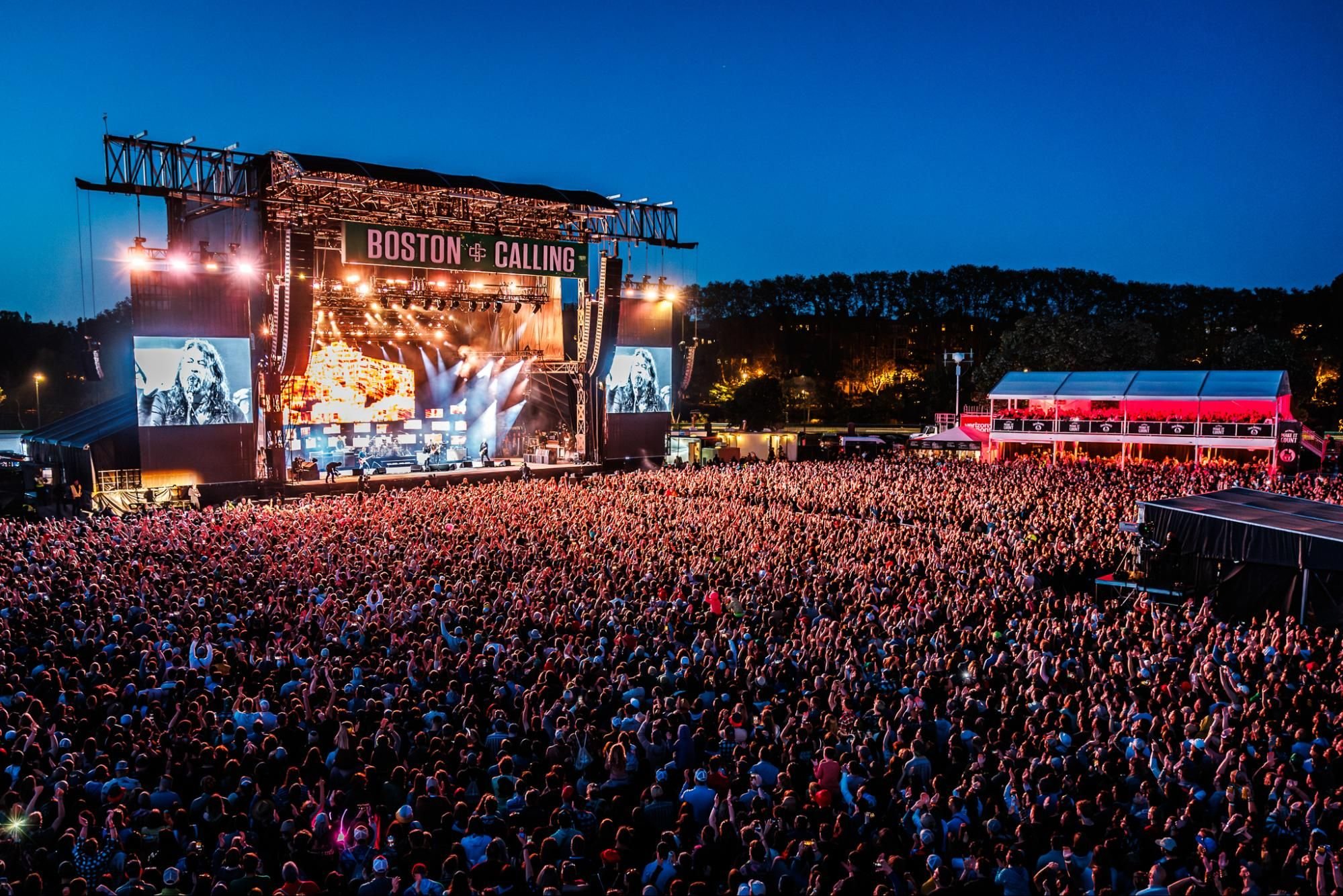 // Image courtesy of Alive Coverage / Boston Calling
The first day of Boston Calling was a whirlwind of incredible performances, passionate fans, and moments I won't soon forget. As this spectacle of a night came to a close and I walked away from the festival grounds, I couldn't help but feel a profound sense of fulfillment from a day that epitomized the power of music to bring us all together. In reflecting on my time at Harvard and as a staff writer at WHRB, I could not be more grateful for the musical endeavors that have bolstered my experience. The sun had set on an extraordinary day, but I couldn't help but remind myself of all the challenges that had been surmounted over the last four years that made this possible.
Though Boston Calling was just beginning, and there were still two more incredible days of musical magic to come, I have reached the double bar lines of my composition. May 26 marked the culmination of a journey, a celebration of music, and a farewell to a pivotal chapter of my life. I will forever carry with me the joy of events such as this, as well as an appreciation for the opportunities I've been afforded by this station. It has been a privilege to be a part of WHRB 95.3 FM and the world of music that fills its airwaves. Thank you for the space to learn and a platform to share my passions, it has been an honor that I will cherish for years to come.
Until next time,
og:oc
// Olivia Carter '23 is a DJ and staff writer for The Darker Side.