Boston Week Recap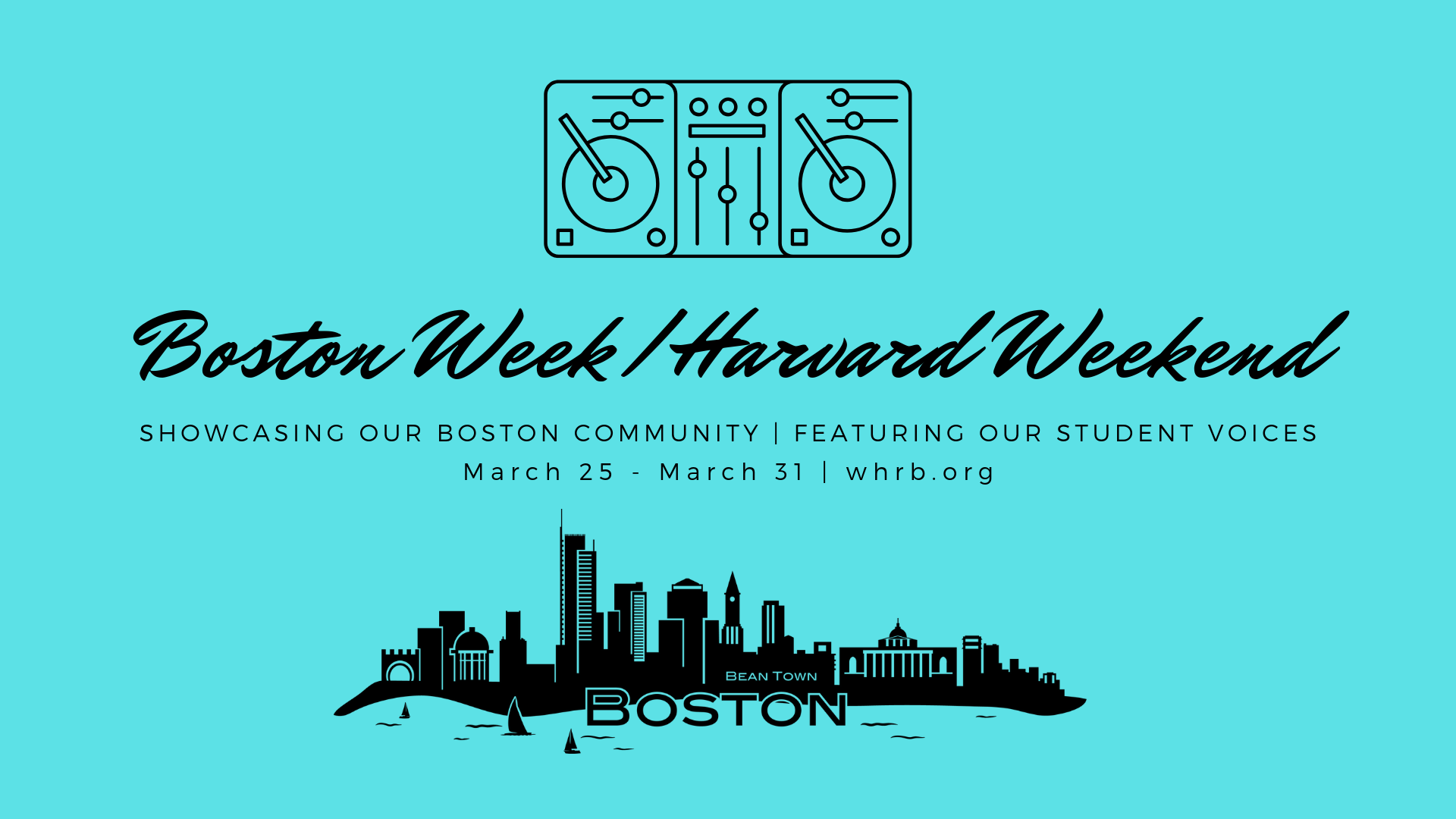 Update Required To play the media you will need to either update your browser to a recent version or update your Flash plugin.
We hope you enjoyed WHRB's inaugural Boston Week/Harvard Weekend! We featured over 20 ensembles from Harvard, Boston, and Massachusetts, showcased musicians, conductors, and composers who are making great contributions to the Boston classical music scene, and gave our listeners over 40 tickets to concerts in the Greater Boston area! For those who missed out on WHRB's Boston Week/Harvard Weekend Broadcasts, we have compiled some of the social media posts, exclusive interviews, and live recordings below. Tune in for next year's Boston Week/Harvard Weekend for even more exciting ticket giveaways and curated content!
Monday, March 25
"Tune in to WHRB from 1-5pm as WHRB Classical kicks off Boston Week! We'll be featuring works by Boston-based composers Amy Beach, Donald Sur, Louis Coerne, Edward Burlingame Hill, and John Harbison. We will also feature works by Howard Hanson, Roger Sessions, and Ottorino Respighi which were commissioned by the Boston Symphony Orchestra under the direction of Serge Koussevitzky.
Then, from 7-10pm during tonight's Special Concert, we'll feature interviews with individuals from two key groups in Boston's early music scene: Scott Metcalfe, music director of Blue Heron (Vocal Ensemble) and the Paul O'Dette and Stephen Stubbs, artistic directors of the Boston Early Music Festival. There will be ticket giveaways for both of these ensembles."
Tuesday, March 26
"The lineup for Boston Week continues with an exciting afternoon concert 1-6pm with ticket giveaways for SIX concerts by Boston-area ensembles. You can look forward to recordings from the Sarasa Ensemble, the Boston Camerata, the Unitas Ensemble, the New England Philharmonic, the Boston Modern Orchestra Project, the Handel + Haydn Society (and an interview with principal flutist Emi Ferguson), A Far Cry, and more."
Wednesday, March 27
"Today, the ticket giveaways continue – we have tickets to FOUR exciting concerts for our listeners! From 1-6pm, we will showcase Collage New Music, the Cambridge Symphony Orchestra (CSO), the Boston Symphony Orchestra, the Chameleon Arts Ensemble, the Henry Purcell Society of Boston, Boston Musica Viva, and more! We will also be broadcasting special interviews with composers Yi Yiing Chen and Nan Schwartz and CSO conductor Cynthia Woods."
Thursday, March 28
"Today, we shift our focus of Boston Week from the city to our school. This afternoon from 1-6pm, we'll feature Harvard-affiliated performers, ensembles, and composers! Of course, the ticket giveaways continue with tickets to FOUR concerts for all, for the Parker Quartet, the Harvard-Radcliffe Collegium Musicum, the Harvard-Radcliffe Orchestra, and the Brattle Street Chamber Players. We also have exclusive interviews with recent graduate and world-renowned pianist George Li and former student, cello prodigy, and conductor Han-na Chang. Finally, we'll feature compositions and performances from current students Ethan Cobb, Elizabeth Yeoh-Wang, and Marie Carroll as well as the Harvard alum and acclaimed violinist Stefan Jackiw."
Sunday, March 31
"To wrap up Boston Week, this afternoon from 4-5pm, we'll feature interviews, archival From the Top recordings, and performances from Jessica Shand, Sasha Yakub, and Patrick Pan, three Harvard students who are all alumni of NPR's program From the Top, a show which celebrates the stories, talents, and character of classically-trained young musicians.
Later this evening on Sunday Night at the Opera (SNATO) which begins at 8pm, tune in for special recordings from Odyssey Opera and Boston Baroque, as well as ticket giveaways for both ensembles!"
Thank you to all these organizations and artists for sharing their music with us and the Boston community.
Allison Pao is a producer for WHRB Classical. If you're an artist or a member of an ensemble interested in getting involved with WHRB Boston Week/Harvard Week next year, or if you are a listener with feedback on Boston Week/Harvard Weekend programming, please email pd@whrb.org with the "Boston Week" in the subject.