Brandi Carlile Has Love to Spare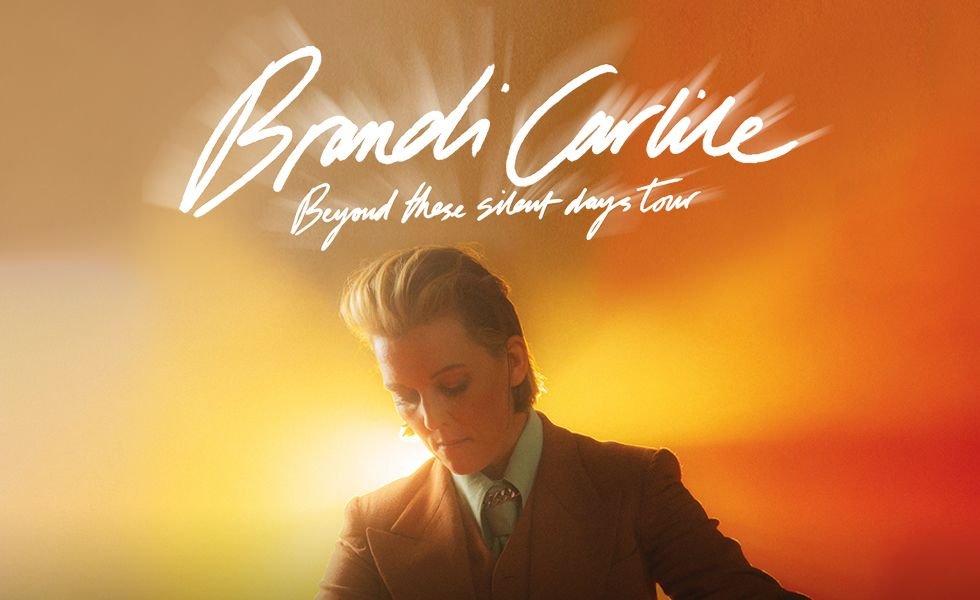 On the train to Brandi Carlile's October 21 concert at TD Garden, we joked that we'd be able to recognize the people headed there with us. We were right; the trickle of T passengers in long skirts and knitwear became a confluence of every blue jean outfit, nighttime sunhat, pixie cut and bedazzled vest from miles around by the time we got to the venue. The crowd, ranging in age from children to much older adults, was giddy and smiling. The arena was packed with thousands. Before Carlile, donning a knee-length jacket decked out in glittering badges, had sung a single note, everyone was already out of their seats. Looking out at the sea of dedicated fans, Carlile promised "I'm gonna do everything I can to send every bit of my energy up to the top of the room!" She delivered.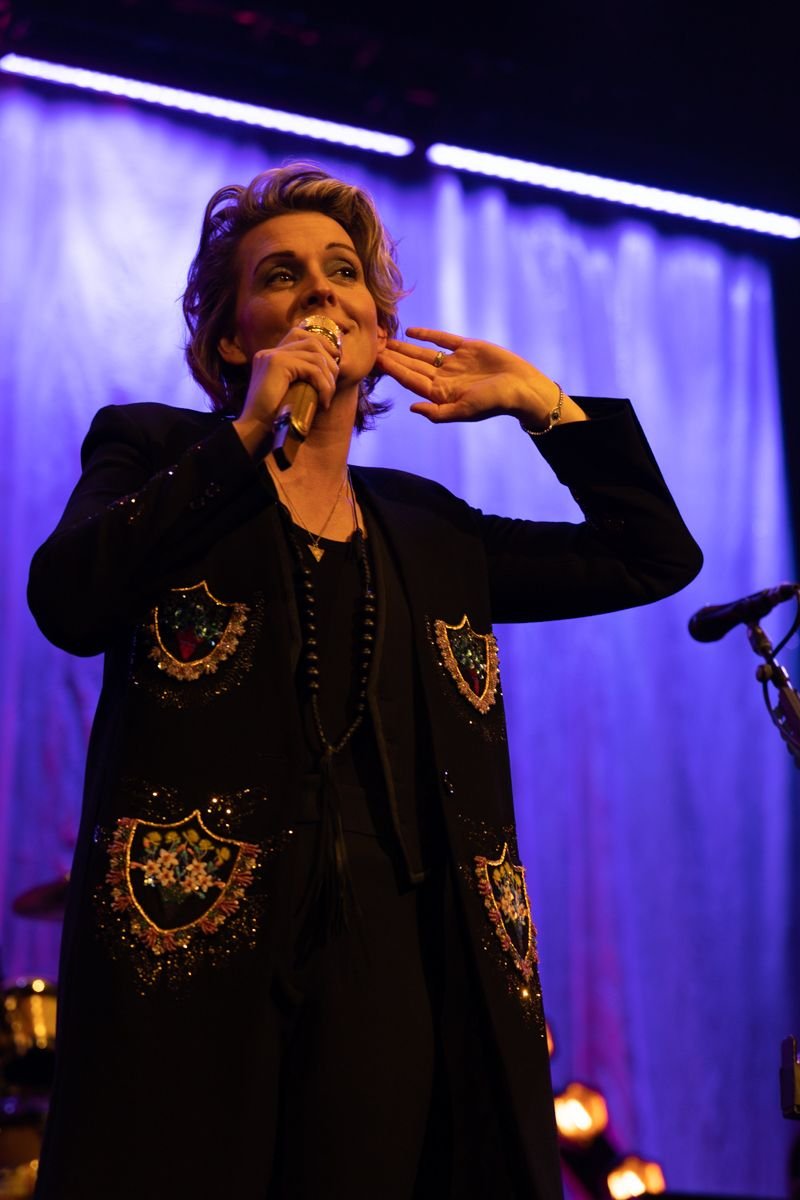 //Photo by Mika Simoncelli
TD Garden was a stop on Carlile's Beyond These Silent Days tour in support of her newest album, In These Silent Days, released in October 2021. She played several songs from In These Silent Days, including the hit "You and Me on the Rock," and the single "Right on Time." But perhaps more memorable were her performances of old favorites. Early on in the set, she played her breakout hit, "The Story," introducing the song by remarking that she had played the same song every time she had played in Boston, though this was by far the biggest venue and crowd to receive it.
To massive cheers, she played "The Joke," and "The Mother," two favorites from By The Way, I Forgive You (2016). Another high point was her three-part harmony performance with the Hanseroth twins of "The Eye," from her 2015 album, The Firewatcher's Daughter.
During the show, Carlile made nods to the folk and rock icons that came before her. She spoke lovingly of folk singer-songwriter John Prine's artistic and emotional influence on her; he was the first person she shared "The Mother'' with because he witnessed her in a state of panic when she had to join him for a performance minutes after her eldest daughter had fallen off her bed. At one point, she asked if we liked her jacket, but revealed that Joni Mitchell, with whom she'd been Facetiming just before taking the stage, had already given her approval.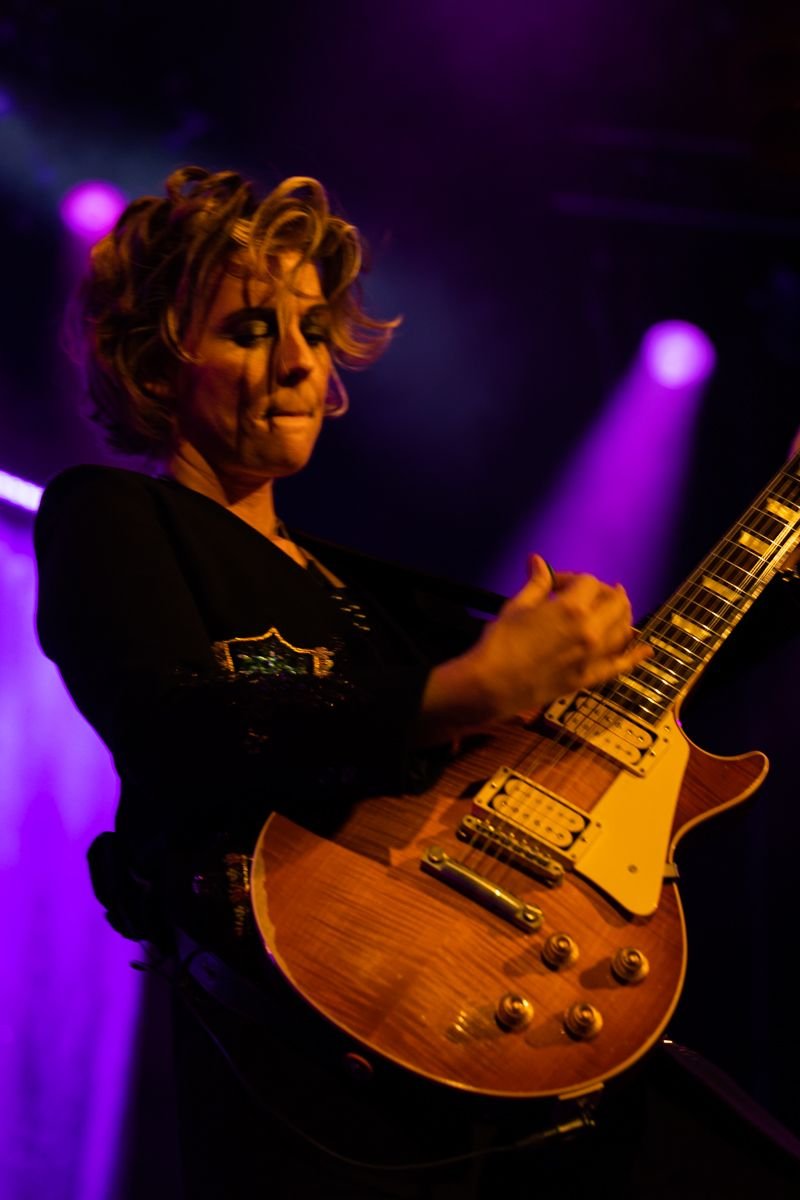 //Photo by Mika Simoncelli
Carlile also referenced the queer powerhouses who have influenced her music. She began one of her songs with one of Freddie Mercury's signature piano flourishes, and in a highlight of the night, she brought a rare edge of melancholy to her gritty storyteller's style in a rendition of David Bowie's "Space Oddity'' which transitioned smoothly into a cover of Radiohead's "Creep." Lyrics like "I miss my wife" and "I'm a creep" resonated all the more deeply when transformed by Carlile's vocal power, confiding tone, and frequent allusions to her own queer identity.
Despite our awareness that Boston was one stop on an extensive tour, Carlile made the night feel unique with her particular affection for the city. "Boston you're a loving town. You embraced us when we were young. You embraced me when you gave me a place I could marry my wife." At this, she was met with resounding applause. Carlile followed up with an acoustic performance of "Somewhere Over the Rainbow," sung earnestly in front of a pride-themed backdrop.
While paying homage to queer artists past, Carlile also welcomed several queer artists to share the stage with her, ensuring that each was given their due introduction and ample space to demonstrate their talents. Guitarist Celisse had joined Carlile for her earlier covers of "Space Oddity," "Creep," and returned for an encore performance of Joni Mitchell's "Woodstock." Folk artist Allison Russell joined her for a performance of "You're Not Alone," one of Russell's songs; the cover was released in August as a fundraiser for two gun safety and reproductive justice groups.
Brittany Howard, lead singer of Alabama Shakes and opener for the show, joined her in the encore for a cover of James Brown's "It's a Man's World." The song showcased both of their powerful voices, but Howard's was the standout. Even at the close of a more than two hour-long show, Carlile met Howard's energy with astonishing reserves of her own, her ecstatic smile flashing as she danced across the stage. Carlile mentioned that many of the guests were close friends. Indeed, the love between them was palpable––and there was more than enough to go around.
// Mika Simoncelli '23.5 is a photographer and guest writer for The Blues Hangover. Anna Correll '23 is a guest writer for The Blues Hangover.