Braxton Cook Delivers His Best at the Red Room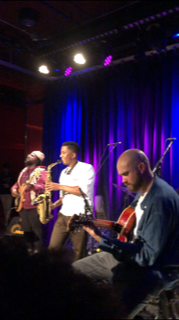 On a rainy Wednesday night, Berklee's Red Room at Cafe 939 is packed full with the conservatory's own eager students along with those from neighboring schools, waiting excitedly to hear saxophonist, singer, and songwriter Braxton Cook. A student himself at the prestigious Juilliard school only a few years ago (of which he has mixed feelings towards which he addresses verbally to the crowd and musically on his song FJYD), the 20-something musician stands as a beacon of genre-bending and crossover that has become an increasingly popular approach amongst young people similarly trained in the jazz tradition. It's evident here at Berklee of all places with a sold out crowd of fresh faces singing and swaying along to every track he performs.
Before Braxton takes the stage, the audience is treated with Berklee's own Cisco Swank, a multi-talented sophomore displaying skills in piano, singing, rapping, and even production. Along with his band also comprised of young students, he delivers a deliciously reharmonized version of "What A Wonderful World," engaging original songs stylistically comparable to Braxton's own work, and a jazz-hip hop fusion rendition of "Crazy" by Gnarls Barkley leading into Nirvana's "Smells Like Teen Spirit." This impressive melting and molding of different genres and styles lands tastefully with the crowd, especially when Cisco freestyle raps or he and the other musicians take complex, jazz-influenced solos.
Braxton's set arrives, incorporating music from his most recent record No Doubt along with previous work from Somewhere in Between and his collaborative album with Richmond-based band Butcher Brown. The tracks "When You Hold Me" and "For More" are prefaced with sweet explanations of how they are inspired by his newly married wife, enhancing the romantic, groovy, harmony-rich songs. Braxton illustrates his impeccable saxophone chops on FJYD in particular, moving quickly alongside the fast-paced tempo while still giving the audience innovative melodic creations in his solos. "Somewhere in Between" and the closer "Hymn" indicate Cook's budding multi-faceted sense of artistry, as he explores topics beyond the average love song, instead looking towards questions of identity in "Somewhere" and facing heavy issues of racism and police brutality in "Hymn" as dedicated to Trayvon Martin. It's clear that Braxton has a lot to say, and will continue to say it through whatever genre and instrumentation best suits him — and it seems there are plenty of people ready to listen and keep listening, myself included.
Emma Lanford is a DJ for the Jazz Spectrum at WHRB.