From Brighton to Brighton: An Exploration of Squid With Frontman Ollie Judge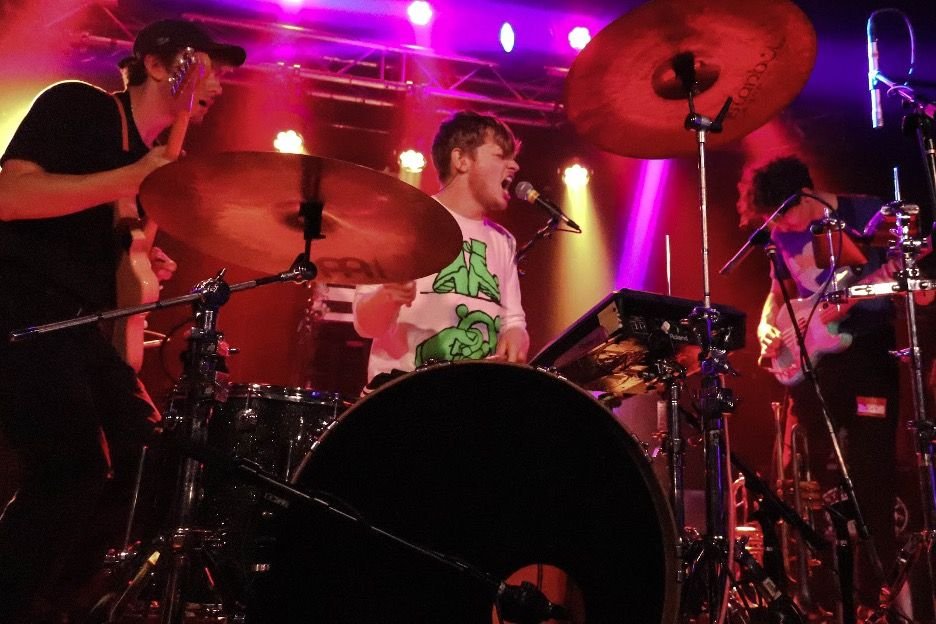 // Image courtesy of Katia Soares dos Santos.
Despite being the leader of one of the most promising post-punk bands, Squid lead singer and drummer Ollie Judge looked like anyone else in my 9 AM lecture. Clad in a graphic tee and Adidas sweats, the beige couch at Brighton Music Hall seemed to swallow Judge up. Littered on the floor were open suitcases and other evidence of Squid's busy touring schedule. Boston was the final stop on their North American tour for Bright Green Field.
Judge's humility reflects the band's start as a project among a few college friends. Three of the band's members – Judge, Anton Pearson, and Laurie Nankivell – started off as a funk and soul cover band. In Judge's own words: "They bring the funk. The rest of us bring the punk."
Squid as we know it, however, came from the fateful fusion of being at university, a lack of money, and boredom. "Instead of going to the pub we would just practice in mine and Louis's flat," Judge said.
Despite coming together under one vision, members of the band come from various musical backgrounds. "I learned drums on the game Rock Band. Anton, Louie, and Arthur met at a music course in Sussex, so they had loads of training. They're the real talent I think. I just sit there and shout," Judge said.
// Image courtesy of Katia Soares dos Santos.
Squid's variety of influences shines through in every song that they produce. Songs like "Global Groove" begin with spoken word vocals and an eerie staccato percussion before melting into jazzy legato horn sounds. "Houseplants," on the other hand, reflects anxieties surrounding millennial economic prospects with a jittering pop-punk beat and hysteric vocals. Judge described Squid's collaborative songwriting process in which the entire band works in a room together and no idea is left untried. Just like the music video for "Narrator" features the band playing in a variety of different landscapes, Squid's music keeps the listener in suspense by refusing to settle in one place.
In addition to surprising instrumentation, Squid's lyrics paint an absurd landscape of a dystopian present day. Bright Green Field in particular explores a fictional island that feels more like a claustrophobic prison. The lyrics paint a sneering and cynical portrait of feelings of being trapped, a lack of autonomy, and disillusionment. For instance, in "Global Groove," Judge sings, "I'd imagine each person and where they're going / That would make me feel better / And these people were just going on a holiday / And seeing people die."
Though Judge claims that Squid's music is not overtly political, it is impossible to view Squid outside of the context of Brexit and similar post-Brexit post-punk bands like Black Country, New Road and Black Midi. Moreover, Bright Green Field was recorded during quarantine at the beginning of the coronavirus pandemic.
Judge said, "It's kind of hard in the past 10 years to write something that isn't political Brexit has been awful. It's just completely changed the U.K. We're split down the middle, and it's all about class. So it's hard not to be angry about that."
// Image courtesy of Katia Soares dos Santos.
Squid's performance illustrates the emotions charging their music. The performance ebbs and flows between high-energy, high-intensity moments and quieter ones. In the latter, Judge appears meditative, crooning into the mic. Then, just moments later, the stage would be humming again with electricity and energy; Judge's vocals being as rhythmically important as his drums.
The highlight of the show occurred during the final song, "Narrator." After a huge swell in energy that was sustained throughout the entire song, Squid simmered down to atmospheric instrumentation—Judge, Nankivell, and Borlase abandoning their post before eventually collapsing to the ground, exhausted.
// Image courtesy of Katia Soares dos Santos.
Judge hopes to continue pushing the envelope. "We're going to do a new album soon. It's a little bit less shouty since I'm genuinely not a very shouty person. It's going to be a lot more melodic and maybe less paranoid and anxious."
To conclude, Judge hopes to impress upon WHRB's readership how good British cheese is, and that he loves the Pixies and therefore loves Boston as well.
Quotes have been edited for conciseness and clarity.
// Katia Soares dos Santos '25 is a DJ on the Jazz Spectrum and a guest writer for the Record Hospital. You can follow her on Twitter @katiaosoares.