BuddyMan SwaggerGuy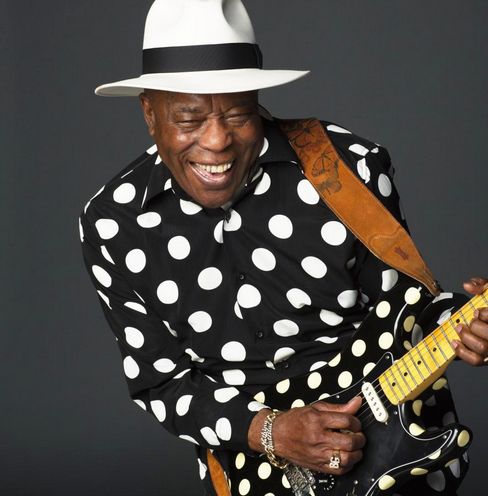 A majority of Wilbur Theater seats are filled with stirring, punctual, middle-aged contents at 7:27 PM for a sold-out Buddy Guy concert on June 7th, 2015. The opener, Guy's producer Tom Hambridge, takes the stage and occupies the time until just past the top of the hour. He plays quasi-blues, quasi-country songs with a voice that sounds like it escaped a tunnel of sandpaper gravel.
I feel a wave of gratefulness as I see a storm of polka dots wash over the drumset, carpet, and outfits. I'm in for a treat.
The main act breezes on stage. He maneuvers precariously splayed amps and mic cables on stage with the grace of a ballerina. Rather a paranoid viewer, I constantly fear for the social wellbeing of other people—especially people who make themselves highly visible, such as people on stages in front of audiences—, so his appearance as an able maneuverer of stage-things made me feel secure. On I listen, unconcerned with Buddy Guy falling into the audience or tripping over mic cords. He's too cool for that.
He kickstarts his set with "Damn Right I Got the Blues" with raging guitar solos and vocals tending toward the right end of the keyboard. Next up was "Five Long Years" which Guy and pianist Marty Sammon begin with some back-and-forth murmurs that lull the audience into a soft haze which Guy breaks with a exclamatory riff on the first of several electric guitars. Guy ends that song with bird-like dance moves that he pulls off as naturally stylish.
Guy summons us to declare, "I just wanna make love to you," which my adjacent E-rowers bellow obediently. Rowdiness ensues, mainly on Guy's end. He divulges his 78-year-old chutzpah as he uses a more mature vernacular. He tells the Boston audience, "I just care what the f*** you wanna hear." Guy explains that hip-hop has changed the way artists can get away with talking, and he alludes to his daughter Shawnna, a rapper whose lyrics are sexually explicit. All illusions of a younger demographic shatter as the uniformly awkward audience divides to two teams: those clapping on beats 1 and 3 and those opting for beats 2 and 4.
Guy takes a minute to prove just how much cooler he is than his audience: he plays his guitar between his legs, he plays it behind his back, he plays it with a towel, then—to seal the deal—he plays it with another person's hand. Expertly. He continues with a grab-bag of shoutouts to bluesmen including John Lee Hooker and Muddy Waters, and he plays his "Strange Brew," which Eric Clapton repurposed for his band Cream. Guy ends with a more sentimental piece called "Skin Deep," and a livelier one, "Meet Me in Chicago." Buddy Guy's voice has a piercing and bright tone that commands attention whether it's at a low or high volume about sad or happy topics.
His shiny voice is microcosmic of his shimmering disposition. Even as a bluesman with a heavy history of his own, he supports the idea that blues is hopeful rather than depressively indulgent. He has quoted Albert King's parallel to a baby crying and screaming for its bottle: the baby's got the blues. It's screaming about what's wrong but aims for a correction. That strive for change—that shady downtime between wrong and right—is the blues.
Guy shares lively anecdotes about growing up in Louisiana with chickens, dirty water, and good luck (he did not catch salmonella). He talks about the golden rule: treat others the way you want to be treated. This rule was especially hard to follow for a black boy growing up in Louisiana in the early half of the 20th century, yet it remains an indispensable part of his ideology. It's exactly this joie de vivre, resilience, and endurance that make Guy not only an interesting entertainer, but also a good man.
Over half a century after first performing live music, Guy continues to jam tirelessly night after night. Why? Because he loves it. It's apparent in the passion and youthfulness in his constant orbit. One has to admire how this career path—i.e. "Do what you look forward to doing on the weekends"—has allowed Guy to live so obviously happily.
For more on Buddy Guy, check out his upcoming performances, his autobiography When I Left Home: My Story, his Instagram @TheRealBuddyGuy, and his Twitter account @TheRealBuddyGuy.