Burlesque and Harvard - The Story of Ann Corio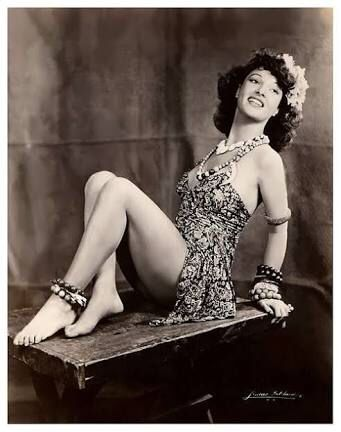 "You couldn't graduate from Harvard until you've seen Ann Corio."
This phrase, spoken by Ann Corio's husband to author Leslie Zemeckis, would go on to be Harvard legend for years to come.
Ann Corio was a prominent burlesque dancer in the 30s and 40s who loved Harvard--and Harvard loved her back. She routinely performed at the Old Howard Theater in Boston, which would draw in men of all types--from then-Mayor of Boston, James Curley, to Her popularity at Harvard was due in part to her talents as a dancer--according to fellow dancer Leslie Zemeckis, Corio was a rival to Gypsy Rose Lee, who's perhaps the most famous burlesque dancer of all time--as well as the way she "cooed nice things about the Harvard men and not so nice ones about Yale" (Crimson).
In December of 1940, Ann Corio was interviewed by WHRB (then called The Harvard Crimson Network). Corio reportedly spoke of "the art of the striptease," explained the origin of her rule to "never to go out with Harvard men," and answered questions that Harvard students dropped off at the station.
Before leaving Harvard, Corio left the members of WHRB a note.

The note reads:
"This has truly been a thrilling and happy experience for me--I've been to Harvard!"
Ann Corio
P.S. How about an "M. O. G. S." degree? (Master of G String)"
In her later years, Corio created, directed, and performed an off-Broadway show entitled This Was Burlesque, dedicated to keeping the art of the strip tease alive. She also penned a book of the same name, about the history of burlesque.
For more information on Ann Corio, see her obituary in the New York Times, Ann Corio, a Burlesque Queen on Broadway, Is Dead, or Corio's cameo in Leslie Zemeckis's book Goddess of Love Incarnate: The Life of Striptease Lili St. Cyr.
Kimberly Thomas is a Staff Writer for WHRB.