Caleb Shi '23 Leads Harvard-Radcliffe Orchestra to Spectacular 2022-23 Season Ahead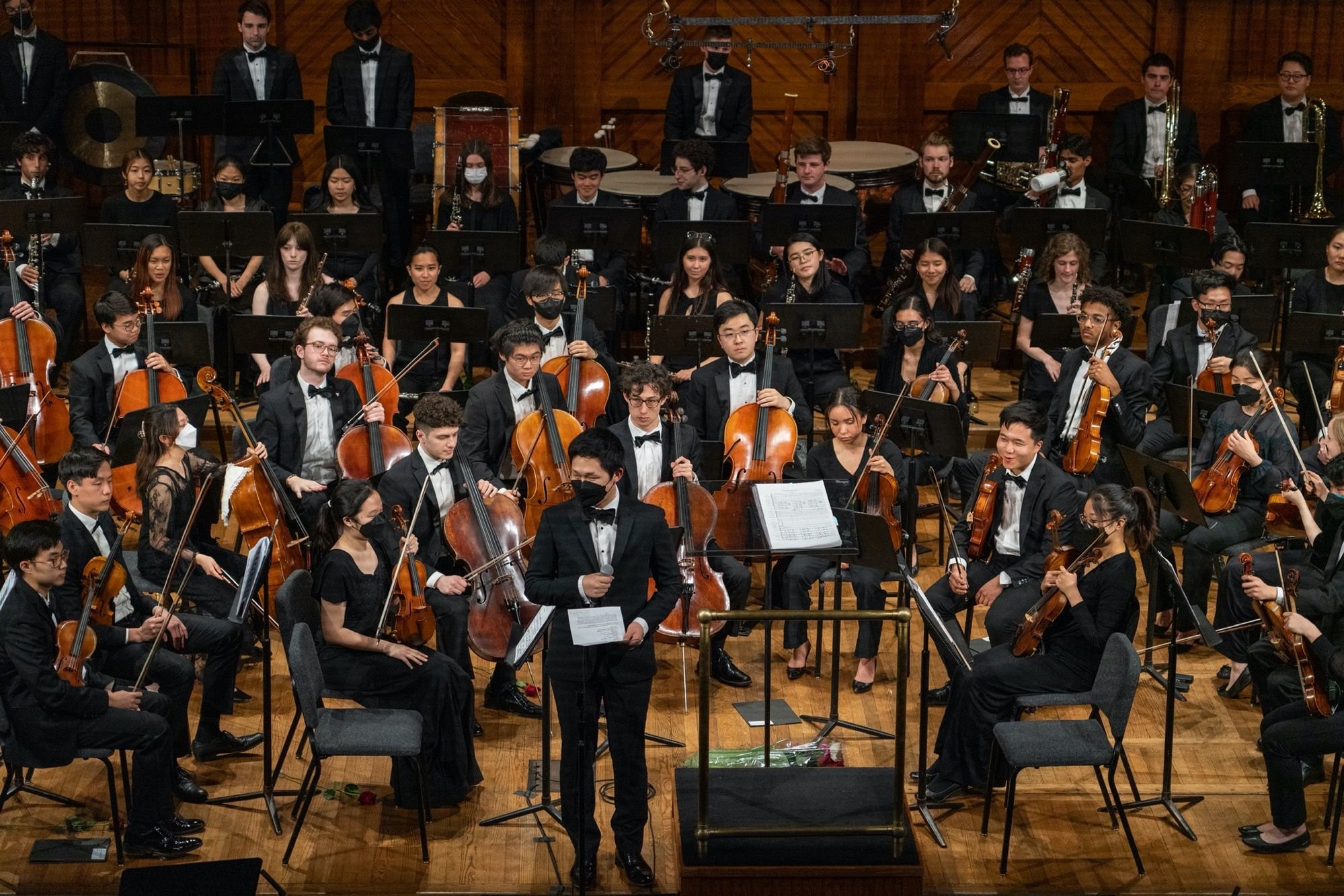 Photo courtesy of Kane Sjoberg.
This year, we will be featuring incredible musical student groups on campus producing amazing music for the Harvard community and beyond. We'll be speaking with directors, musicians, and more in these interviews to learn more about how they got involved with classical music, how they've grown with the student organization, and what they're excited for in the year ahead.
Caleb Shi '23 is the President of the Harvard-Radcliffe Orchestra (HRO), and in previous years, he has been the Operations Director and Assistant Conductor. He continues to play violin in the group. The Harvard-Radcliffe Orchestra is Harvard's premier symphony orchestra, a 501(c)(3) non-profit that is fully student-managed and professionally-conducted by Maestro Federico Cortese. Students perform four times a year in historic Sanders Theatre and engage in outreach activities in the greater Boston community. The Orchestra began back on March 6, 1808, when six Harvard men formed the Pierian Sodality.
The transcript below has been edited for conciseness and clarity.
WHRB: What was your introduction to classical music?
Caleb: I'm a violinist by training, so I started playing the violin when I was six. We had a family friend who was interested in music and thought the violin would be a good fit for me. I haven't stopped since. Now I'm in college, and I joined HRO in my first year as a way to continue making music with people who are extraordinarily talented. Music has been a really core aspect of my life, both before college and now.
In high school and college, I also started branching out a bit as I started getting interested in theatrical music. I also started to conduct. I'm a violinist now for HRO, but on the side I conduct various shows around campus. It's a whole package, and it's been a really incredible experience.
WHRB: That's interesting that you turned to theatrical music. What drew you to that genre?
Caleb: You get to experience so much when you do a piece of theater. When you play baroque or classical music like a suite or quartet, you might be playing a piece that exists only because a wealthy patron paid for its composition. It might not have a greater meaning beyond that.
What I like about theater music is that the music has a message to tell. You're involved in this process or telling a story that could be funny, happy, or heartbreaking with music and lyrics that are sung. It impacts the audience in a direct way more than some purely instrumental music might .
WHRB: What about conducting? How do you connect to the audience there?
Caleb: The conductors communicate to the audience much less than the musicians do. Instead, my role as a conductor is to prepare the orchestra or band to the point where they can make the music that's really speaking to the audience. The conductor is the only one on stage who's not making any sound.
WHRB: What has it been like to transition from being a player in the orchestra to leading it as the conductor?
Caleb: It's hard in some aspects, because now you have to manage an orchestra of seventy to one hundred people with different personalities and, most importantly, you have to plan a rehearsal. Conducting a rehearsal is so challenging because you have to know what to focus on. How do you use your time the most effectively? A great conductor once said conductors don't reach their prime until they're sixty.
WHRB: Turning to your own journey in HRO, how did you get more involved in the management aspect of the ensemble?
Caleb: If you were to ask me freshman year what I would be doing senior year, I would have said I would just be playing the violin in the orchestra. What happened freshman year, though, was that on a whim I decided to try out for the assistant conductor position — and got it! For the next year, I conducted the orchestra in a few concerts, and gradually I started taking on more administrative roles like Operations Director — managing the stage, the people — and, now, I am the President. It's been a weird journey through the organization, but incredibly fun.
WHRB: What were the biggest challenges in managing HRO during COVID?
Caleb: We started working on virtual recording projects when everything shut down. What was hardest, however, was actually coming out of COVID-19 last year. There was so much uncertainty around distancing requirements and audience size, so we ended up switching our concert programs a bit. We had wanted to do a big Mahler Symphony at the beginning of last year, but it was not possible. This year, the difficulty will be trying to get back all the traditions and customs we had in the past, like doing more outreach trips to New Hampshire or Boston. Now, we have to ask, how can we reach more people with our music? You just can't take your audience for granted, especially after COVID.
WHRB: Following up on HRO's commitment to serving the community in outreach, what is the main purpose of these outreach trips?
Caleb: For example, we did a tour in Mexico for a bit this past summer. It was fantastic because we could interact with musicians from the National Autonomous University there, and we had this beautiful exchange between the two orchestras. We also heard a lot from the audience members in Mexico that it is very difficult to attend a classical music concert because it is so expensive — and our concerts were for free. It was an opportunity for them to hear music they probably don't ordinarily hear.
Our outreach efforts here in Boston are also for reaching underserved school districts, particularly elementary school kids who might not know what a violin or clarinet is. If we can inspire just one student to start lessons, that would be really successful for us!
WHRB: How do you get a five-year-old interested in classical music, then?
Caleb: We do a bit of an "instrument petting zoo." We have a string player, a wind player, brass player, and percussionist show off their instruments. Then, we let the kids touch the instruments and interact with the instrument.
WHRB: I'm excited to hear about these outreach efforts! Now, moving back to campus, what does the season look like ahead for HRO?
Caleb: We have an absolutely fantastic season this year. Our first concert is going to be Mahler's Fifth Symphony. It's a giant behemoth of a symphony, and the orchestra sounds fantastic already. Because of COVID last year, we started out small and grew bigger. This year, we're happy to be able to start big and keep the momentum going.
Our second concert will be in November, a tribute to our former music director, James Yannatos, who was our music director for forty-five years. We're inviting back alumni, and his family. We'll be performing his violin concerto with Joseph Lin '00, and also on that program is Brahms' Second Symphony. It'll be a really touching program for everyone and lots of fun.
Our third concert will be in February, and it'll feature our concerto competition winner with the assistant conductor, and we've also commissioned a piece with the Philadelphia Orchestra. Recently, Matthew Aucoin '12 had his opera, Eurydice, debut at the Met in New York. Together with the Philadelphia Orchestra, we commissioned a suite from that opera, and we'll be giving the regional premiere in February.
Finally, for Arts First in April we are doing Verdi's Requiem with the Harvard Choruses, which is a massive production. We're closing out the season with a bang!
WHRB: What are you most excited for this year?
Caleb: I'm really excited that finally, for the first time in three years, we'll have a season uninterrupted by COVID. I'm excited to finally fill Sanders up to capacity for the first time in a long time.
WHRB: What else would you like to share with our listeners?
Caleb: There's a lot of talk about classical music dying, and in my capacity as the President of HRO, I will say that the vitality of classical music depends on the musicians to play the music and the audience to consume it. I want everyone to give it a chance. If you're a college student, just come to our concerts! It's free, and we're playing an incredible repertoire! We have the next generation of classical musicians and some of us will be in the Boston Symphony Orchestra or soloists in the future. I'm hoping we can cultivate a younger audience for classical music to sustain a tradition for a long time.
Felicia Ho '23 is a producer and the Director of Online Content for the Classical Music Department.