Car Seat Headrest's Twin Fantasy Live is Everything We've Dreamed Of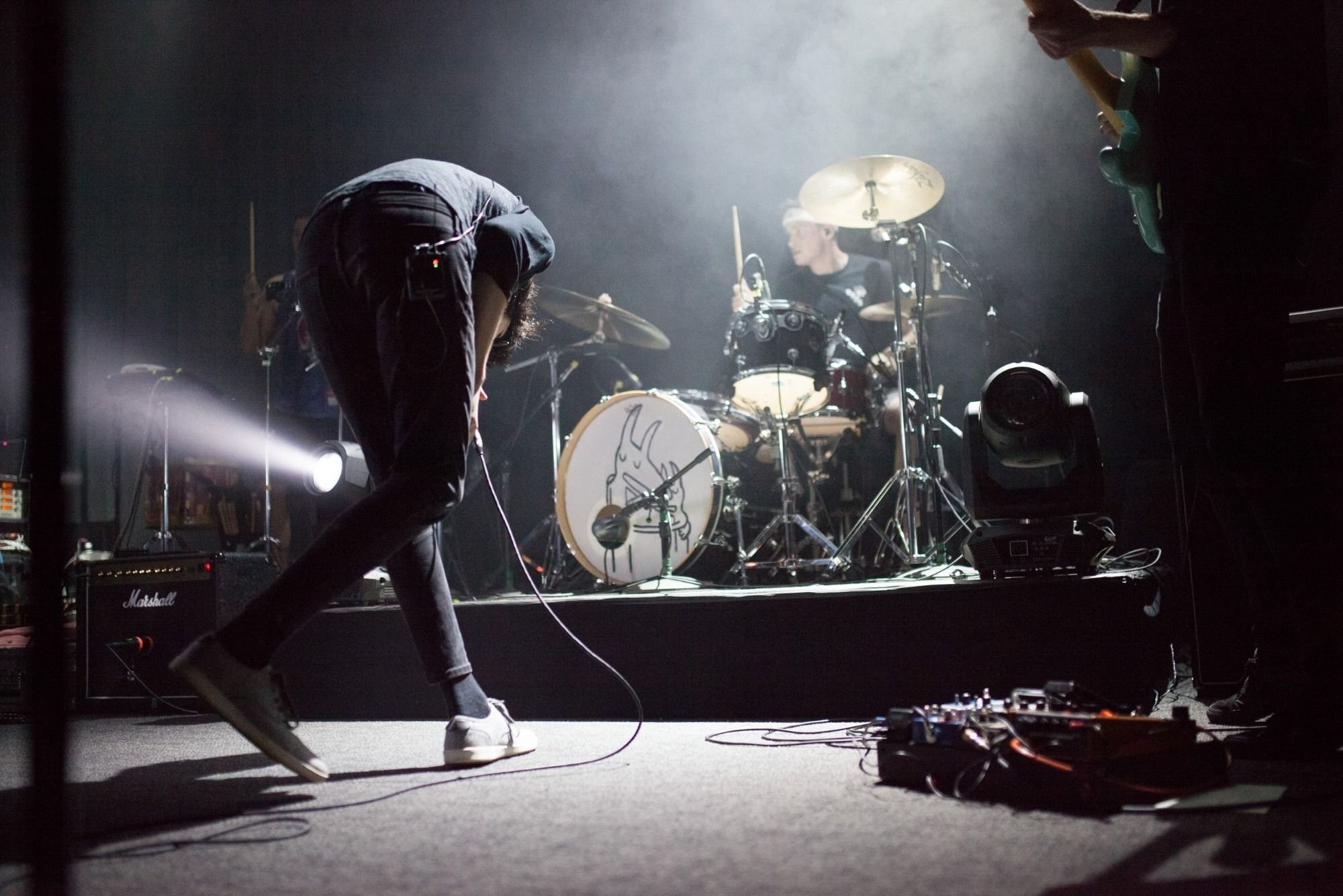 On the walls of the Fillmore's balcony are posters from gigs past—Patti Smith, Jimi Hendrix, Cream, Otis Redding—leaving barely any space for the wallpaper they lay in front of. I wouldn't be able to recall what the color of the walls were, but I certainly get the impression that this is a venue with some history. For two nights, Car Seat Headrest (and openers Naked Giants—can't forget them, of course) will earn their right to be on that wall after their performances here in the Fillmore in San Francisco.The opening act, a three-piece from Seattle called Naked Giants, plays their new EP, SLUFF. As openers go, they're pretty good. Okay, so their lyricism barely rises above the standard suburban-white-dude stuff, but no one in the venue really cares because we're too busy bopping to the music. The name of the game of is garage rock, and they're nailing it. There's nothing worse than having to sit through a boring opener, so the fact that I'm a little sad when they leave they stage means they did a good job. As they set up and transform into part of Car Seat Headrest's backing band, I fight through the crowd—somehow it's getting denser and denser each time I mumble "'scuseme"—to ask about the photo policy.
What usually happens at these venues is that they let you shoot way in the front for the first couple of songs, nothing separating you from the artists you've listened to religiously and revered. Then they promptly kick you out, and you're back to watching from behind the crowd like the rest of the lowly mortals. This time is no different—first three songs only.
But as the opening chords of "Beach Life-in-Death" thunder through the speakers, I chuckle inwardly. For the uninitiated, this is a 13-minute song, after which there will be no way the stocky security guy lets me stay for another two. Soaring above the lead guitar is Will Toledo's signature voice—not quite Frank Ocean yet, but splendid in his own raspy Will Toledo way. There's nothing that irks me more at concerts than when I can't hear the vocalist, so I'm very pleased. Rising to cathartic shouting and dipping to soft croons, Toledo's voice takes everyone on an emotional journey, and we're instantly hooked.
This is how Car Seat Headrest is supposed to sound—full, emphatic, each drumbeat sending a baby shockwave through your body. While I love the original, unfinished Twin Fantasy and its lo-fi charm, I now understand why Toledo revisited the album. No longer recording in a parking lot for a dedicated SoundCloud following, Toledo with the support of his phenomenal band plays highlights from the 2018 re-release of Twin Fantasy ("Sober to Death", "Cute Thing", "Bodys") and throwing in classics from Teens of Denial ("Fill in the Blank", "Drunk Drivers/Killer Whales", "Destroyed by Hippie Powers"). There's not a song here I dislike.
Honestly, there's not much else I remember about the concert besides it being incredibly, undeniably good. Toledo and friends certainly earned their spot on the Fillmore's wall.
James Gui is a DJ for Record Hospital.