Cellist Jonah Kim on the Real-Life Magic of Music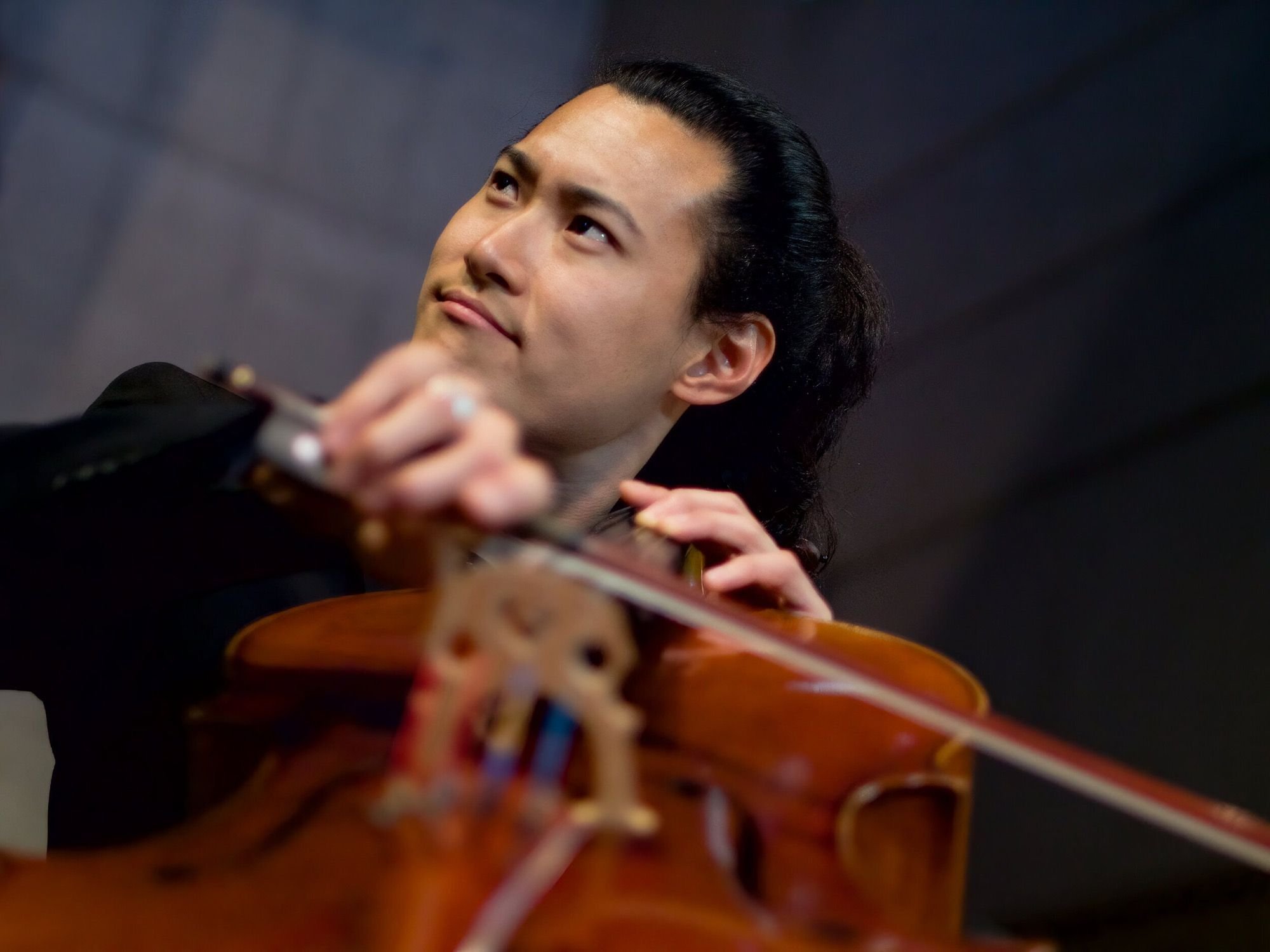 Photo courtesy of M. Ebisuzaki_._
Listen
Grammy-winning cellist Jonah Kim made his debut with the Philadelphia Orchestra in 2002 at the age of 14. He performs annually at the Atlantic Music Festival. Kim spoke to WHRB's Ellie Taylor about his latest album, Approaching Autumn, released on the Delos label.
These are some highlights of the interview, edited for length and clarity.
Ellie Taylor: What were you thinking about as you put together Approaching Autumn?
Jonah Kim: this was sort of my revival out of COVID. The composer Mark Abel reached out to me, sort of out of the blue, with a brand new piece. I looked at the title, Approaching Autumn—what do you think of when you think of autumn? Harvest, Thanksgiving, leaves turning color, comfort, a feeling of home, and a light at the end of the tunnel. I kind of needed that at the time. That was the beginning of a long and very interesting friendship. Mark gave me the freedom to build around his piece, so we did that. It ended up being this—Kodály's solo sonata to start, then Mark's piece, and then the Grieg sonata, which is a Hungarian-American-Norwegian sandwich.
I was thinking about that sandwiching effect too. You have this premiere recording sandwiched in between these very recognizable, very momentous works for cello. What role does the Approaching Autumn piece serve in the context of the album?
At the time, I was struggling to believe in what I was doing. There's real life and then there's art, which is really a privilege and a luxury. I felt selfish and meaningless at the time; people are saving lives, people are dying, and people are developing vaccines, these things really affect real life. I'm just playing my music box. I needed to find reason to make music. It wasn't enough to play music and show off all of the tricks that I know. I started thinking, "Why do I do this? Why is it important? Who wants this?" This is exactly how art can be meaningful. When it is consumed and understood and people are willing to understand it.
I wanted the album to tell this story of harmony, and draw a Venn diagram. There happens to be this underlying linguistic theme that happens throughout the album. I'm of Korean descent and this represents who I am, musically. Korea has a linguistic connection to the album too. The connections between Finnish, Hungarian, and Korean with an accent on one. You hear that in the Kodály, you hear that in Approaching Album, and you hear that in the nuances and inflections of the Grieg too. Korean works similarly. János Starker told me this when I first started learning the Grieg, he told me that I'd understand the way it's supposed to go because I'm Korean. My language is that way, the way I talk to my parents, the way he grew up talking to his parents. I was learning so much as we were building this.
Focusing back on what I understood as skepticism about the importance of music – you have been interested in music and performing since you were a very young kid. I'm wondering what drew you to music in the first place if recently you were reevaluating what the importance of music really is.
The thing music has to offer us is this hope. This human search and need for beauty. Music is a real guide. We can go on about the improvements we can make to ourselves, and these things happen when we listen to music. We seek music, we need it. If I can just keep myself focused on that, I can really believe that music isn't meaningless and that it has a positive place in the world. It's a shared experience, like food. I consider it to be like real-life magic – we send vibrations through the air and it changes the way we feel.
Ellie Taylor is a producer for the Classical Music Department and the host of New Releases on Wednesdays from 8-10 PM.