A Changing of the Guard: Tobe Nwigwe's Houston Homecoming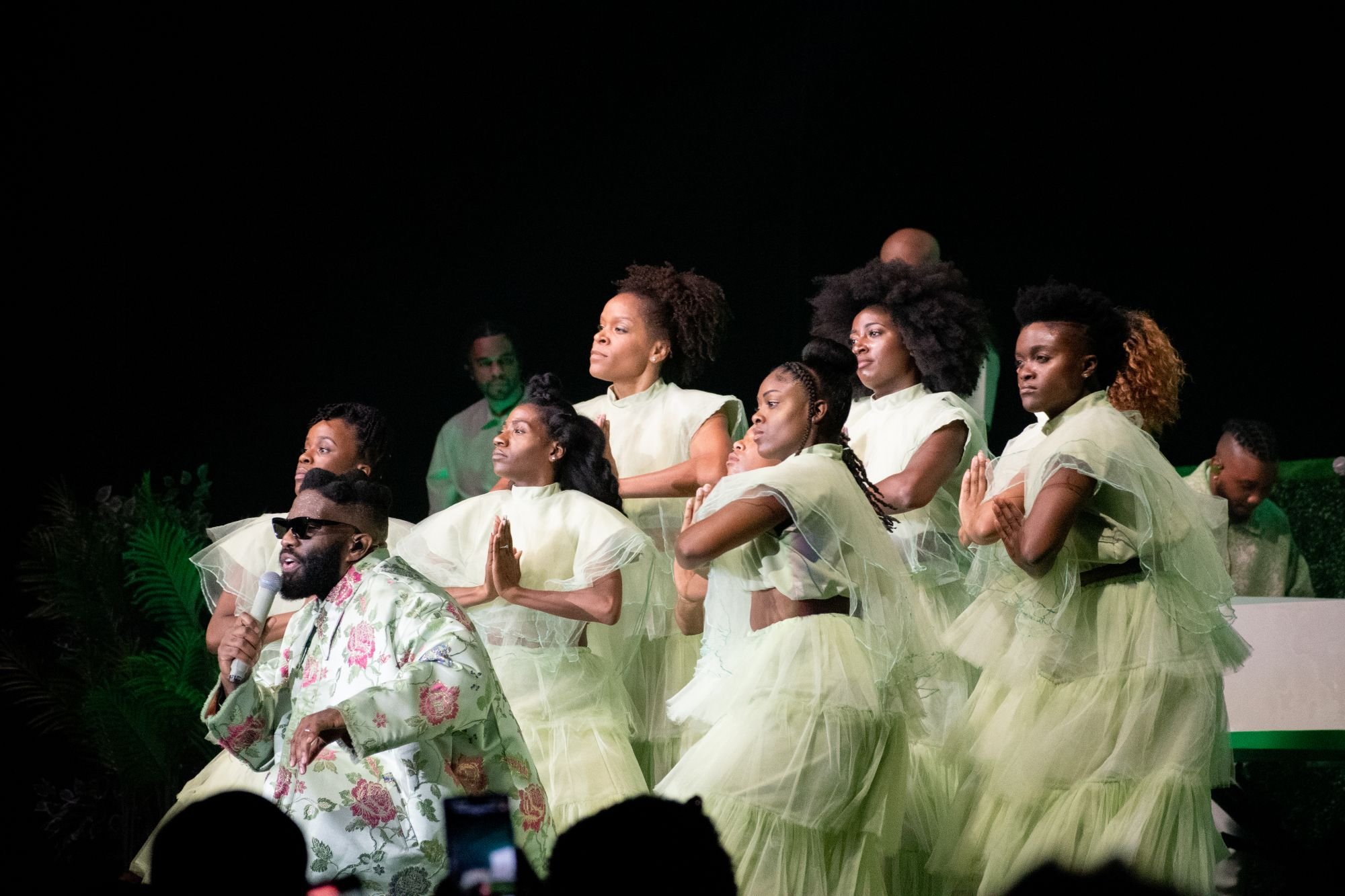 \\ Image Courtesy of Gabriel Brock
Tobe Nwigwe brought the moMINTs tour home to Houston at 713 Music Hall, captivating an audience 5,000 strong.
The moMINTs homecoming show was a textbook definition of putting on for your people, your city, and the ones who made your success possible in every way conceivable. Over the past half-decade, Tobe from the SWAT has made it abundantly clear where his roots are. moMINTs is a love letter from Nwigwe to the city of Houston. Coming off of immense viral success during the Pandemic and a wave of awards, including a 2023 Grammy nomination for Best New Artist, Nwigwe has continued to pay back his dues.
// Image courtesy of Gabriel Brock
David Michael Wyatt is not just a vocalist who uses modulation and falsetto to transform live arrangements. He has managed to live and thrive in the upper register creating an aural experience that goes almost unparalleled on stage. His opening combined original songs like "Hydration (DMW Edition)" and timeless R&B classics like "Let's Stay Together" by Al Green, setting the tone for the rest of the show.
Wyatt was joined on stage by the rest of the compliMINTs - Vanessa "Ness" Hill and Luke Whitney - creating a harmonic base for the beautifully arranged live set. It is commonplace for live arrangements to sound different and studio recordings; however, Nwigwe and his entourage transformed moMINTs and other crowd favorites into a different being creating an experience that radiated energy and passion for the craft.
// Image courtesy of Gabriel Brock
The Alief, Texas native started off his set with the heavy-hitting "FYE FYE," building on the energy DJ BIG REEKS' old-school set. REEKS knew exactly what the audience wanted to hear playing Houston classics like "Southside" and "25 Lighters (ft. DJ DMD and Fat Pat)" by Lil' Keke leaving the crowd with hunger for the H-Town sound. Nwigwe's set fits perfectly in any Houston native's playlist. Songs like "DESTRUCTION" and "HEAD TO HADES" have the perfect amount of syncopation, bass, and scheming creating an infectious soundscape that makes it impossible to move your head and sing along.
Nwigwe is a larger-than-life presence which explains why the moMINTs feature list was so stacked. The album features Grammy-award winning artists like Pharell Williams and EARTHGANG. This merely scratches the surface however, Nwigwe brought out Houston icons Paul Wall and CHAMILLIONARE to perform their features on "JUICE" and "BEEN BROKE" respectively.
// Image courtesy of Gabriel Brock
Nwigwe performed several songs with his wife, Martica "Fat" Nwigwe, who stands on all ten toes against him lyrically. Fat makes it apparent that her presence on the stage is an equal and showcases the potential for Nwigwe to feature more female artists on his tracks. Fat brought energy to the stage at a level that was outright impressive and her lyrics about family and protection only become more impactful when you realize she was performing while several months pregnant.
// Image courtesy of Gabriel Brock
The biggest moment of the night was when Nwigwe brought out CeeLo Green to perform "CATFISH BLACKENED W/ GRITS" a rather underrated song on the album, boasting less than 400,000 plays on Spotify. Green stayed on after to perform the song with his name-sake, "Crazy" off his 2006 album, St. Elsewhere. But this moment was more than just a once-in-a-life time event for everyone in the building, including Nwigwe who had never seen CeeLo perform, it represented an industry co-sign.
// Image courtesy of Gabriel Brock
Tobe Nwigwe has been able to build a fan base not just from internet virality through songs like "TRY JESUS" and "I NEED YOU TO" or syncing on projects like Black Panther 2: Wakanda Forever but by cultivating a culture of making purpose popular. Nwigwe is a student of the craft and this has been recognized by the industry giants who came before him. If he will be at the top of the game in another five years is unclear but it is certain that he's on his way there and he's bringing Houston with him.
// Image courtesy of Gabriel Brock
// Gabriel Brock '26 is a Photographer, DJ, and Staff Writer for The Darker Side