A Chest Infection Will Not Stop JAWNY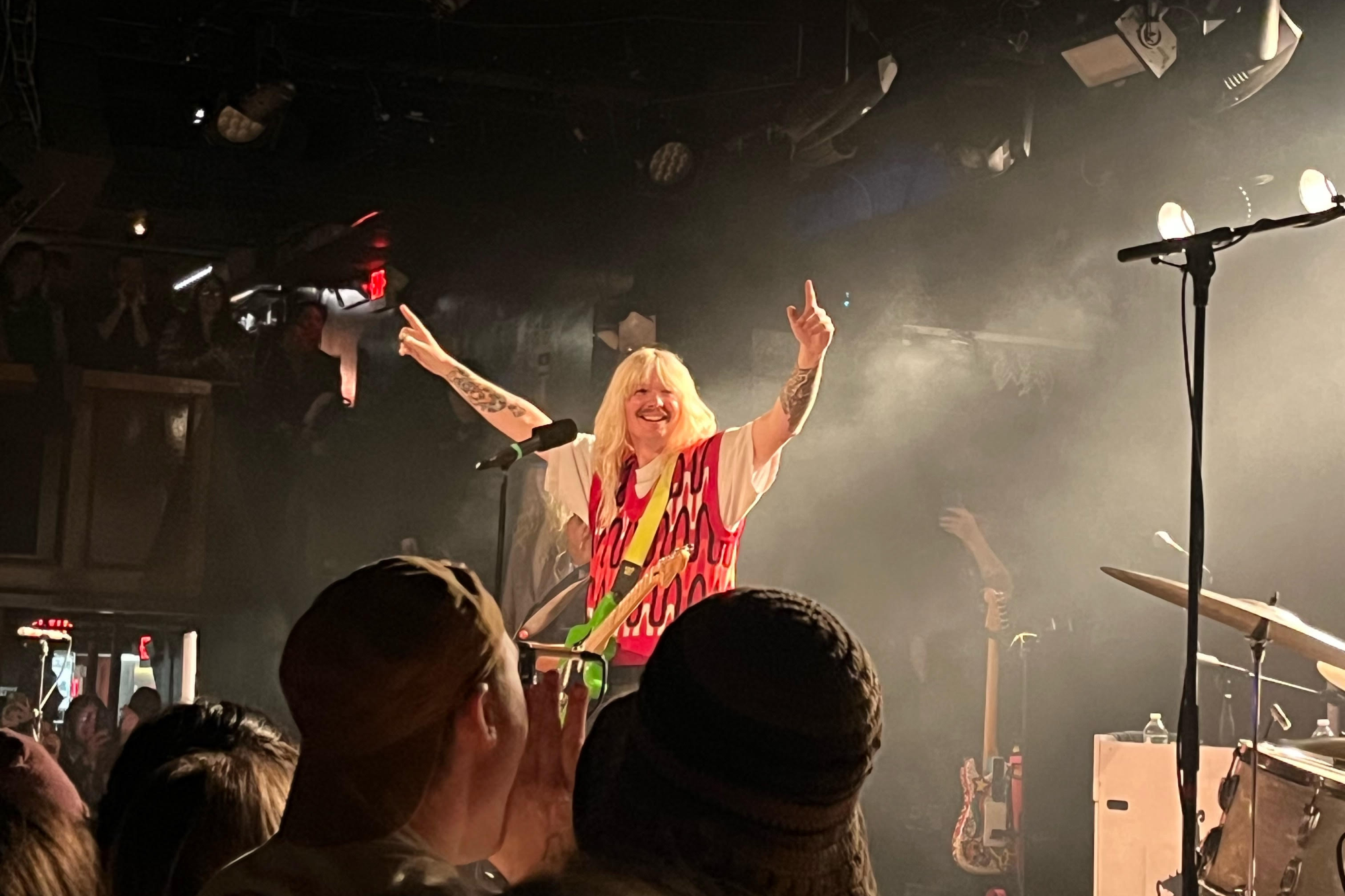 // Photo by Rebecca Modell
While waiting to get into the Paradise Rock Club, the smell of Raising Cane's, a fried chicken restaurant popular among Boston University students, floated over the eagerly chittering audience. Nestled among freshman dorms and local restaurants, the large, old-fashioned marquee reading "JAWNY — SOLD OUT" seemed almost out of place.
However, once you stepped inside, it was clear that this small venue packed a punch. The main floor wrapped around three sides of the stage, in a shape that JAWNY jokingly named "the Bermuda rectangle." A mannequin adorned with JAWNY's signature bleach-blond bangs and a suit stood under purple lights in the corner of the stage as the audience poured in, and remained there for the duration of the concert — a testament to JAWNY's playful personality.
The eager crowd roared when opener Wallice came onstage with her two band members. She began with "Punching Bag" and cruised into the rest of her set with a hypnotic too-cool-for-school demeanor. Among her popular hits like "23," Wallice included new songs like "Best Friend," giving the audience a taste of what she would be onto next. Cool-girl Wallice was not afraid to have fun, though, and grabbed a guitar halfway through the set to add some shredding to her otherwise strong and punchy vocals.
Wallice's smiley bassist reflected the buzzing audience's sentiment after the 35-minute set: everyone involved was having a great time.
To kick off his set, JAWNY came onstage with quite a bit of fanfare. SportsCenter music boomed through the speakers and a familiar voice announced that the concert was about to begin. The voice was an actual SportsCenter announcer: the drummer's father! Without missing a beat after his unconventional introduction, JAWNY jumped straight into "strawberry chainsaw."
The crowd screamed along beneath the aptly colored strawberry-pink strobe lights. JAWNY then continued with "Sabotage" from his new album It's Never Fair, Always True and "Trigger of Love" from his 2020 EP For Abby. Though JAWNY is a skilled producer, he proved that his music and vocals can stand alone in a live setting. His unique, high-pitched voice cut through zesty percussion and electric guitar, recreating his signature sound. Impressively, JAWNY's vocals seemed to be in working order despite battling a chest infection. At one point during the show, he even took a break to put cold medicine from a dropper in the back of his throat, only to return to singing moments later.
JAWNY seemed to feed off of this crowd's energy, looking at his drummer with disbelief at the decibel level of the offstage cheering. Indeed, disbelief colored much of his commentary: "Boston," he proudly announced, "they said nobody would come, but we sold out tonight!" — after which he grabbed a lime green guitar and played "4Tounce."
Next was "adios," and next after that was, as JAWNY called it, "the song you jump around to," AKA "take it back."
Aside from the musical sets, JAWNY's stage presence was distinct and showed off his whimsical sense of humor. His favorite audience interaction was to wave his arms in the air, gesturing for the audience's cheers to get louder and louder. Some grew tired of this and let their cheers die down, but others got more animated and yelled loudly enough to make up for it. Whether or not being asked to cheer louder was one's cup of tea, it was evident that JAWNY was having a blast hamming it up while onstage.
Another quip that JAWNY enjoyed was exclaiming "fuck Mark Wahlberg," in reference to the celebrity's history of racist hate crimes. He then proceeded to explain that he was going to "play Boston's national anthem," which "Mark Wahlberg hates" — a portion of Taylor Swift's "You Belong With Me." Naturally, the crowd went wild.
JAWNY also welcomed audience participation during his rendition of "lalala," where he taught the audience the main refrain. Even those who had never heard his music had no trouble memorizing the lyrics: "La la la."
At the end of the show, JAWNY cited how large performers like Shawn Mendez end a performance for the first time expecting to be called back for an encore, and said there is no reason to make the audience "beg" for the last two songs of the show. So he said that there would be only two more songs, and he stuck to that promise. It was an interesting skew to the traditional concert dynamic: The whole time, JAWNY was begging for more from the audience — more cheering, more singing — yet at the end he excused the crowd from doing the same to him. The unorthodox ending capped off JAWNY's vibrant, energetic performance in a way that felt true to form.
Next, JAWNY is headed to Philadelphia, PA and will begin moving south shortly after, switching to opener SEB in Washington, D.C. on April 1. His North American Tour concludes on April 12.
Listen to JAWNY's new album on Spotify here or Apple Music here.
// Meredith Blanchard '26 is a guest writer for Record Hospital.