The Chick Corea Trilogy with Christian McBride and Brian Blade at Symphony Hall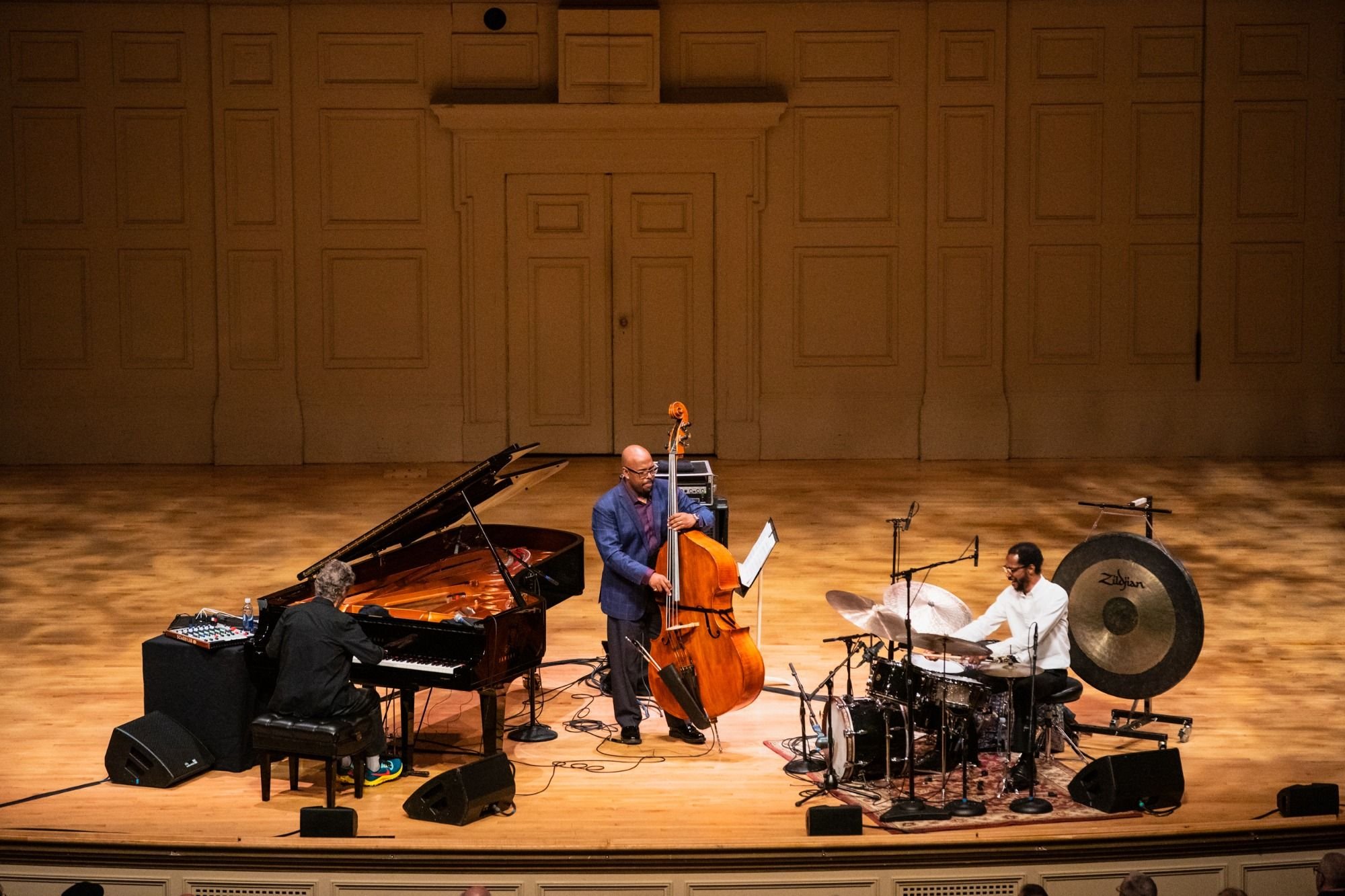 On Sunday October 20, 2019, the Chick Corea Trilogy—pianist Chick Corea, bassist Christian McBride, and drummer Brian Blade—returned to Boston during their 2019 world tour, this time playing in Symphony Hall in a concert organized by the Celebrity Series of Boston. The tour marks the continuation of the trio's collaboration which began in 2014 with the universally acclaimed original Trilogy tour and album.
Corea began the concert by talking to his receptive Symphony Hall audience about growing up in nearby Chelsea and thanking his own childhood friends for coming. After playing a short rendition of "Happy Birthday" for a friend and then literally "warming up" the audience with a few call-and-response snippets, the trio dove into "Alice in Wonderland," a tribute to Corea's wife, to Bill Evans, and, as Corea joked, to Disney himself. Corea hooked in the audience with a waltzing but quick introduction that vaguely evoked the atmosphere Bill Evan's own recording at the Village Vanguard, after which he played innovative improvisations with McBride and Blade following suit.
Continuing with the theme of tranquil jazz standards, the tune was followed with "In a Sentimental Mood." Once more, the melody was established, almost as a brief reminder to the audience, before the musicians took off again into unintuitive harmonies and exciting sequences at a faster-than-normal tempo. It seemed that Sunday night was dedicated to remembering Corea's own past as well as remembering the history of jazz music, as the trio paid homage to another jazz giant by playing Thelonious Monk's "Crepuscule with Nellie" and "Work." "Work" highlighted McBride's musical and technical prowess on the bass and brought a sharp energy to the hall.
After a brief intermission, Corea displayed the wide scope of his own musical personality in his take on a Scarlatti sonata from the 18th century. The piece began as a purely classical sonata and seamlessly matured into inventive jazzier harmonies that nevertheless continued to incorporate Scarlatti's music. Following was Corea's own "The Spanish Song," full of swinging solos from all three members, after which the trio played "Fingerprints," a cheeky response to and wordplay on Wayne Shorter's "Footprints."
"Fingerprints" was, for me, harder to understand as a "response" to Wayne Shorter's composition. However, I and the audience were greatly impressed with Brian Blade's pulsing solo, which began the piece. Part of the appeal was the unfamiliar combination of percussive sounds Blade created from, for example, brushing a gong sitting behind him while continuing his technically impressive and well-paced solo.
After many rounds of applause, during which Corea even took out his phone to take a "selfie" with his hometown audience, the trio generously returned to the stage to give an encore. To start, Corea again humored us by playing melodic snippets for us to sing, after which the three musicians began a laid-back piece that included the surprise appearance of a clarinet player from the audience, whom we assumed was the friend for which "Happy Birthday" was played.
Throughout the performance, McBride showed off his own virtuosity with lightning-fast plucking that synced with Corea's exciting melodies, while Blade surprised us with solos that crept up in intensity. Although I personally wished that the melodies of "Alice in Wonderland," "Work," and "Fingerprints" were more solidly established, the experience was nonetheless transformative and engaging, and perhaps the tip-toeing around themes made the experience even more similar to wandering, a little lost, among the notes.
Alyssa Chen is a DJ for the Jazz Spectrum on WHRB. Image credit: Robert Torres, Celebrity Series of Boston