Chris Thile: Mandolin God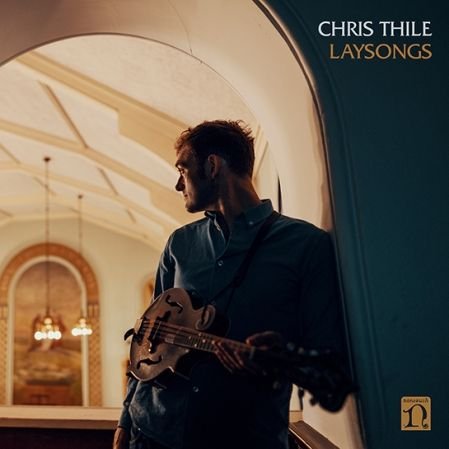 // Image courtesy of Josh Goleman
Chris Thile is something of a lonely presence on stage. Armed only with his mandolin and backed by nothing but a glass of water and a stool, Thile is almost disconcertingly vulnerable; there's no hiding missed notes, vocal fumbles, or weak songs in a setting like this. One can scarcely imagine the self-assuredness required to present the results of a lifetime of music in such an exposed manner.
It's not as though Thile is up there playing easy-listening folk or bluegrass, either. To the unfamiliar ear, Thile's song structures are impossible to predict; one moment he's doing a bluesy Ricky Skaggs impression, the next moment he's strumming his mandolin with the wrong hand and yelling about the role of judges in society. Friday night's show at Sanders Theater featured a 14-minute rendition of "Salt (in the Wounds) of the Earth," an eclectic – and that's putting it kindly – C.S. Lewis-inspired piece Thile jokes he wrote because he "loves money." Thile also performed the title track from his latest solo release, Laysongs, on which he made liberal use of Sanders Theater's resonant hardwood floor as a bass drum. He played twice as many Bach concertos (two) as he did Bill Monroe bluegrass classics (one). Shouts, yelps, sighs, and stomps punctuated Thile's virtuosic mandolin playing on most songs.
But, somehow, it works. It more than works – it captivates. During his Celebrity Series of Boston solo performance on Friday, Chris Thile spent two hours ripping on his mandolin, singing his heart out, and, above all, absolutely captivating his audience.
In a traditional bluegrass band, the mandolin is a member of the ensemble – a team player, one might say – usually relegated to keeping rhythm between solo opportunities. Played by Thile, however, the mandolin becomes the centerpiece. The instrument's hollow, staccato sound makes it a unique choice for such an endeavor, but Thile's innovative playing alleviates any concerns with regards to his setup. Thile's mandolin makes sounds that have no business coming out of a mandolin. Nowhere to be found are the pedal effects favored by guitarists and even some "jamgrass" mandolin players; Thile imitates everything from bird calls to human choruses using nothing but his fingers. Performed with a mischievous grin and a flair for the dramatic, Thile's solo instrumental pieces and classical covers never left the audience wanting for more elements.
But the highlights of Friday's show came when Thile seamlessly paired that technical instrumental skill with his pitch-perfect tenor vocals. The evening's more avant-garde selections were offset by straightforward – if still musically involved – versions of Jack White's "Dead Leaves and the Dirty Ground," Thile's own "Dionysus," and Paul Simon's "Love Me Like a Rock," which Thile claimed expresses the same sentiment as the aforementioned "Salt (in the Wounds) of the Earth" in eleven fewer minutes. Thile's voice cut through the stuffy Sanders air in a manner not fully reflected in his studio recordings; while Laysongs is certainly an excellent record, Friday's performance made apparent that Thile's full capabilities are not captured in the sterility of a studio.
Indeed, it is worth emphasizing that the success of Friday's show was made possible in part by the setting in which it took place. Thile's music requires patience; as he freely admits, solo mandolin/vocal music is not the most listenable genre. The packed crowd at Sanders was more than happy to let Thile do his thing, applauding uproariously between songs but maintaining absolute silence as Thile moved away from his single microphone to create greater changes in dynamics.
Sanders Theater itself proved an appropriate venue for Thile's show, for both practical and philosophical reasons. On a practical level, the theater's renowned acoustics enabled Thile to spend a substantial amount of time away from the microphone without hindering the audience's ability to understand him. But perhaps more pertinently, Sanders is, spiritually, a perfect setting for the self-described "noncommittal agnostic" Thile. Despite not being – and having never existed as – a church, Sanders features pews, ornate carvings, stained glass, and many other trappings of a holy space. Perhaps it is heresy to claim to have been "taken to church" by an agnostic performer in an intentionally secular venue, but one cannot help but have felt a tinge of spirituality as Thile worked his magic. The audience served as the laymen for whom Thile performed his Laysongs, using tricks and techniques that, despite playing out before the audience's very eyes, were beyond the understanding of the mortals seated in Sanders' pews.
After two hours of singing, humming, scatting, stomping, and, of course, picking, a show which, on paper, should not have worked closed with the loudest and longest standing ovation this author has witnessed at any show – at Sanders or otherwise – in a very long time. Thile's final statement to the crowd was one of gratitude, expressing his amazement that so many people trudged through the below-zero temperatures to hear what he claimed was "altogether too much mandolin." It was his only mistake of the night – when played the way Chris Thile plays, there is no such thing as too much mandolin.
// George Roggie '26 is a staff writer for Hillbilly Jamboree.