Chris Thile on Religion, Musicianhood, and Radio Hosting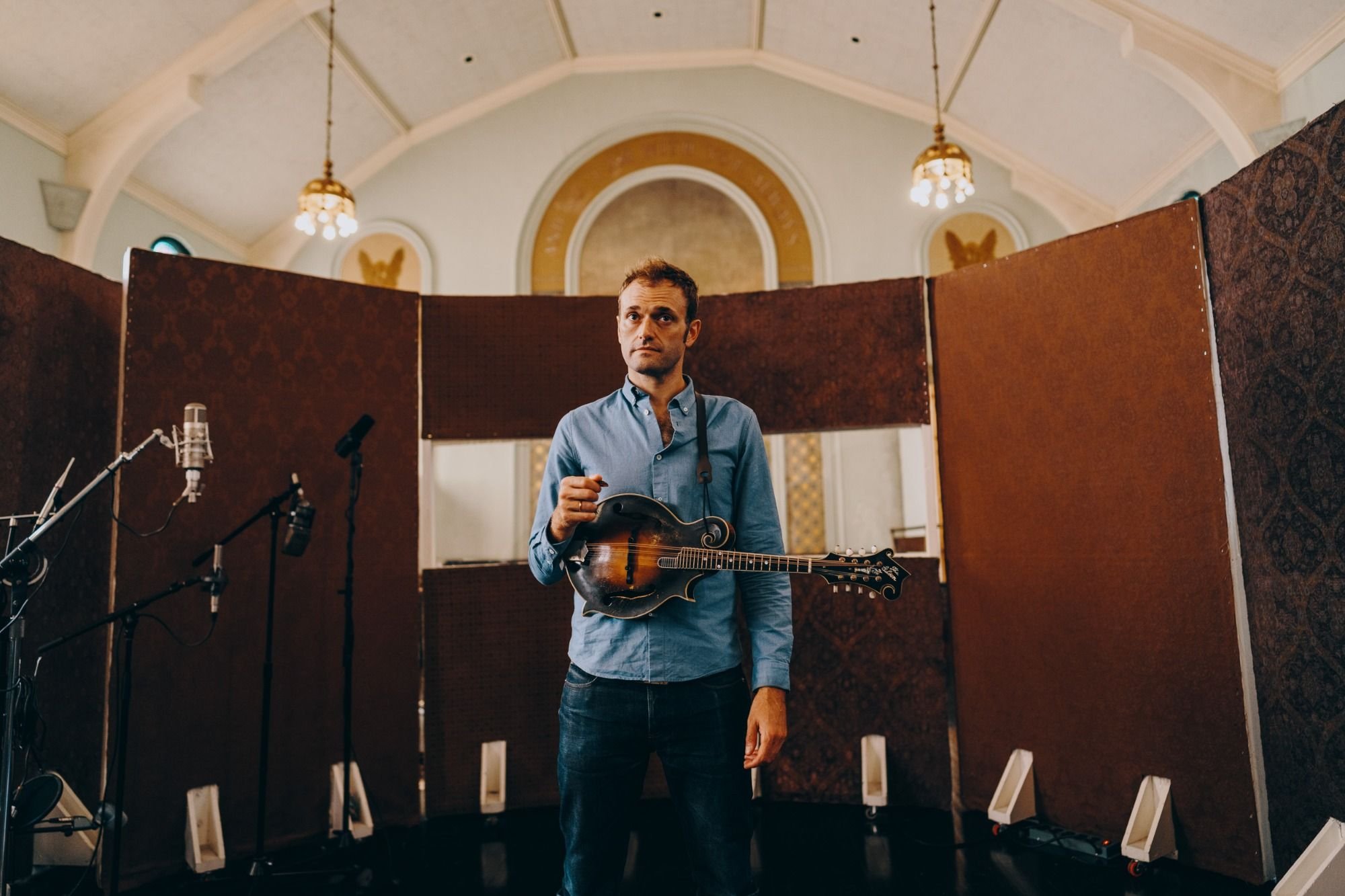 // Image courtesy of Josh Goleman
Chris Thile has been steeped in music since birth. An American mandolinist, singer, songwriter, composer, and radio personality known for harmonizing bluegrass, folk, jazz, and classical music, Thile captivates and connects with audiences of all kinds. A frequent collaborator with the likes of Yo-Yo Ma, Edgar Meyer, and Stuart Duncan, Thile is most known for his work as member of Nickel Creek and Punch Brothers. WHRB spoke with Thile before his return to Cambridge this coming Friday, February 3 for his performance at Harvard University's Sanders Theatre about his inspiration behind his latest release, Laysongs, his musicianhood, and his time hosting the radio show Live From Here with Minnesota Public Radio.
**Tell me more about your musical background.
**
Chris Thile: Looking back, it's funny how little I was aware how musical my family was. My dad had grown up playing jazz bass before he decided to make a slightly more honest living by tuning pianos.
There was a very important weekly event at this local pizza place of ours in California. There was a live bluegrass band every Saturday, fronted by a fellow named John Moore, who was this immensely charismatic, incredible mandolinist. Certainly, his technical ability on the instrument was notable to me, but not more than the general feeling of being in the room with the guy. It was very clear to me that I was going to do what he did. If he had played kazoo, I'd have wanted to play kazoo, and we'd have a slightly different conversation right now.
Where did the inspiration for your latest release, Laysongs, come from?
CT: I was raised with a good deal of religion, and I never really rebelled, but I am definitely an agnostic, although a curious agnostic – a noncommittal agnostic. I've largely lived a secular existence since maybe 20, and I hadn't realized to what extent I'd replaced organized religion with live performance. Playing music with other people, recording it — even recording solo is in a way, a very communal experience. But when the pandemic struck, I was deprived of that organized religion replacement that I'd built for myself, and it really set the inner monologue aflame.
I missed some of the structure of the non-secular life, and I wasn't compelled to dive back into a more active version of Christianity, but I was forced to take a look at some of those questions. That feeling of being untethered turned into a record that ended up being recorded in an almost monastic way — with an engineer who had recently had COVID being in a room with me. It was cathartic.
Music has a very great role in society — it brings us together, and it disarms us. We lower our defenses when we take music in a communal setting.
Speaking of listening more while playing music with other people, can you talk about how hosting radio with Live from Here shaped you as a musician?
CT: That experience turned me back into a music lover first, music maker second, because all of a sudden, my main job was to provide music for people to listen to that wasn't mine. Curation was a huge part of that job and listening became kind of an athletic affair. My harmony needs work, or my improv, so I think I need to listen to Coltrane — like that, self-improving, listening all the time.
Being the host of Live from Here reminded me what's really important is, 'is this making my life better?', not 'is this making me a better musician right now?' When you open yourself up like that and take yourself out of the equation, then you become the kind of receptor that is of greater creative worth to the world at large. It raised all ships for sure, but I feel like I've been a better listener since that experience.
Can you share more about how you manage to weave so many musical traditions – bluegrass, country, folk, baroque – into your music, particularly with regards to classical music?
CT: I think the main thing is that they were presented to me in one sweeping gesture; however, I did perceive a wall between classical music and everything else. When you're coming up in the world, there is sort of a chasm between the way that you learn classical music and the way that you learn everything else.
So, I didn't really become that interested in it until I was 14, when both of my Grandmas sat me down with Bach: Glenn Gould's second recording of the "Goldberg Variations." It's really about getting people to feel a unified pulse, and Gould plays as if we were in the club and were going to dance all night.
So suddenly, my preconceptions about classical music were blasted to bits. If Gould could play like that, any of this music could be played like that. That's when I realized that it's all just intentional sound. Making sound with intention is what music is, and it's all basically the same.
Chris Thile will perform at Harvard University's Sanders Theatre on Friday, February 3rd at 8PM, presented by the Celebrity Series. Tickets can be found here.
// Emma Greaves '24 is President and a staff writer for Classical Music. Arjun Nageswaran '25 is a Program Director and a staff writer for Classical Music. George Roggie '26 and Ashwin Sivakumar '26 are staff writers for Hillbilly Jamboree.