The Concert Countdown 9/15-9/21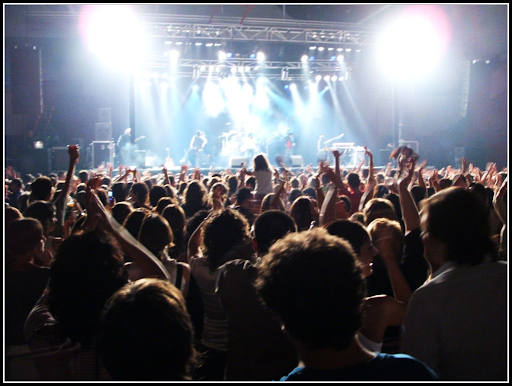 // "The Crowd in the Concert" by BockBilbo is licensed under CC BY-NC-SA 2.0
Boston's concerts are back in full swing this season after more than a year paused due to Covid-19. Here are one WHRB DJ's recommendations for concerts to catch this week!
Wednesday, September 15, 8 PM
Serena Isioma at Sonia (All Ages)
"And I will not stop this gay shit! Haters mad cause I'm young, Black, and famous!" sings Serena on his funky single "HUH?" The colorful accompanying music video demonstrates Serena's masterful blend of funk, disco, pop, rock, and r&b elements in their music. This will be their first show in Cambridge and it is not one to miss! This is your chance to catch them at a small, local show before they play at Gov Ball later this month.
Thursday, September 16, 7 PM
Flamingosis at Brighton Music Hall (18+)
Flamingosis is an electronic music producer who heavily samples soul to create groovy lo-fi beats. Drawing on influences from iconic producers such as J Dilla and Flying Lotus, Flamingosis combines vintage funk and disco with new electronic sounds. His latest album Daymaker, is filled with tracks to make you jam out and dance. This will definitely be a lively show to join!
Friday, September 17, 6:30 PM
Julien Baker w/Thao Nguyen and Mini Trees at House of Blues Boston (All Ages)
If you want to spend your Friday night witnessing beautiful music that moves you to tears, Julien Baker show this weekend is for you. Joined by Thao Nguyen of Thao & The Get Down Stay Down and LA-based artist Lexi Vega of Mini Trees, this is sure to be a night of breathtaking alternative music and talent. Bring a friend to sing along, dance, (and maybe cry) to Julien Baker's Little Oblivions.
Saturday, September 18, 9:00 PM
ford. w/NASAYA at The Sinclair (18+)
The combination of ford.'s chill beats and NASAYA's diverse pop sounds makes for an exciting night at The Sinclair this Saturday! Bop your head to some new indie electronic jams. You can be the person who "knew them before they blew up on TikTok."
Sunday, September 19, 6:00 PM
Duckwrth at Brighton Music Hall
Hear "Kiss U Right Now" in the flesh. And dance along to the rest of SuperGood! Buy the tickets. Enough said.
// Brenda Ceja '23 aka B LUZ is a DJ and Staff Writer for The Darker Side. When they aren't rambling about how much they love WHRB, they are playing House, R&B, and Soul on the air.