A Conversation with the Attacca Quartet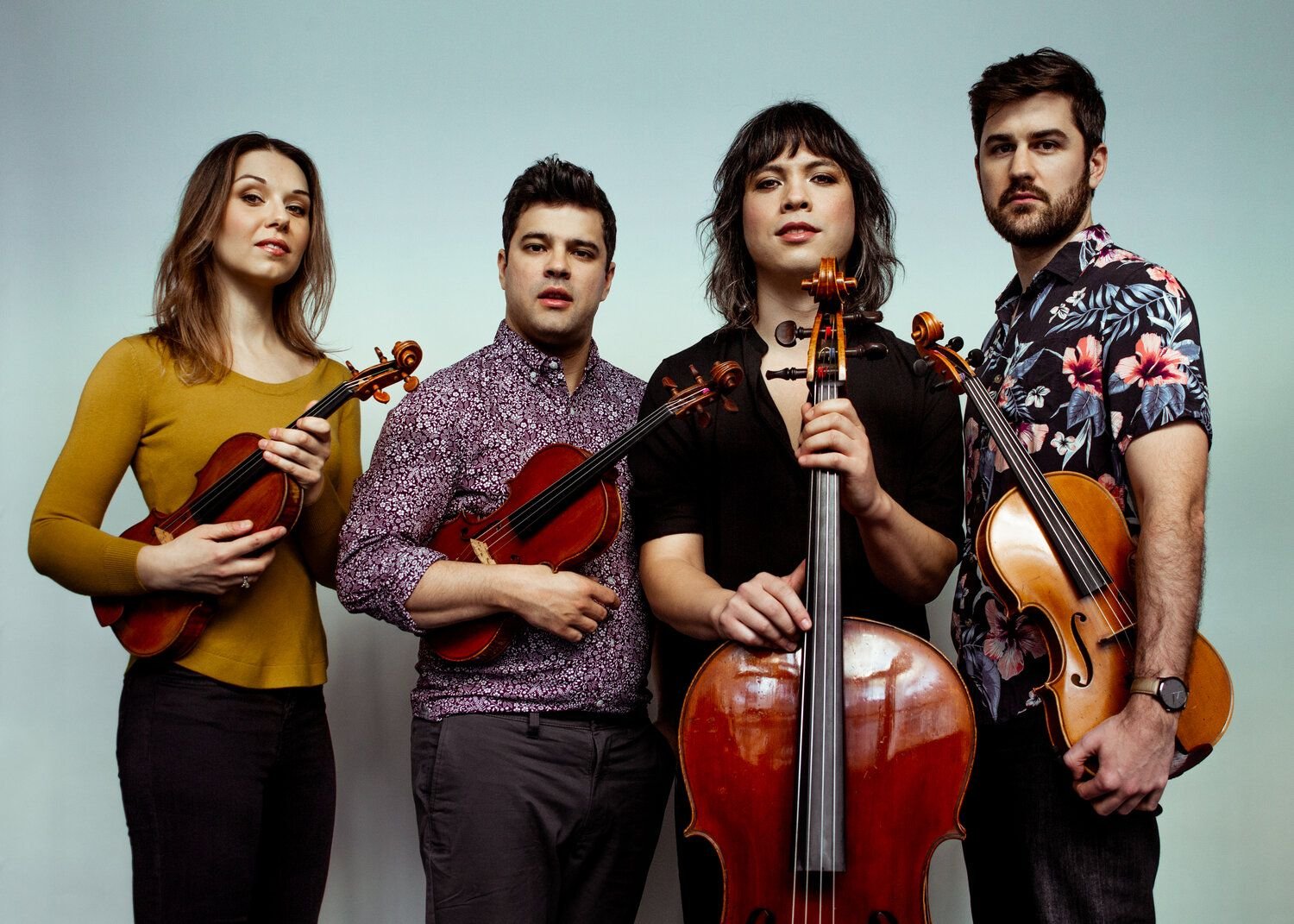 Photo courtesy of David Goddard.
Listen
The Grammy-award winning Attacca Quartet, which describes themselves as a "quartet for modern times", is dedicated to presenting and recording contemporary repertoire. The group has received rewards and acclamation from such renowned competitions as the 7th Osaka International Chamber Music Competition, in which they received First Prize. WHRB's Ellie Taylor spoke to cellist Andrew Yee and violinist Domenic Salerni about the quartet's latest release, Of All Joys, out now on Sony.
These are some highlights of the interview that have been edited for length and clarity.
Ellie Taylor: How has the quartet been weathering the pandemic?
Andrew Yee: It's been a really cool time for the quartet because we haven't been on the road as much. We have gotten a lot of time in the recording studio, which is where this album came from. We had time to devote to several projects that meant a lot to us. In that regard, it's been nice that we have had a lot of artistic output.
What were rehearsals like at the beginning of the pandemic, when there was concern about any musical ensemble gathering together. Did you all take a break from rehearsing come March 2020?
Domenic Salerni: There was a time where we were all separate. We even experimented with recording separately and putting it together in post production. We resumed rehearsing in June 2020. We rehearsed with masks until the vaccine, and more recently, taking PCR tests before shows or engagements in a live capacity.
Let's talk about the new release. The album is full of melancholy music, bookended by these two somewhat somber works of Arvo Pärt. But the album is entitled Of All Joys. Could you walk us through the story of the album's name?
AY: "Of all joys" is one of the lyrics from Flow My Tears, one of the songs on the album. It's part of a longer phrase that goes something like "of all joys denied." The thought was that four string instruments playing together in the same room as something that really can't be recreated. The time we spent apart from each other, not making music together, made us really appreciate what that sound was. We came up with the concept of the album pretty early in the pandemic, while we still weren't playing with each other. We didn't get together and pick a lot of the repertoire on the album until months after the album was conceptualized. When it came time to record the album, it was really emotional and rewarding.
DS: The joy of being together is one thing, and there's also, I find, an incredible catharsis in music that maybe wasn't intended to be sad but deals with a more profound, spritirual, or philosophical nature. Anything from a madrigal or something as traditionally ecclesiastical like the Miserere of Gregorio Allegri, to a Phillip Glass work which is related to a film score. There are a lot of deep rabbit holes and emotional journeys that we go on in this album.
Let's explore the album's lineage of renaissance works, like the madrigals you mentioned, to works of Phillip Glass. What went into researching which pieces you'd perform?
AY: It was actually really fun. We went back and forth between a couple ideas. We wanted to pair minimalist music with some other style of music. We ultimately decided on Renaissance music, and we were like, "What do we do? How do we actually make this album?"We got together and read some Phillip Glass quartets on the same day we read some Renaissance vocal music. There was something about the simplicity of the chordal playing that existed in the Glass that just felt like it belonged. The two Arvo Pärt pieces are almost tongue-in-cheek. I like knowing that if whoever is listening to the album doesn't have whatever track is playing in front of them, they wouldn't necessarily know what century the piece is from. It's a conversation between two time periods.
Are there any elements of the album that you'd encourage listeners to keep an ear out for?
DS: I'd love for people to forget that it's a string quartet. That it's four, five, six, seven, eight, nine voices just playing in the air. Hopefully the album reenforces this notion that all of these pieces across time are very much in conversation. The minimalists, or however you want to categorize them, are very much informed by the music of the Renaissance.
Andrew Yee: The thing that ties it together is this feeling of what it means to live inside harmony. My hope is that you imagine being in this invisible space in the middle of all four of us, inside of this floating sphere of harmony. We tried to capture that in the way it was recorded, that the listener was right in the middle of where our sounds converge.
Ellie Taylor is a producer for the Classical Music Department and the host of New Releases on Wednesdays from 8-10 PM.