David Elliott Memorial Orgy Schedule and Details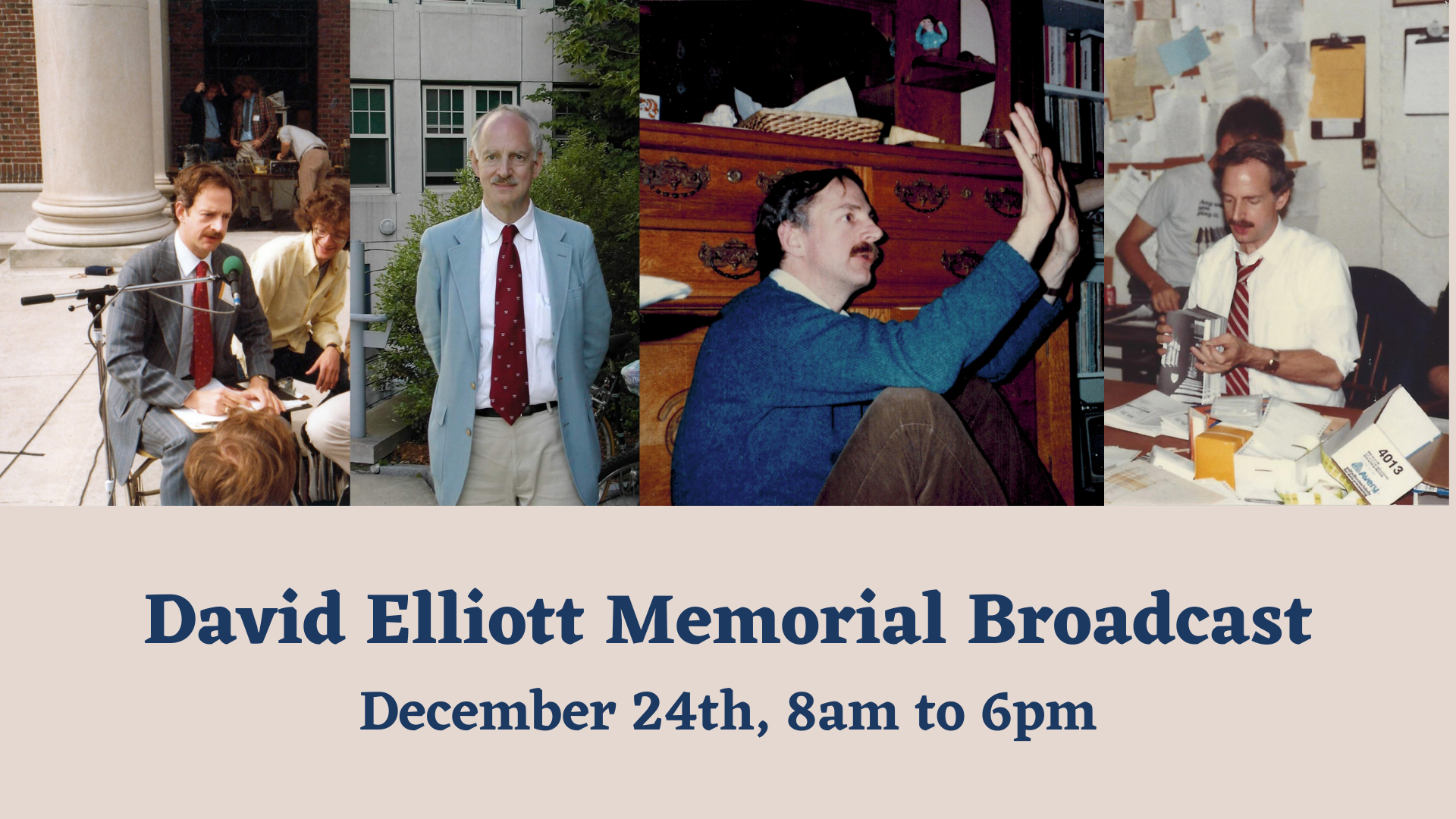 On December 24th, 8am to 6pm, WHRB presents the David Elliott Memorial Orgy. In memory of David R. Elliott (1942 - 2020), this broadcast weaves together David's most iconic and beloved moments at WHRB to tell a story of Harvard Radio's longtime mentor, host, and friend. The Orgy was a collective effort, pieced together using material from listeners, students, alumni, and the six decades that David Elliott committed to this station. It is as much a celebration of David's legacy as it is a representation of the community for which he cared so much.
EARLY YEARS (8:05am-8:30am)
The broadcast begins with David's early WHRB years. We feature a programming selection from one of David's earliest WHRB broadcasts: a historical vocal recordings program highlighted in the Boston Globe in 1961. We also hear stories and humorous memories from some of David's early colleagues and undergraduate friends at WHRB.
CLASSICAL MUSIC RELATIONS (8:30am-11:00am)
Next, the broadcast focuses on David's relationships in the classical music community. We hear interviews he conducted with three of the most influential figures in the classical music world: the soprano singer Renee Fleming, the violinist Joshua Bell, and the composer Aaron Copland. In addition, we hear a selection of interview excerpts from interviews that David conducted with directors of classical music organizations in the area, including Deb Boldin from the Chameleon Arts Ensemble; Benjamin Zander from the Boston Philharmonic Orchestra; Gil Rose from Odyssey Opera and the Boston Modern Orchestra Project; and Kathy Fay, from the Boston Early Music Festival. We also hear comments from those four directors. Throughout this section, we also hear key musical recordings related to David: a piece that David heard live in concert (Philippe Hersant's Piano Trio, performed by the Chameleon Arts Ensemble in 2014), a piece dedicated to David (Carson Cooman's Fanfare for Hammerchord), and a piece for which David was the recording engineer (Aaron Copland's Twelve Poems of Emily Dickinson, recorded in Sanders Theatre in 1971). We also hear tributes from members of the classical music community, including Ryan Turner, Martin Pearlman, Ron Della Chiesa, and Susan Byers Paxson, and many dedicated WHRB listeners.
WHRB HISTORIAN AND COMMUNITY KEEPER (11:00am-12:30pm)
As a friend, mentor, and leader for over fifty years at WHRB, David inspired and brought together generations of WHRB members. In this section, we highlight some of David's many contributions to the WHRB community, including his annual history lectures, his legendary end-of-year "feeds," excerpts from the 1985 Bach Orgy and the 1989 Beethoven Orgy, his speech from the 1994 station move from Memorial Hall to Pennypacker Basement, and his speech from the 75th anniversary WHRB gala. We also hear memories from "ghosts" (alumni).
HARVARD BROADCASTS (12:30pm-1:30pm)
David lent his wealth of knowledge to WHRB's Commencement and Installation broadcasts. We hear excerpts from the Installations of two Harvard presidents: Derek Bok and Drew Faust. In addition, we remember David's annual Commencement broadcasts with memories from several of his Commencement co-producers, all accompanied by traditional Commencement music.
SPECIAL PROGRAMS (1:30pm-3:45pm)
In his six decades at WHRB, David hosted countless unique and enlightening broadcasts. Here, we present a selection of interesting programs. We talk about his annual 4th of July broadcasts and feature the hour-long Orgy "Odd Songs and a Poem, and a Lesson in Heath" program which includes some of David's favorite variety songs. In addition, we air a couple of the many promos that David produced. Finally, we share David's thoughts on improvisation and its role in WHRB programming, featuring several stories from ghosts.
LOVE OF OPERA (3:45pm-5:00pm)
David's love for and knowledge of opera and voice was unparalleled at WHRB. From his undergraduate programs to his Metropolitan Opera pre-show broadcasts beginning in 1999, David's opera programming has been a beloved part of WHRB's air for generations. Here, we air several of David's pre-Met and other opera broadcasts, and hear about his early love for opera.
HOLIDAY BROADCASTS (5:00pm-5:45pm)
Finally, the program ends with excerpts from David's annual Christmas programming, as we segue into the Christmas Eve broadcast. We close with more comments from listeners and alumni.
This Orgy is hosted by Xilin Zhou '20 and Allison Pao '21. Thank you to the hundreds of WHRB members, alumni, listeners, and friends of David whose knowledge, tributes, and efforts were invaluable to this broadcast. For questions or comments about the broadcast, or if you have additional content related to David to share, please email mail@whrb.org. After the broadcast, we will continue to collect memories and recordings for the WHRB archives.
In lieu of flowers, David Elliott's family asks that donations be sent to WHRB. Please see the Support WHRB page to contribute online or find our mailing address.