​Drinking Boys & Girls Choir – WHRB's New Favorite Punks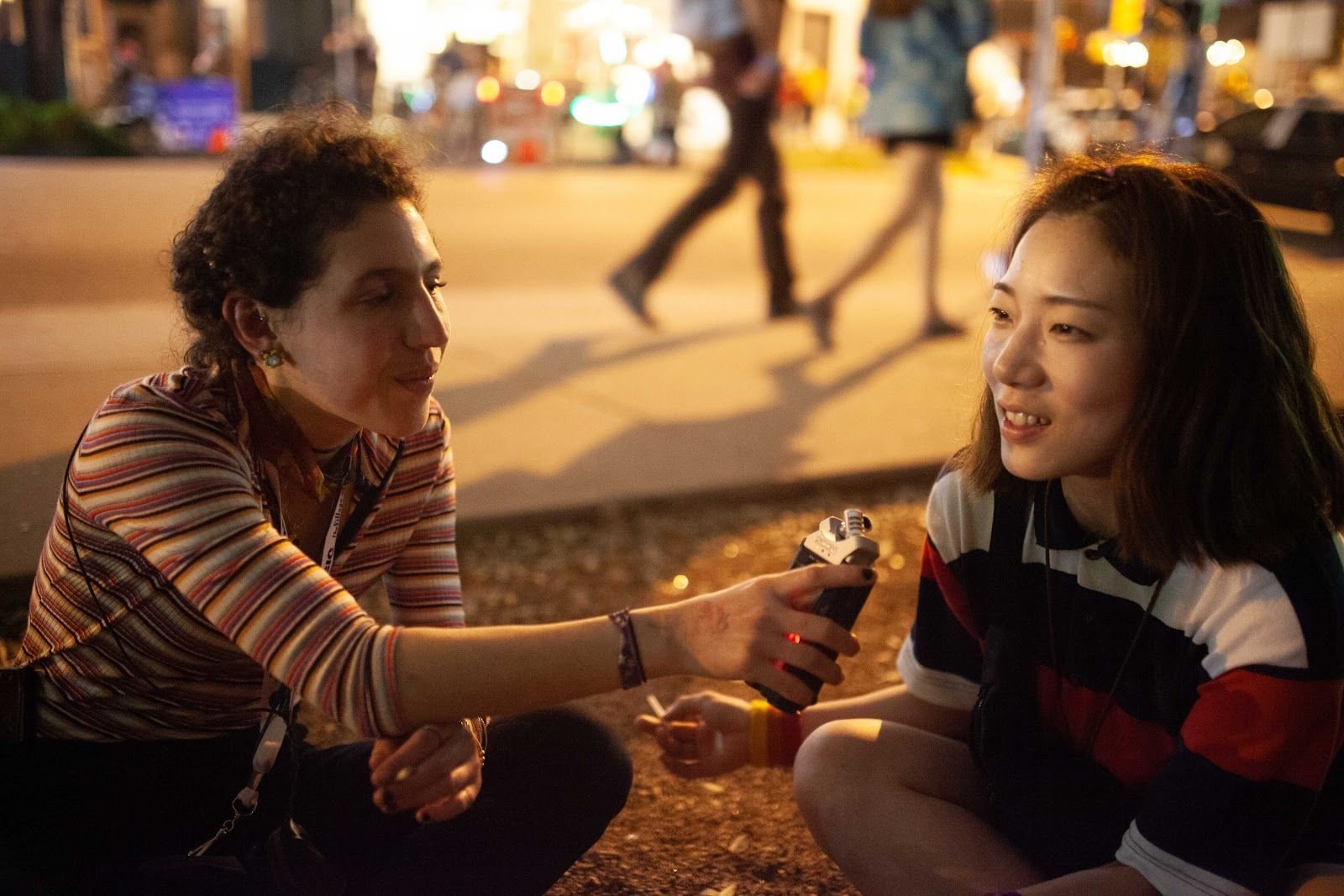 It's hard not to love Drinking Boys & Girls Choir. Their infectious energy, stylish outfits, and sincere, frolicsome mentality combined with their incredible musical chops instantly won us over. The band consists of Bondu Seo on guitar, Meena Bae on bass, MJ (Myeongjin) Kim on drums, and all three singing/shouting/screaming in cathartic turns. Though SXSW 2019 is their US debut, being Bondu and Meena's first time in the States, they took the stage comfortably and confidently. It was love at first listen. We had the wonderful chance to sit down with them curbside after their set at Valhalla during the Damnably Showcase, chatting about Irish Car Bombs, our shared love for Jambinai, and gender politics in Korea.
"We don't have any goals. We just want to keep drinking. But healthily! That is really important."
Befitting their name, DBGC love to have fun. And the small, tight-knit DIY community in Daegu is their best outlet for that: in January, they threw a DIY "subculture party" complete with tattoo artistry, a hip-hop cypher, and even a kendama challenge. As one of the only punk bands in Daegu, DBGC are centerpieces of the local DIY scene. Others do exist, they say, but their members are all married and have kids, limiting their ability to participate in the scene. With every riotous show, DBGC are revitalizing punk in Korea.
Not only are they well-received in their local scene, but DBGC also recalled being welcomed warmly during their Indonesia tour. "In Indonesia, we didn't spend our own money. [The DIY community] shared their houses and they shared their bikes," noted Meena. "We didn't even bring our instruments," added MJ. An Indonesian fan even learned Korean to sing along to one of their songs. Bondu gladly handed him the mic.
Self-proclaimed "Nut Kids"—Korean punk rockers who grew up listening to bands like Crying Nut and Lazybone—DBGC also take inspiration from Japanese and American punk bands like Hi-Standard and NOFX. Of course, they don't just listen to punk. Meena's a fan of Jambinai, a band combining traditional Korean instruments with heavy metal and post-rock soundscapes. MJ also enjoys walls of noise, especially the "PSHHYEEEEUUUUU" (her onomatopoeia) of shoegaze and post-rock. Bondu listens to XXX and city pop, which is having a boom in Korea at the moment. Their ranging influences and collaborative songwriting process combine in a perfect way, coalescing into songs like "Song of Sincerity", whose melodic counterpoints remind one of a skatier Asian Kung-Fu Generation.
"If I become famous, maybe I can talk more [about feminism]. Maybe that's my goal! [laughs]"
Underneath their playful devil-may-care attitudes, the band is passionate about gender equality and LGBTQ+ rights. With hallyu crashing over the world, bringing the shining image of a South Korea filled with K-pop stars, dreamy boy bands, and delicious fried chicken, Westerners often forget that the country is far from perfect. Those same male K-pop idols are currently being charged with violating prostitution law by sharing illegal spycam sex videos, and instead of rushing to the victims' defense, fans and managers are criticizing the victims. And queer experiences are often erased and maligned, both by the government and by family members—in 2017, there was even a queer hate rally in Seoul. Speaking about how their music relates to issues of gender, Meena remarked "[Politics], that is really close to our life. We can't remove that. We can't just have songs about love or something—actually, love is also political. Same-sex marriage is illegal in Korea."
In December of 2014, a few months before the US legalized same-sex marriage, MJ visited the States for the first time. "The State Department sent me here for LGBT rights, to learn and communicate here," MJ explained. "We met a lot of lawyers and activists, P Flag people, and I felt very comfortable with them." But sadly, activism can also be emotionally and mentally draining. "I was into the Daegu Queer Festival as an activist, but I quit. Because my health was not good and I was exhausted from the haters. I can't handle it, in my mind." MJ still donates to the Festival and supports their activities, contributing with DBGC in their special way. Channeling anger and frustration into transcendent guitar solos and celebrating underground artists in their local scene, DBGC are a beacon of energy guiding a youthful wave of resistance in Daegu. As Meena put it beautifully, "That is our life, we can't remove that. What we are thinking, what we are feeling in the songs we are singing."
"Don't think about the future, just enjoy the now!"
Above all, DBGC are wholesome punks with wholesome spunk. Playing to a packed venue, the band had members of fellow Damnably signees Otoboke Beaver moshing by the end of their set. As we prepared to crash for the night, Bondu and MJ had some advice for everyone: "Play punk music. Make punk band with your friends!"
Thank you to Bondu, Meena, MJ, and Mingyu Kim for making this interview possible! You can purchase Drinking Boys and Girls Choir's new album Keep Drinking on Bandcamp, made available by Damnably.
---
James Gui is a DJ for the Record Hospital. His show is every week on Wednesday nights, from 11pm-12am. Luke Martinez is a DJ for The Darker Side. Their show is every other Sunday night from 12-1am. Lana Harris is a WHRB graduate who is now based in Berlin.