An Exploration of Canon, Canyon, Cannon in Poetry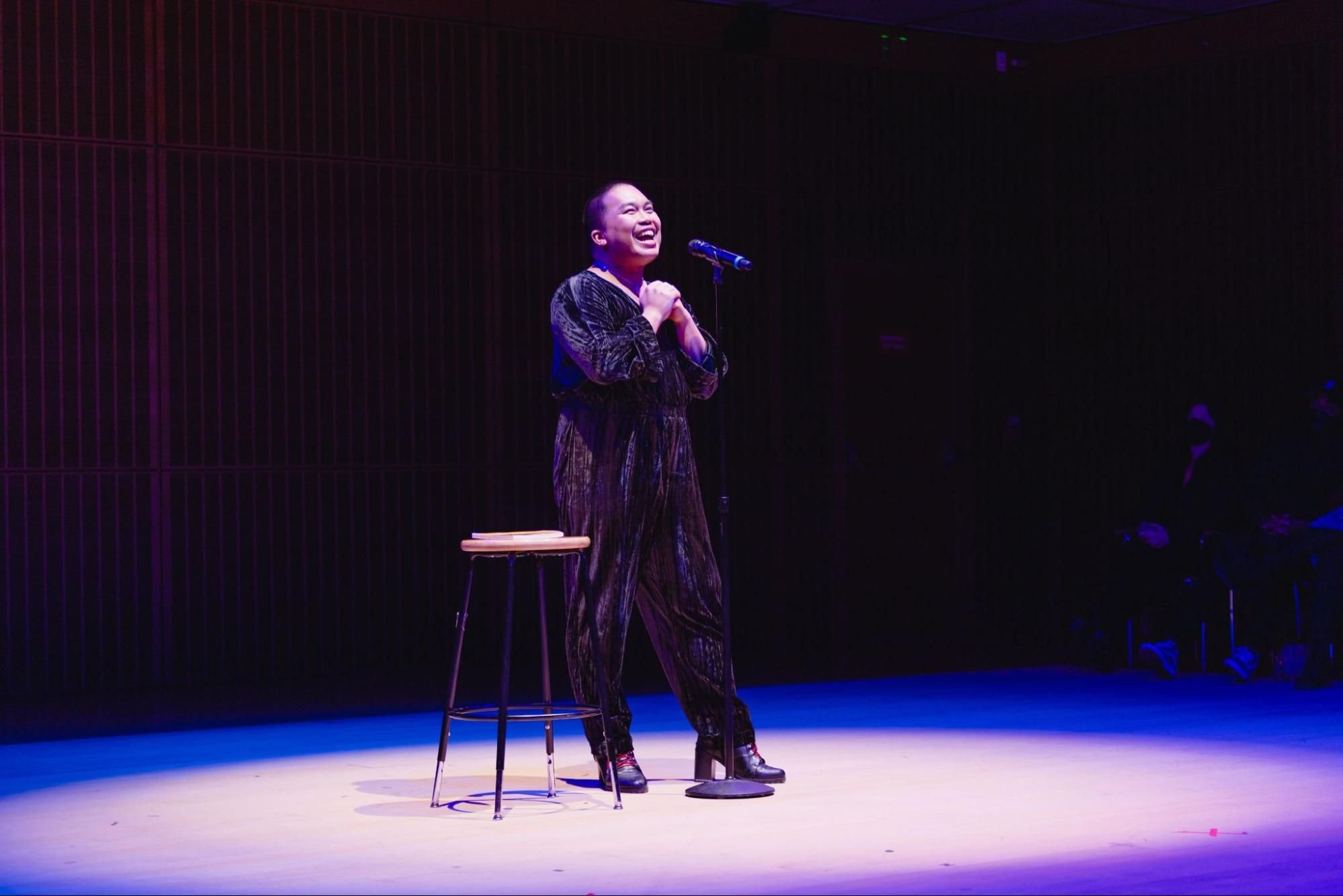 // Poet Paul Tran performing at Isabella Stewart Gardner Museum. Photo courtesy of Ally Schmaling / Isabella Stewart Gardner Museum
On January 26, the Isabella Stewart Gardner Museum hosted the first part of a series: "Canon, Canyon, Cannon." Boston Poet Laureate Porsha Olayiwola curated the event with performers from across the city. They were poets as well as organizers, performers, editors, children, adults, teachers, and students. Each performance played with the depth that came with the performers' labels, embodying the canyon in their lives. The stage rested in the middle of a ground level, with three balconies surrounding it on top. People looked forward as well as down upon the poets. Spatially the room required not just a reading but an execution.
Canon is to be defined and re-defined, and the event had poets establishing their own canon. Emmanuel Oppong-Yebaoh, an 11th-grade English teacher, did this by sitting directly down onto the floor and reckoning with the stage. He spoke about the sky (surviving, not tied to the sky) and looked up at the audience. Wearing flower-patterned wooden shoes, Oppong-Yebaoh described the space around him as a field of white lilies. He read pieces from his book not without small joys, focusing on language about different types of love and living. Emmanuel's voice was calm and trusting and reached the fourth floor of people without trying. Living in spite, and living because, he said. Men will harm and call it love. Oppong-Yebaoh spoke about the character, a black boy stretched to fill the body of a man, and continued to talk about love and giving and laughter. He meditated on these emotions, focusing on being alive in the context of it all.
After Oppong-Yebaoh finished — here I am alive, alive — Olayiwola recited the names of the writers who had influenced the performers. Their art and their work was spoken into the consciousness of the room. Even with this simple act, it was clear that the poets believed in the importance of acknowledging those before and after. Without mentioning everyone else involved in the process, you cannot completely define canon.
The notion of canyon invokes a sense of depth, but also in a way that suggests a gorge, a fracture, something gone. Michelle Garcia Fresco has Dominican roots and situated her poetry as an attempt to bridge this canyon. She speaks of language and womanhood, talking sometimes directly to her mother as she is unable to cut colonizer from consonant and her syllables are hanging like banana leaves. Michelle spoke about loss — of her mother's land, of her brother — through narration that effortlessly combined desperation and love. Charlotte Abotsi, a spoken-word veteran who has won international awards, channeled this speech of love inward. She spoke about her own battles of self-love and resentment, explaining how she's doing. I am trying to say when I breathe in, my shoulders stay up. Her personal poetry flowed in the way of an internal monologue, but you could tell Abotsi knew it was not just for her. She too took up space, knowingly and proudly. Both Garcia and Abotsi offered a younger taste of womanhood and diasporic writing that felt fresh. It engaged with the generational, but also the now, in a way that felt personable yet still specific to them.
Paul Tran was the final speaker, and a clear representation of a cannon. Tran lived in the defense, taking control of their life and how it was talked about. In their debut book, All the Flowers Kneeling, Tran focuses on survival. Tran defines art as outlasting violence, art as survival. Standing on the shoulders of people who tried and tried all their life. Tran too talked about the relationship of a mother and family, talking about their love of the craft: Humbling when people you love don't understand why you love what you love. Out of all the poets, it made sense why Tran concluded the evening. Tran described their book as a "love letter to the women in my family, immigrants and refugees, queer and trans people of color, who have to invent new ways of survival every day." Tran summed up beautifully what I thought this event to be: a love letter to surviving.
// Shruti Gautam '25 is the Chief Operator for WHRB and a guest writer for News.