Ezra Furman's "Intimacy" Residency: A Performance of Soulful Connection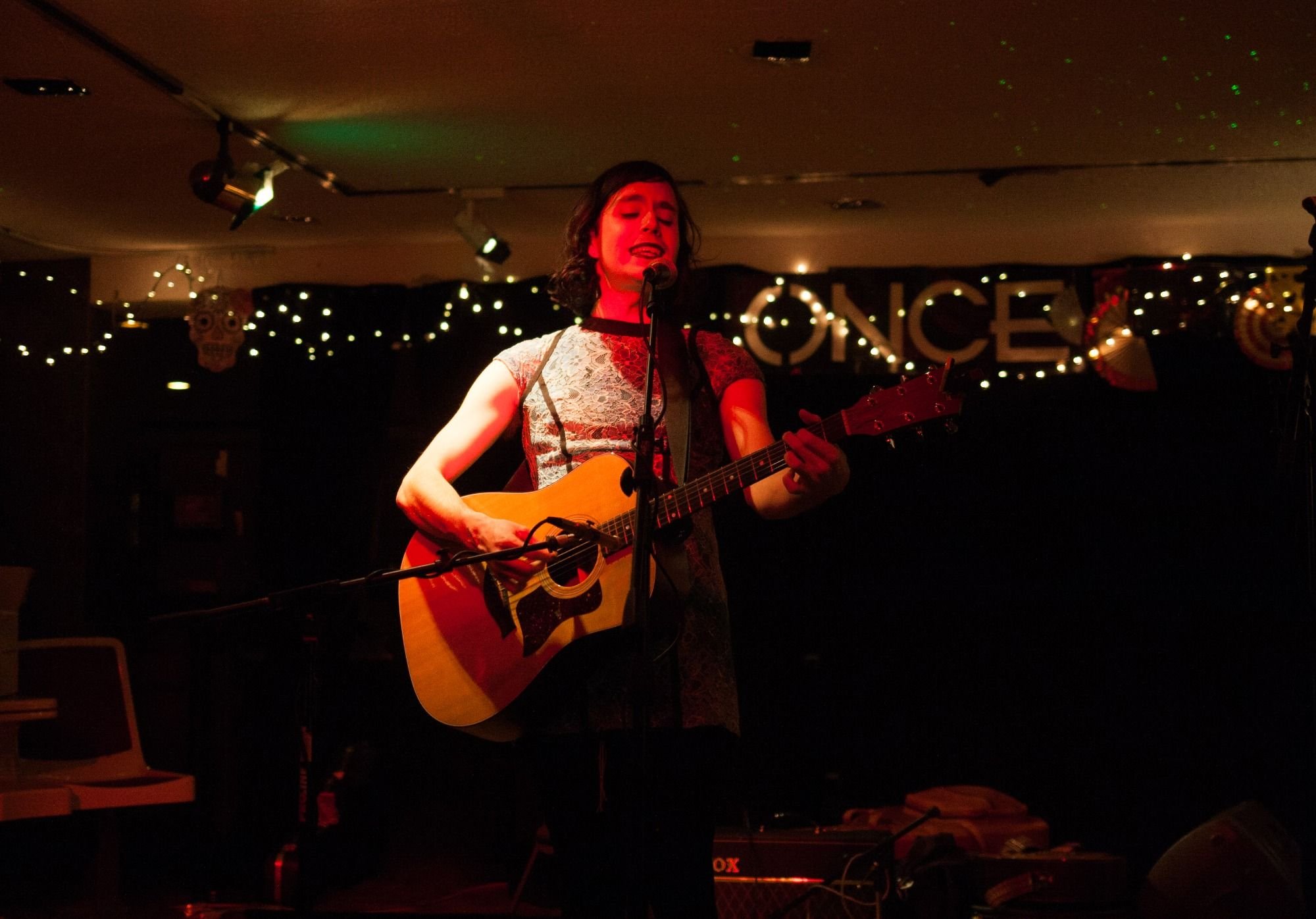 Illuminated under bruised red light and crooning from darkened lips, Ezra Furman is just enough to break your heart. Equal parts accusatory and acoustic, her music celebrates the union of pain and pleasure. Having secured her place as punk rock's sweetheart, Furman has returned to her Somerville roots with a five-week residency at ONCE Ballroom, entitled "Intimacy," inviting her listeners to explore a night of soulful connection hard to imagine anywhere else.
At her January 28 performance, following an opening act by Furman's close friend and former bandmate Jahn Sood – and accompanied by his partner Natalie Mishell – the artist of the hour took her place and launched into the set with "The Queen of Hearts," a song from her 2013 solo debut The Year of No Returning. All around the room – seated beside the softly lit bar, nestled with friends on the carpeted floor – audience members bopped their heads in time with the beat, letting the music take control. Then, Furman transitioned into "Care," a brand-new release from her soundtrack for the television series Sex Education, a song which passionately conveys a feeling of delicate yearning. To my left, a girl mouthed the lyrics, eyes shining with excitement.
Moments earlier, the girl to my left had introduced herself to me as a sophomore at a local high school, remarking that she had initially been drawn to Furman's work because of it being featured in the Netflix television series Sex Education. Combining original compositions alongside covers of beloved teenage relics (such as LCD Soundsystem's "I Can Change"), Furman released an original soundtrack album with the show's second season this January.
But what made "Intimacy" such an apt title for the concert was Furman's choice to reexamine the whole of her material, drawing songs from past albums and former bands into the present. Furthermore, the spare nature of the songs she performed solo brought the sharp imagery and raw emotion of her lyrics into focus.
Between songs, Furman commented upon her lyrical inspirations, citing encounters with transformation and identity as catalysts for much of her work. In "Transition from Nowhere to Nowhere," a song from her 2019 album Twelve Nudes, she laments about the frustration of navigating gender and sexuality in a binary world: "Remember I tried to ask what it means to be a man? / They threw me in the back of the truck and they tied my hands." Furman wove threads of love, loss, faith, and vulnerability into her performance as well. For example, in "God Lifts Up the Lowly," from her 2018 album Transangelic Exodus, there are images of a "guardian angel [with] wings of tinfoil" and a recitation of the Sh'ma prayer – the latter a nod to Furman's Jewish identity.
The bittersweet, nostalgic mood continued when Sood again took to the stage to join Furman in playing the time-honored "Girl From the North Country," originally written by Bob Dylan.
As the performance came to a close, Furman earnestly thanked the audience for their affection, and expressed her wishes of love and blessings in return. She closed her set with a soulful cover of Brian Wilson's "Love and Mercy," ending with an air of hope and fondness for the future.
If you are looking to experience the raw poeticism and warmth that Furman has mastered with "Intimacy," you are in luck: she has added a performance to her residency at ONCE Ballroom this evening, Tuesday, February 4th. Following the conclusion of her residency, she is set to complete her Live In North America '20 Tour before continuing on to a Live in Europe '20 Tour. You can also stream Furman's newest releases: the original soundtrack to Sex Education (2020), Twelve Nudes (2019), and our personal favorite here at Record Hospital, Transangelic Exodus (2018).
//Grace Carlson '23, words, and Mika Simoncelli '23, photography, are DJs for the Record Hospital. Tune into their show Friday nights 2 a.m. to 3:30 a.m. EST.