Fall 2022 Feature: Latvian Composers Show Notes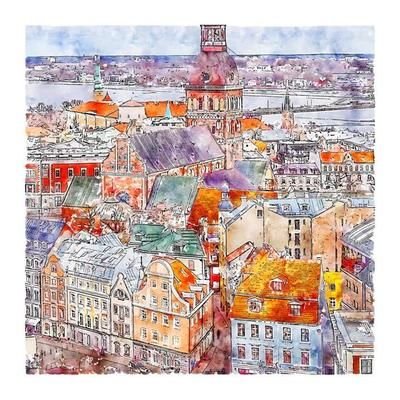 Photo courtesy of Vecteezy.
This fall, tune into the Latvian Composers feature presented by Emma on Thursday evenings from 6:00-7:00 pm. The program will run from Thursday, October 6th to Thursday, November 17th.
We will be updating this page periodically every week with show notes, so please bookmark this if you are interested in following along with the program!
Thursday, November 17th
Born in Priekule, Latvia in 1977, Ēriks Ešenvalds is rapidly becoming one of the world's most performed composers of choral music. He has won multiple awards for his work, including the Latvian Grand Music Award three times (2005, 2007 and 2015), The International Rostrum of Composers First Prize (2006), and New Composer Discovery of the Philadelphia Inquirer (2010).
Ensembles worldwide have commissioned his works, including oratorios for the Boston Symphony, the City of Birmingham Symphony Orchestra, the Utah Symphony, the Britten Sinfonia, and a cappella choral music for the King's Singers, Latvian Voices, the Choir of Trinity College, Cambridge, the Holst Singers, Imogen Heap, Polyphony, and numerous choirs in the United States. Ešenvalds' compositions appear on many recordings and, to date, five recordings are exclusively devoted to his choral music.
Program
Ešenvalds, Legend of the Walled-In Woman. Performed by Yakos, Panah, West, Wilkie, Zavaleta, Moss, Bennett, Sperry, and the Portland State Chamber Choir on a Naxos CD.
Ešenvalds, St. Luke Passion. Performed by Parša, Kurševs, Kalniņš, Kļava, Latvian Radio Choir, Sinfonietta Rīga on an Ondine CD.
Ešenvalds, The Heavens' Flock. Performed by Sperry and the Portland State Chamber Choir on a Naxos CD.
Thursday, November 10th
Pēteris Vasks was born in Aizpute, Latvia on 16 April 1946. He attended the Riga Music Academy and the Lithuanian Music Academy in Vilnius where he studied double-bass with Vitautas Sereika. During 1973–78 he studied composition with Valentin Utkin at the Latvian Academy of Music in Riga. From 1963 to 1974 Vasks was a member of the Lithuanian Philharmonic Orchestra (1966–9), Latvian Philharmonic Chamber Orchestra (1969–70) and the Orchestra of Latvian Radio and Television (1971–4).
On three occasions he has received the Great Music Award, the highest prize bestowed by the Latvian state in the field of music: in 1993 for Litene, in 1998 for his Violin Concerto 'Distant Light', and in 2000 for his Second Symphony. In 1996 he was awarded the Herder Prize of the Alfred Toepfer Foundation in Hamburg and was also designated principal composer of the Stockholm Festival of New Music. Since 1994 Vasks has been an honorary member of the Latvian Academy of Sciences and in 2001 became a member of the Royal Swedish Academy of Music. During 2004 a recording of his Second Symphony (Ondine) was awarded the Cannes Classical Award in the categories 'CD of the Year' and 'Best Orchestral Work'.
Vasks currently resides in Riga where he works as a freelance composer.
Program
Vasks, Violin Concerto, "Tala gaisma" (Distant Light). Performed by Kremer, Kremer, Kremerata Baltica on a Warner Classics CD.
Vasks, Symphony No. 2. Performed by Storgårds and the Tampere Philharmonic Orchestra on an Ondine CD.
Vasks, Vasaras dejas (Summer Dances). Performed by Gluzman and Šteinbergs on a BIS CD.
Thursday, November 3
Imants Kalniņš (born 26 May 1941 in Riga, Latvian SSR) is a Latvian composer, musician and politician. Having studied classical and choral music, he has written seven symphonies, several operas (including the first rock opera in the USSR, Ei, jūs tur! [lv], oratorios, cantatas, choir songs, a lot of movie and theater music. However, he is generally best known for his rock songs and is to be considered the first composer of intellectual rock music in Latvia.[citation needed] In 2021, Kalniņš received the Grand Music Award for lifetime achievement.
Program
Kalniņš, Bāli, Mans Brāli (Brother, My Brother). Performed by Krancmanis, Jansons, Versija Chamber Choir, and the Latvian National Opera Orchestra on an Albany CD.
Kalniņš, Symphony No. 4, "Rock Symphony". Performed by Short, Shui, Kroumata Percussion Ensemble, and the Singapore Symphony Orchestra on a BIS CD.
Thursday, October 27
Ojārs Raimonds Pauls (born 12 January 1936 in Iļģuciems, Riga, Latvia) is a Latvian composer and piano player who is well known in Latvia, Russia, post-Soviet countries and worldwide.[1] He was the Minister of Culture of Latvia from 1988 to 1993.
Program
Pauls, Crossroads. Performed by Pauls on a Microfona CD.
Thursday, October 20
Regarded as the leading symphonist of his native Latvia, Jānis Ivanovs was a pupil of Vītols at the Riga Conservatory, where he himself later taught.
At the heart of the work of Ivanovs are his 21 symphonies. Partly influenced by Russian compositional methods, he also makes use of Latvian thematic material. His works reflect deeper psychological and social ideas, influenced often by the circumstances of the time.
Program
Ivanovs, Symphony no. 2 in d. Performed by the Latvian National Symphony Orchestra conducted by Yablonsky on a Marco Polo CD.
Ivanovs, Symphony no. 12 in C, "Sinfonia Energica." Performed by the Latvian National Symphony Orchestra conducted by Yablonsky on a Marco Polo CD.
Thursday, October 13
Lūcija Garūta (14 May 1902 – 15 February 1977)[1] was a Latvian pianist, poet and composer. She is mostly known for composing the cantata Dievs, Tava zeme deg! in 1943.
Program
Garüta, Dievs, tava zeme deg! Performed by Poļakovs, Jansons, Deksnis, Sirmais, State Choir Latvija on a State Choir Latvija CD.
Garüta, Mermaid's Song. Performed by Meija, and Erliha on a SKANI CD.
Thursday, October 6
Latvian by birth, Jāzeps Vītols studied in St Petersburg with Rimsky-Korsakov, whom he succeeded at the Conservatory. Here, his pupils included Prokofiev and Myaskovsky and his friends Glazunov and Lyadov. He returned to Latvia in 1918, directing the newly established Latvian Opera and teaching from 1919 to 1944 at the Conservatory he founded in Riga. He spent his final years in exile, after the incursion of Soviet troops into his country.
A versatile and prolific composer, Vītols left a quantity of choral music and songs, and varied orchestral works; he was a pioneer in Latvian music.
Program
Vītols, Variations on a Latvian Folksong, Op. 6. Performed by Zariņš on a Champs Hills Records CD.
Vītols, Dargakmeni, Op. 66. Performed by the Latvian National Symphony Orchestra, Yablonsky on a Marco Polo CD.
Vītols, Jezus pie akas (Jesus by the Well). Performed by Sproģis, Kranomanis, Denze, Deksnis, and Kļava with the Latvian Radio Choir on a Swedish Society CD.
Vītols, Romance for Violin and Piano in d, Op. 15. Performed by Lielmane and Baltere on a Kaibala CD.
Vītols, Menuet for String Quartet. Performed by the Haydn Quartet of Berlin on a Koch Schwann CD.
---
We caught up with Emma to hear some more about putting this show together.
WHRB: Why were you interested in putting this feature together?
I wanted to showcase music from a national identity that otherwise is not played as much. At first, I considered doing shows on Icelandic, Swedish, Brazilian composers etc., which are all countries I'm personally interested in for their rich history, landscape, or culture. In the end, I chose Latvia because I wanted to learn more about how the traditional folklore and folk music has shaped composers in the region.
WHRB: What will you be focusing on in your feature?
I'll be moving through seven composers who are key figures in Latvian classical music since their initial independence from Russia in 1918 up to their present-day. I'll be focusing on their influences on Latvian music, how Latvian current events at the time impact their music, and how the rich Latvian cultural pulse had found its way into their music.
I want to showcase quintessential Baltic composers like Jāzeps Vītols and Jānis Ivanovs, as well as Latvian composers that are not well-known in the classical canon and would not otherwise be played, like Raimonds Pauls.
WHRB: How are you approaching putting this program together?
Lots of research!! These composers do not get much airplay or attention, even though classical music is one of the most defining elements of Latvian culture (esp. choral and folk songs) so I'm excited to give them a spotlight.
// Felicia Ho '23 is a producer for the Classical Music Department and the Director of Online Content for Classical Music.