FIERY FORGOTTEN TUNES FROM 2016: WHAT WE MISSED THE FIRST TIME AROUND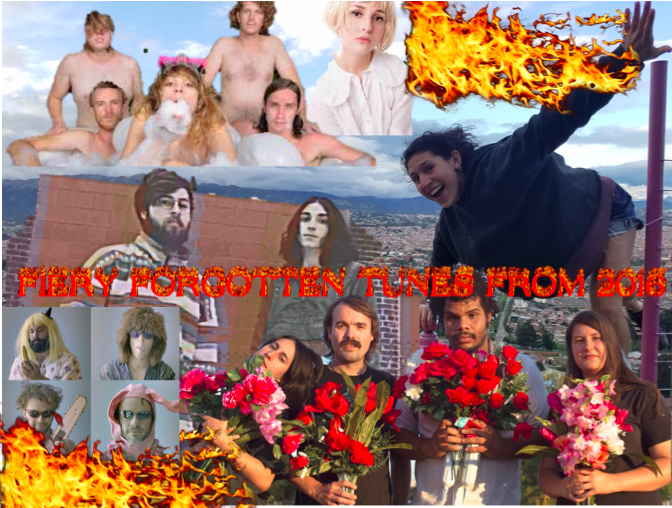 2016 was f***ing loaded. Thus, some super good music slid by my line of sight. As every day of 2017 ticks by, countless "aw SH!T how did I miss this?" moments occur in a semi-regular manner. Here is a series to express the much-frequented happenings of stumbling upon the toe-stub-worthy, sizable hunks of gold that are the fantastic releases of 2016, their unearthing chronicled by yours truly.
ROMANTIC - MANNEQUIN PUSSY
What an album. Great balance of track-by-track continuity and surprise; the "throw you straight in the mosh pit upon arrival"-ness of "Kiss," countered by the decidedly optimistic last track "Beside Yourself." A really raw album that is absolutely fantastic from top to bottom, more invigorating than your second quadruple espresso.
SPENT (EP) - SOY CHRISTMAS
Jaded twentisomething chilltronica. The guitar tracks in "Get Upset" are fantastic, from their carefully crafted sound to their simply good melodies. Spent is filled with intricate synths and (very rarely say this but) highly evocative autotune; really worth checking out. GET HYPE and BOOK FAST 'cause they're a Boston band!
PILE - A GIANT DOG
Self-described as encompassing the passion of sea horse androgyny and the influence of Stooges + Velvet Underground. Great raspy harmonies paired with frank relatability, as evinced by a standout acoustic track (featuring fellow Austin musician Britt Daniel) entitled "Get with You and Get High." In "Jizzney," the deliciously reverbed chord progression combined with lead vocalist Ellis' twangy yet punchy distorted vocals and masterfully placed percussion come together in quite the banger. I marvel at A Giant Dog's songwriting, from the nail-on-the-headness of genre-almagamtiony punk-rooted character to their meticulously dynamic layered instrumentation. Catch this Austin band's "explosive" live performance notoriety at SXSW.
DADA DISTRACTIONS - AAN
I'll let this beautifully written and insightful background-filled bandcamp story speak for itself.
HEAVENLY - ROSEMARY FAIRWEATHER
Alt-pop / dream-pop blend. Great for walking around by yourself on a sunny day / biking over a bridge at night / time-independent sex w a sadboi. Rosemary's breathy, quirky-satirical-disillusionment vocals bring a "Frankie Cosmos' fun Canadian cousin, god-daugther of Rhye" personality to some scrumptious synth that jiggles the limbs in a wiggly dance-like fashion [see "Good News"]. This album is also host to some really nice guitar-based tracks [see "Chemicals"].
That's all for now. Stay tuned for more earnest forgetfulness.