Genres and Artists in Conversation - begin there with the New Gallery Concert Series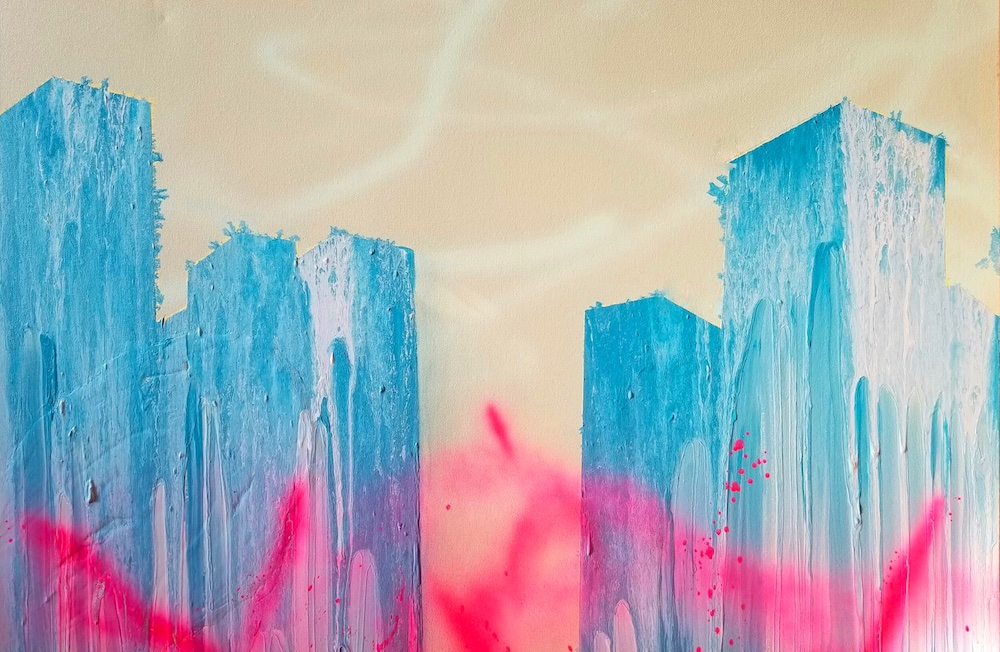 // Tensions Rise (2020), by Ola Aksan, from https://www.olamarieaksan.com/strangescapes/tensio...
"Tensions Rise", a 2020 painting in physical space by Ola Aksan. It takes up the majority of my screen, the cream background lighting up my face in the darkened corner of the room I call my office. The art, used as the cover photo of this article, glided across my screen, the blue and pink calling for my attention at different points. I had clicked my specially-timed link at 7:30pm on the dot, as instructed by my online ticket for begin there, a New Gallery Concert Series performance. Sarah Bob, Artistic Director and Founder of the organization, then provided a brief introduction to the pre-produced show, which timed out to under an hour. As her face faded from view, fingers daring me to begin here, or there, Tensions Rise came into view for the first time. I am now brought to the beginning of what would prove to be a transcendent performance.
// "Death Valley" (2018) by Ola Aksan, from https://www.olamarieaksan.com/strangescapes/qsi1an...
While longing for accessible performances during Boston's isolating and lonely winter, I was pleased to be invited to New Gallery Concert Series' virtual winter event, begin there. In an otherwise empty room, I enjoyed the virtual company of artists, musicians, and composers alike as they moved through engaging and difficult works and emotions. Where were we, scattered across time and space? Where were they, condensed, compressed, zipped, and lost in the grand cybernetwork, shouting and whispering their way through art? The performance was captivating, comprised of a series of improvisations (the "Strangescape Suite") on works by the visual artist Ola Aksan; interspersed with a performance of Angélica Negrón's 2016 composition, El Colapso, performed in part by Bayoán Ríos; and the premiere of Curtis K. Hughes and Ariana X. Hughes' film Tulpa, starring soprano Rose Hegele. The collaborations—across media, genre, and time—stitch together a story of oddities that share more than they seem. The strangeness, the otherness, and the unnaturalness of begin there made it impossible to turn away, as my screen captivated me in a way I hadn't quite experienced before.
// "Heatscape" (2017), by Ola Aksan, from https://www.olamarieaksan.com/strangescapes/l1mrgs...
The Strangescape Suite, in addition to the opening "Tensions Rise" improvisations, also dealt with four other Aksan works – Strangescape (2015), Death Valley (2018), Heatscape (2017), and Night Voyager (2018). These works are created with acrylic and latex paints, spilled out to form large swirling patterns. It reminds me of the birth of the 'art pour,' in which what is created is perhaps not as important as the process of getting there. These paintings, and the meaning of their making, become the ideal backdrop for improvisation. The talented musicians – vocalist Danny Rivera, violinist and erhu player Shaw Pong Liu, pianist Brian Friedland, and percussionist Aaron Trant – collaborate with each other and with the art to create something interesting. It's just as wonderful to see their process and their minds as it is to listen to the music they give us.
// "Night Voyager" (2018), by Ola Aksan, from https://www.olamarieaksan.com/strangescapes/1dq2w7...
Puerto Rican-born composer and multi-instrumentalist Angélica Negrón writes music for everything, so much so that she searches for new and innovative ways to make sounds. Her "found sounds" in El Colapso include noises from cookware and other domestic appliances, floors, shoes and body parts. The vulnerability of this piece – written for "the moment you are about to collapse" as Negrón says in the introduction of the performance – becomes clear from the thin melodic lines that the piece opens with. Never quite sad, but always emotional and on the brink of tearful, El Colapso features a performance from Negrón's friend, Bayoán Ríos, on charango and zampoña (Andean pan flute).
// "On Ninth" (2017) by Ola Aksan, from https://www.olamarieaksan.com/strangescapes/wtodzo...
More than halfway through the night, Tulpa is introduced. The piece, composed by Curtis K. Hughes and released on New Focus Recordings in 2021, is the composers' "musical tribute and reaction to the television program Twin Peaks, especially its surreal and convoluted 2017 iteration, the 18 hour film Twin Peaks: The Return, directed by David Lynch" (Hughes). Tulpa, as a term, gained popularity from western 20th century scholars, but the idea stems from Tibetan Buddhism. It refers to a physical being generated solely by thought, comparable to an imaginary friend, a doppelgänger, or a shadow version of the self. The movie accompanying the mystifying music follows these themes closely, as soprano Rose Hegele faces a self who is not-quite-herself. This new short movie is a collaboration between Curtis Hughes and videographer Ariana Hughes, and it also features works of Ola Aksan. Rose, an elusive character in the woods, has a series of unsettling encounters with different versions of herself through portals to different areas of space and time. The movie expands upon the compelling music, giving the listener visuals to encapsulate the uneasy doublings of the score. The music replicates and repeats itself in odd and unexpected ways as the movie twists and turns its characters and settings. The piece and its visuals made me think about the energy of a beginning, and what we do with our creative energy once we have made something we love. begin there reminds me that even in (perhaps, especially in) strange circumstances, our ability to begin here and persist to there creates wonders.
The New Gallery Concert Series will return with an in-person performance on Thursday, April 13 at 8pm at the Longy School of Music of Bard College with Begin Anywhere.
_// Marcus Knoke '24 is a producer for the Classical Music Department.
_