Gig Recap: Alvvays @ Paradise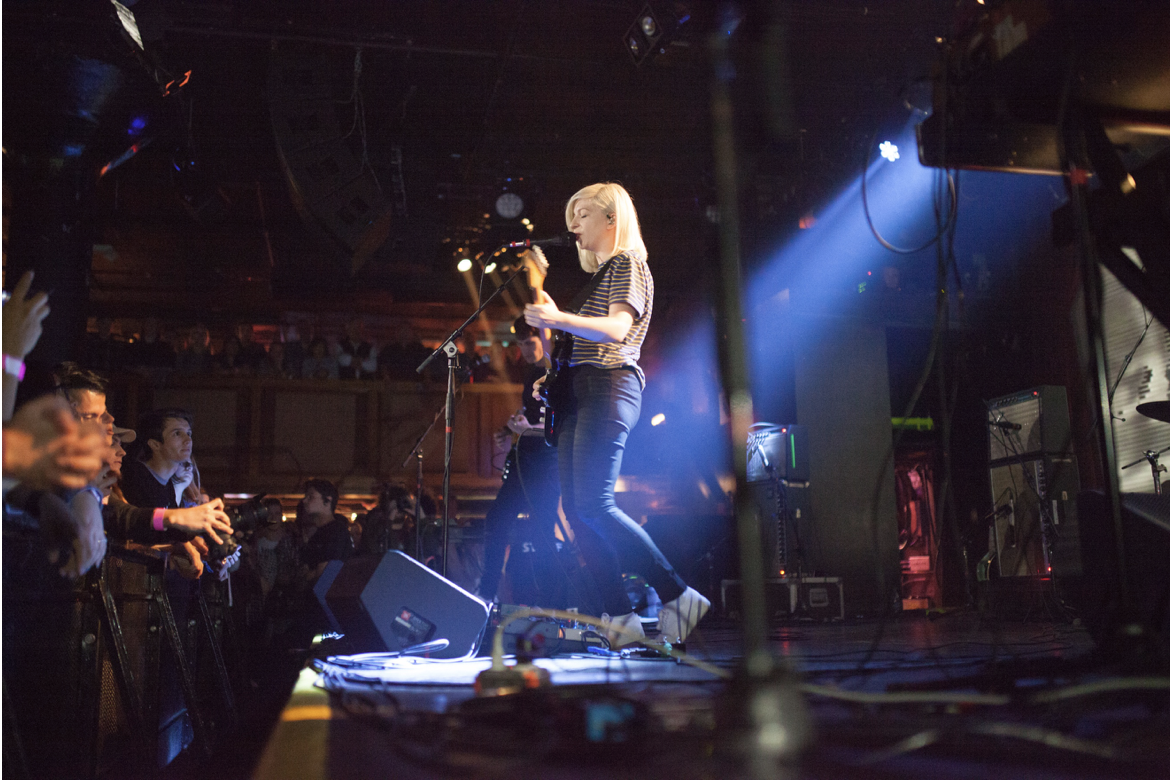 We're no strangers to Alvvays at this point. Recalling the C86 indie pop sound from 90s bands like Heavenly and combining it with the dreamy reverb of Cocteau Twins, Alvvays captured the hearts of indieheads in their 2014 self-titled release. I jumped on the Alvvays hype train somewhat late, finally listening to their 2014 album this past winter and falling in love with Molly Rankin's pillow soft vocals and wistful lyricism. With their latest release, Antisocialites, Alvvays have injected more synthesizers and melodic counterpoint while keeping their distinct indie pop sensibilities. In short: they're great, and their new album is great.
Riding the momentum of Antisocialites, Alvvays kicked off their North American tour at the Paradise Rock Club on Tuesday, October 3rd. Opening for them was Beeef, a four-piece band from Allston with jangly, lo-fi guitars and garage rock vocals. With energetic, driving indie pop drums and shimmering chords, Beeef are clearly loved among the Boston locals. And Beeef reciprocated that love, with references to "riding the T with my headphones on" and other Boston-specific experiences in their song "Dogshit Paradise."
<a href="<a href="http://beeef.bandcamp.com/album/a-beeef-cd">A" class="redactor-linkify-object">http://beeef.bandcamp.com/album/a-beeef-cd">A</a> Beeef CD by Beeef</a>
After Beeef's set, Alvvays emerged to a completely packed house. Compared with the drawling, gritty vocals of Beeef's Perry Eaton, Rankin's were a sweet whisper. Her voice needed to warm up a bit during the first chorus of "Saved By A Waif" (a daring choice to start with, considering its tonal range), but after that small hiccup, it was nearly flawless. Especially impressive were the backup vocals from drummer Sheridan Riley and keyboardist Kerri MacLellan, the perfect tonal counterpoints to Rankin, in "Saved By A Waif," "Lollipop (Ode to Jim)," "Dreams Tonite," and others from the new album.
Their performance of "Not My Baby" stood out in particular—Rankin's wispy voice during the cathartic bridge was a high emotional point in the middle of their set. In all, Alvvays played every song from their discography, save "Red Planet" from Alvvays and "Already Gone" from Antisocialites. This deliberate choice kept their set up-tempo and energetic, while simultaneously making their occasional performances of slow, emotional songs like "Dreams Tonite," "Forget About Life," and "The Agency Group" much more poignant and moving. They ended their encore with a cover of "Trying To Be Kind" by The Motorcycle Boy, a respectful nod to their 80s predecessors.
<a href="<a href="http://alvvays.bandcamp.com/album/antisocialites">Antisocialites" class="redactor-linkify-object">http://alvvays.bandcamp.com/album/antisocialites">...</a> by Alvvays</a>
Rankin mentioned in a recent interview that she's "learned that [she's] allowed to be just this reserved, awkward human," and that newfound knowledge was evident at the Paradise Rock Club. She was in her element, singing and reaching hundreds of fans—without the need for a charismatic and performative rock persona. Like the 90s indie pop movement redefined how punk looked and sounded, Rankin seems to be redefining the archetype of an extroverted bandleader, to much success.
James Gui is a DJ for the Record Hospital. Record Hospital airs weeknights, 10 p.m. - 5 a.m.