Gig recap: Beach Fossils, SABA & Nyck @ Knight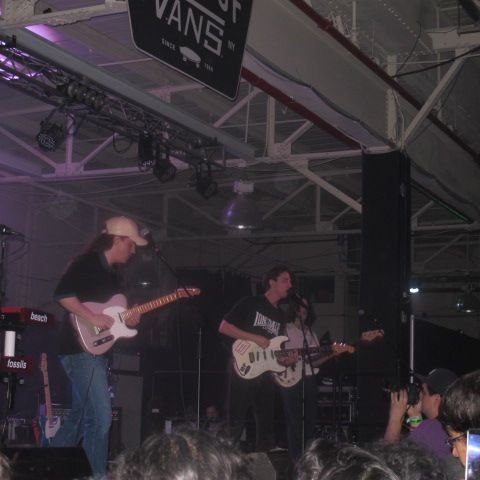 It's Thursday night and mischief hangs in the humble breeze. It's hot, but not too hot. A triumphant blue frames the clouds that hover over Brooklyn. There below, a crowd is humming with anticipatory mirth, itching to enter the House of Vans. The line snakes far down the block, along chain link fences through which the skyline shimmers.
The evening marked another free show presented by Vans, part of a summer gig series dubbed "Vans House Parties." Previous acts have included Washed Out, Joyce Manor and Turnstile. This time, the skatepark-turned-music-venue hosted Nyck @ Knight, SABA and Beach Fossils, whose latest LP "Somersault" released at midnight.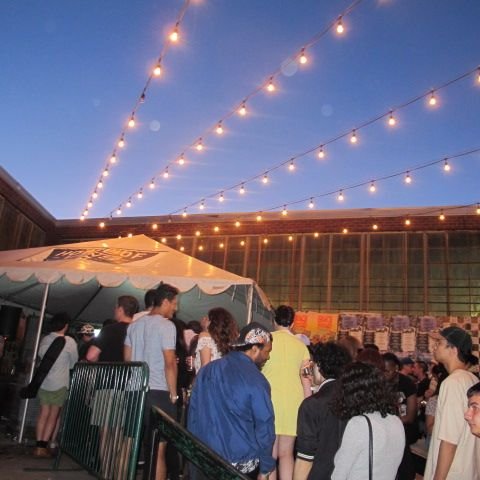 _Concert-goers wait in line for free beer.
_
Nyck @ Knight, a collaboration between Pro Era's Kirk Knight and Nyck Caution, kicked the night off with a bang. Teasing songs from their upcoming self-titled project, the Brooklyn natives whipped the crowd into a frenzy with their unstoppable energy, bouncing around and stage diving as they rapped over pummeling bass. Things only escalated when Nyck @ Knight brought out Joey Bada$$ to perform a couple of tracks, followed by the entirety of Pro Era (minus the dear departed Capital Steez) coming out to rock the stage. As they wrapped up their set, Nyck @ Knight vowed, "we're never going to stop [making music]" - we hope they're speaking the truth.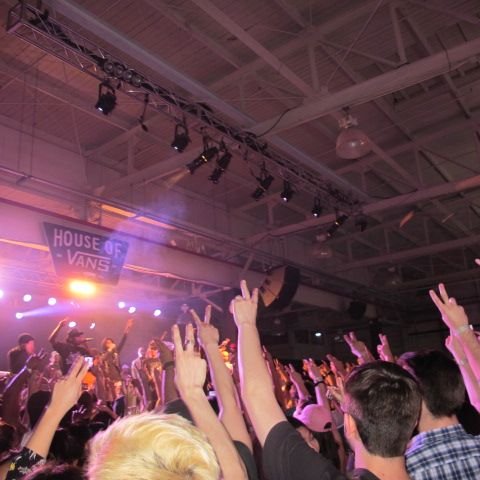 Nyck @ Knight brought out members of Pro Era at the tail-end of their set.
Next on the lineup was another hip-hop act: SABA, from West Chicago. A contrast to Nyck @ Knight's aggressive, pump-up set, SABA's music is colored by an ethereal and warm palette of sounds and a generally chill vibe. He has a charming stage presence, and his enthusiasm is genuine and contagious; at many points throughout his set he led the crowd in dance moves and call and response chants. Halfway through his set, SABA performed the chorus to "Angels," a track from Chance the Rapper's most recent project, Coloring Book, that he was featured on.
Around 10 p.m., Brooklyn's own Beach Fossils took the stage. The crowd mellowed, content to sip more free beer and bask in the soft glow of their silky neo psych. The guitar riffs, infused with sunshine and reverb, mingled with the expansive instrumentation of tracks from "Somersault." Two synths and a trumpet added a layer of complexity to the simple yet lush atmospheric sound. The band's surf rock influence shone through, too, provoking exuberant crowd surfers - including the guitarist's mother. Frontman Dustin Payseur's affectionate stage presence provided an apt way to wind down the gig - with warmth and gratitude, the band sent the crowd to filter off into the night.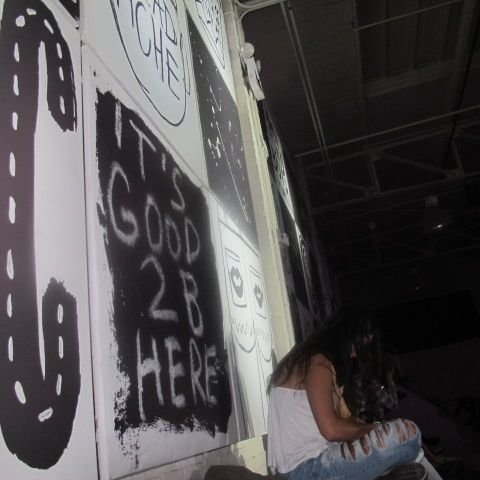 Graffiti-style art lines the walls of the House of Vans in Brooklyn.
David Gonzalez-Dysinger is Department Head for The Darker Side. Sophia Higgins is Music Director for Record Hospital.