Gig Recap: Do Make Say Think @ The Sinclair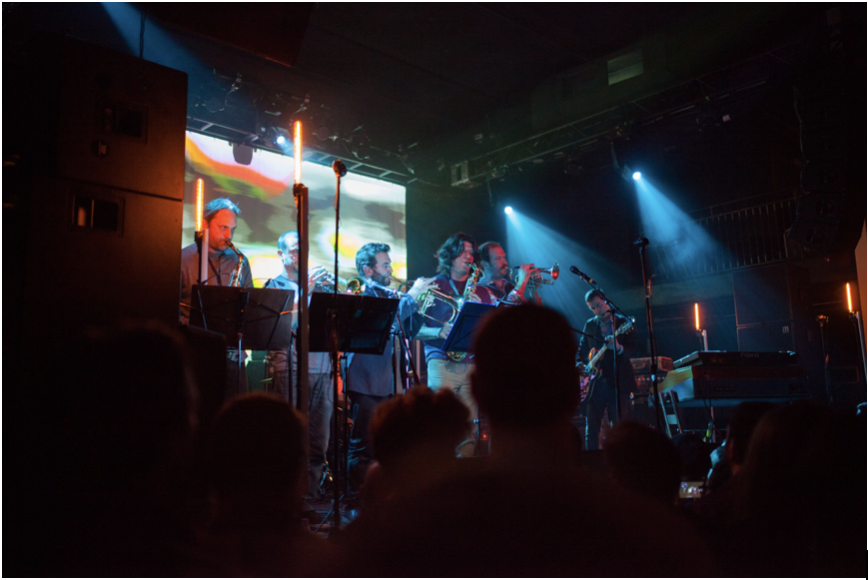 Returning to the Sinclair for the first time in eight years, Do Make Say Think played to a full house of dedicated fans Sunday night. Exuding gratitude for their warm reception and playfully acknowledging their paternal physiognomies, DMST's words were as humble as their music was powerful. On tour for their first album in eight years, Stubborn Persistent Illusions, the Canadian post-rock outfit showed that they're more than just a bunch of dads.
<a href="<a href="http://domakesaythink.bandcamp.com/album/stubborn-persistent-illusions">Stubborn" class="redactor-linkify-object">http://domakesaythink.bandcamp.com/album/stubborn-...</a> Persistent Illusions by Do Make Say Think </a>
In the studio, DMST sound wintry and cold, with touches of warmth shining through in their lengthy guitar riffs. They're masters of counterpoint, layering melody on top of melody and garnishing with jazzy rhythms and brass instrumentation. On the stage, however, DMST are an entirely different entity. There's much less restraint in their performance—during the climax of "The Landlord Is Dead," for example, they forgo all pretenses of accelerando and immediately start going wild, playing a few ticks faster than their studio recording. Drummers David Mitchell and James Payment shake the venue with their booming rhythms, and even with my earplugs, I still hear a distinct ringing in my ears after the show. It's a truly transcendental experience.
Standouts of the night are "Fredericia," "The Landlord Is Dead," "As Far As The Eye Can See," and "War on Torpor." Though they didn't perform their new track "Horripilation" tonight, I certainly felt goosebumps as they flowed effortlessly from song to song. In "As Far As The Eye Can See," the ominous mode changes beginning at around the first third of the song were especially hair-raising. While I never noticed that particular segment when listening to the studio recording, there was something about the live experience—the band bathed in blue lighting, the semicircle of tube-shaped Edison bulbs, the projections behind them—that moved me completely during those subtle tone changes.
Having discovered DMST long after their last album Other Truths, I'm glad that I had the chance to see them live. Their tour continues this December with shows in Chicago, Cleveland, and Detroit.
James Gui is a DJ for the Record Hospital. His show is every Thursday night, from midnight to 2 a.m. The Record Hospital airs weeknights from 10 p.m.-5 a.m.