Good Festival Vibes Rain or Shine: Day 2 Recap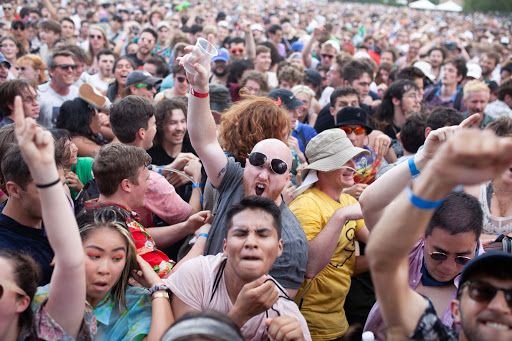 Briefly interrupted by a thunderstorm, Day 2 at Pitchfork Fest was not only half sweltering heat and half cool down, but also pure happiness. With standout acts Ric Wilson, Cate Le Bon, and Parquet Courts, festival-goers were kept well entertained until the unreal finale celebrating legends The Isley Brothers.
Lala Lala
"Do you like to scream?" Lala Lala front Lillie West asked the initially hesitant crowd before launching into her boisterous signature, "Lala Song." Along with emotional lyrics from West, the saxophone, vocal, and drum support stunned during their breakout solos. As the day broke into the high 90s, Lala Lala ended their set with intoxicatingly sad "Destroyer" before an enraptured afternoon crowd.
Ric Wilson
With buoyant affect and flamboyant dress, Ric Wilson dazzled in the oppressive early afternoon sun on the Red Stage. His lilting and swaying neo-disco beats were perfect for hanging out and nodding in the shade; those who braved the heat were rewarded with the opportunity of being in one of the longest Soul Train lines in history.
CHAI
Dressed like four of the most fashionable crossing guards you've seen in matching orange crop tops and pink culottes with reflective tape at the ankles, CHAI directed the energy of the Green Stage crowd with mastery. Beaming with positivity and messages of empowerment in "N.E.O." and blasting their maximalist synth arrangements in "Great Job", CHAI injected pure exuberance into the audience despite the heat.
Cate Le Bon
Tempting the crowd in a set stacked with clever musical ironies and heartbreaking lyrical paradoxes. Le Bon repeatedly chanted "Love you, I love you, I love you, I love you / But you've gone" from her teary-eyed anthem "Daylight Matters." Moments later, resolved, she belted from her song "You Don't Love Me", "I think about dead hours / Never be, never be, never be still." Against Le Bon's smooth melodic voice, the jumpy saxophone staccato and twangy tambourine necessarily jolted listeners from mid-afternoon slumbers.
Parquet Courts
As if on cue, ominous clouds preceded by a sudden cool breeze rolled into Union Park as soon as Parquet Courts came on stage. Matching the band's anxious and pessimistic energy, the weather boded ill for the festival. On the heels of a thunderstorm, Parquet Courts and their die-hard fans made use of the sudden shift in temperature to let loose. Mosh anthem "Total Football" warmed up the audience, and new wave banger "Wide Awake" closed out the set and provided a few final minutes of dance before the weather evacuation.
Jay Som
There's nothing quite like a Jay Som set to facilitate some good late afternoon wallowing, especially when it's 90+ Fahrenheit. Kicking off a groovy-yet-mello rendition of "Baybee", the band also played two unreleased tracks off of their upcoming album Anak Ko. As the wind picked up and the temperature cooled down, the grandiose crescendo of "Pirouette" brought their set to a close.
Stereolab
Taking the stage after the thunderstorm abated and festival reconvened, Stereolab showed their incredible polish, unfazed by the hectic events that preceded. Bouncing from the wonky synths of "Percolater" to the noisy, straightforward rock of "French Disko", the band had something for everyone in the audience.
Belle and Sebastian
As the sun descended over a once again swarming Union Park, the whole crowd lived presently in the sentimental tracks from Belle and Sebastian's 1996 introspective album If You're Feeling Sinister. While we'll always cherish Stuart's vocals and Sarah's virtuoso, Stevie Jackson's wonky freak dancing and expressive harmonica grooves in "Me and The Major" commanded our attention all evening. The band finished short of their set length, but the band continued to entertain with dancey hit "The Party Line" and honored Chicago Blues by dishing out bittersweet jam "The Blues Are Still Blue."
The Isley Brothers
In one of the most epic entrances seen at Pitchfork Fest, Ronald Isley and Ernest "Ernie" Isley, clad in bedazzled white shirts and white slacks, shimmied onto the Green Stage to an erupting crowd. Impressively quick costume changes by the background dancers, controlled and resonating vocals from the background singers and the thumpy bass and thrashing drums only added to this phenomenal set for the band's 60th reunion, albeit with only a few original members. This unreal performance only continued throughout the night, especially when Ernie lifted the guitar to his face and jammed out chords using only his mouth. In high anticipation for bands final number, the crowd immediately bopped to and fro once the beginning of famous "Shout, Pts 1 and 2" rang out into the Chicago night.
Jess Eng is a DJ for Blues. James Gui is a DJ for RH and TDS.