Gouda Talks with Bon Me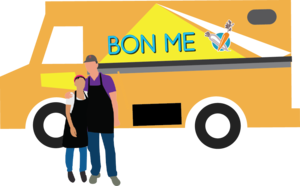 Listen
On Jess Eng's first episode of Gouda Talks, a podcast exploring the intersection of race, class, and gender in food, she talks to CEO of Bon Me, Patrick Lynch ('05). Lynch graduated from Harvard with a degree in Economics and then later attended MIT where he obtained a graduate degree in urban planning and environmental policy. As Lynch explains, when he co-founded Bon Me, he had no experience in the food industry. In this interview, they unpack the story behind Bon Me's conception, its success as a food truck and currently budding restaurant, and the inspiration behind their Asian influenced food. Lynch also reveals the challenges of starting a food truck and managing the business side as its CEO. This is the first episode in a series of conversations with local food trucks in the Boston and Cambridge areas.
_
On Bon Me's Asian-inspired food:_
I don't think we're…[trying] to be authentic Vietnamese. Our sandwich is the most traditional Vietnamese dish. And the rice noodle salad that we do is also reasonably Vietnamese, but the rice bowls are much more of a Chinese dish. A lot of the fillings we use and so on are either from Southeast Asia.
On the influx of food trucks in Boston and Cambridge:
We have seven restaurants now...So we're definitely as much a restaurant company now as a food truck company. And I think since then to the last year and a half now, we've seen more competition come in. I think a lot of that has actually been driven on by the restaurant side rather than the truck side. The truck scene got pretty well saturated even as early as 2014.
---
Jess Eng is a member of the News department and the host of Gouda Talks.