Grabbing Coffee with Webmoms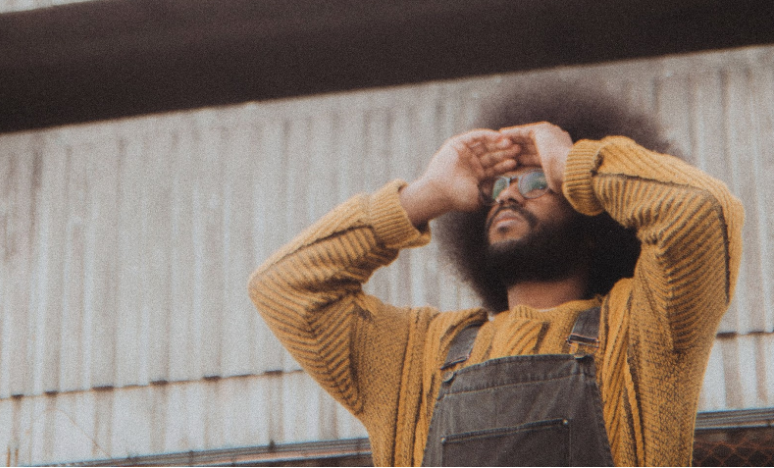 // Image courtesy of Craig Taylor-Broad.
Ruchikar" class="redactor-linkify-object">https://webmoms.bandcamp.com/album/ruchikar">Ruchi... by WebmomsWebmoms is the self-described musical brainchild of Karum Cooper, musician of alt-rock band Hypophora and drummer of prog-rock/fusion group For The Oracle. The Cornwall-based lo-fi multi instrumentalist-performer-producer-artist-creative released his solo debut EP, Ruchikar, last September, a milky-smooth lo-fi trip through Karum's jazz and R&B chops.
When Karum went to college at age 17, he took a music performance course and began to experiment with digital audio workstations, producing sequencing, and sampling. He fell in love with the process, and at university, took a formal music production course. In the four years since, he has developed his own style, influenced by both his friends' production work and original inspiration. Focused on other projects, he hadn't released anything under this project until last year.
He describes: "since we had a national lockdown, what better time to make music?"
He most enjoyed making the first track of the EP: Summer Salad. He detailed, "It's the most experimental track, in terms of its production: I used a lot of live instrumentation—I got my friend to play sax, there were loads of percussion and guitar layers, bass, and keys, etc. It felt more tangible than opening up my laptop and dropping in little samples. It started out with the guitar, jamming and noodling around, and I used that as a basis to work from. It all came quite naturally after that." He acknowledged that the process wasn't always so easy. There were the inevitable songwriting brick walls and moments where he felt creatively drained along the way.
Something he credited helped him: letting each song breathe. He described, "I'd work on one song, get the skeleton of it, and leave it for a bit. I'd come back to it sometimes even a month later to dive into it and feel much more inspired because I had left the idea for a bit and I wasn't overthinking it."
He spoke about being a young creative person in Cornwall: "it's very, very different from most places in the UK." Deep in the Southwest, it's more low density than other parts of the UK, with one city throughout a geographical landmass equal to two or three of London's. Everywhere else is villages and towns. He described, "We really don't have much of a music scene, and we're pushed to work a little bit harder to try to get noticed or do something serious with our music. Down here, we're pretty isolated from the rest of the UK." In a similar vein, the popular genres here are punk, indie, and Dad rock, and there really aren't many Cornish artists in the lo-fi, r&b, or hip hop scenes: "We sit in our niche and do our thing." At the time we spoke in late December, Cornwall was one of a few places in the UK classified as Tier 1, which corresponded to the lowest level of COVID-19 restrictions. The UK has since been placed under a third national lockdown.
Karum dove into his views on lo-fi, his creative vision, and his plans for Webmoms. Many of those who've grown up in the digital age are familiar with DIYesque bedroom pop, Soundcloud hip hop, and the quintessential "lofi hip hop radio - beats to relax/study to" genre, primed to rise in the dawn of widespread accessibility to digital audio workstations. He detailed, "It's one of those genres that has a purpose, and it does that purpose. I know a lot of producers who do that, and they aren't that interested much in pushing the boundaries of the genre." Many prefer to make a track, put it on a playlist or in a YouTube video, rinse, and repeat. Karum, on the other hand: "I don't particularly like to be pigeonholed into one genre. I'll probably leave what you would commonly refer to as lo fi, and delve into other areas of hip hop, r&b, and electronic music, just because that's who I am. And I'm kind of not that bothered about sticking to one label."
Karum's work matches his conversational ethos: subtle, thoughtful, and creative. His album artwork and the project's associated visuals embody that spirit and fit into a unique personal brand. He had originally asked several of his artist friends to help him out with Ruchikar's album art, but none were able to do it for a multitude of 2020-related reasons. He described, "I thought, 'okay, cool. I guess I'm doing it myself.' I had no plan or formal training or anything, but I just kind of went to town."
When asked what's next for Webmoms, Karum chuckled, "I somewhat have to slow myself down with releasing everything, cause I have so much lined up." Three releases, to be exact: one with a few other artists, one led by acoustic guitars rather than lo-fi electric guitars, and one quite similar to Ruchikar that's more summery. The DIY record label and creative collective, X3i, includes Karum, a videographer, and an animator (among others). His next single, "Rice & Potatoes ft. Sukie," comes out on Feb 3rd and will be released through X3i.
Karum moonlights in many different roles, including as a barista. On his favorite coffee-related beverage: "I'm a sucker for a black Americano." He recommends Extract Coffee Roasters in particular, as "they just make the funkiest coffee."
// Emma Greaves '24 is a writer for The Darker Side. Be sure to tune into "Rice & Potatoes ft. Sukie" released February 3, 2021.